Stag Weekend Guide to London
Top London Stag Activities for 2023
London Stag Do Guide
If you're curious, London's an amazing place - David Bailey
To ensure your group the best stag experience, our party experts have put together this guide to take you through everything you need to know before you have booked and leading up to your big event! Full of London stag do ideas and tips on having a fun filled weekend away, you will get to take all the credit for an epic final night of freedom for your stag!
Why have a stag do in London?
Whether this is your first time visiting the city or you are familiar with the capital, there is unlimited potential for an amazing stag party! Whilst we can't promise you will remember it all, we can promise it will be a night to go down in history, with tons of the ultimate stag activities and group venues within reaching distance of one another.
Taking you back in time, London manages to mix it's modern nightlife scenes with the history and culture is so known for. The amazing buildings and beautiful monuments that make up the city make London stand out amongst the rest. From London's best museums to the weird and wonderful, a walking tour and happy hours in Soho, there really is something for everyone.
With a huge range of activities in London and a wide selection of accommodation to suit your groups desires and budget, the perfect party package is just a click away! Continue on for all the best London stag do ideas!
Our London Stag Experts
With over 25 years of planning stag weekends in the UK and Europe, we here at Freedom have proved ourselves to be the best in the business! Our party experts are on hand 6 days a week to help you put together your perfect stag party package, chat through the best stag do activities for you and work towards your budget.
Making this a stress free experience with a low £35 deposit to make your booking and an online payment system where the lads pay us direct, your mates get the best time and you get to take all the credit!
Speak to one of our experts today on 01992 655 580
Trending London Stag Activities
London has something for everyone! Whether you are looking for an action packed weekend or a few hours fun for the lads, this epic city offers a huge range of exciting activities, games, challenges and entertainment to ensure your group a celebration worth having!
Tuck into a delicious 2 course meal with unlimited beer in London. It has all the elements to an ultimate London stag night out!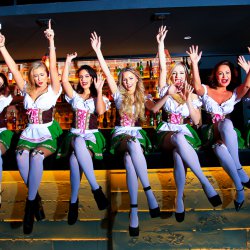 This tour of the best nightlife venues will give your lads a night to remember! One of our most popular, this stag do activity includes a guided bar crawl by two local beauties! With stops for drinks at each bar or pub along the way, you will head on to finish the night in a buzzing nightclub.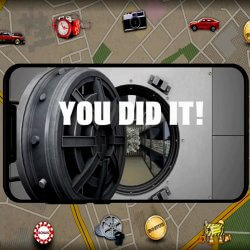 The heist of the century is about to go down and you're in on it! Join Dan and his crew of criminal masterminds in this fully interactive game as you tackle this challenge during your London stag weekend! Using your mobile, work together to complete the tasks and challenges to earn points. You'll be racing against the clock to escape without getting caught.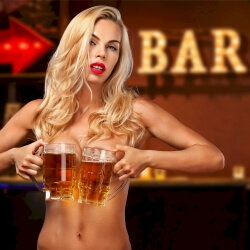 Good food and naked girls...yes you're right, the main ingredients thrown together to give you an unbeatable stag night out. Enjoy a two course meal with the lads before continuing your night with lap club entry to make this cheeky stag staple happen for the groom to be!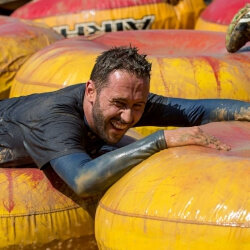 An epic obstacle course like no other. Warriors, meet your match at Nuclear Races near London. It's messy, muddy but totally awesome. The Nuclear Races in London is the champion of all obstacle races and is set on 1,600 acres of privately owned farmland in the Essex countryside.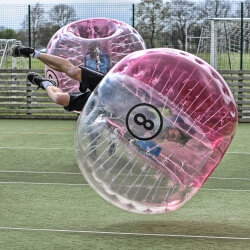 Adding a hilarious twist to the much-loved game of footie, we give you Bubble Football in London. It does not matter the skill level of your group for this will not be like any other match you have played before, as you step into an inflatable suit and bounce, barge and dodge your way to victory!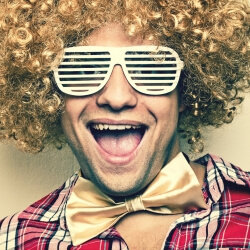 You've just gotta laugh... A London Stag classic, your comedy club will make for the perfect night out for any stag weekend. Enjoy 4 comedians in the city centre before continuing your night with beers and the resident DJ!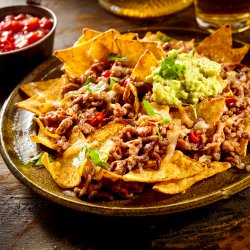 Add a little spice to your night with this three course meal in a central Mexican restaurant! A key element to every good stag is great grub and plenty of it, meaning your stags will not be disappointed with this hearty meal!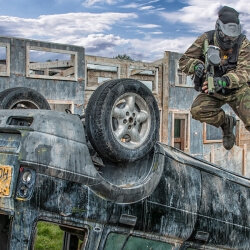 Leave your friendships back at the hotel and let your imagination run wild throughout these eight amazing game zones. Its the Call of Duty for the all action Stag Hero in London... Action man meets Rambo semi-automatic paintball guns at the ready! Don the camouflage war paint on, move with all the stealth of a highly trained Desert Rat as you hunt the enemy down SPLAT silent but deadly.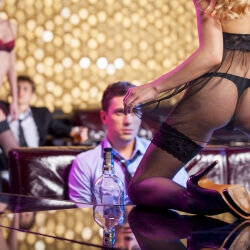 A bucket list must for all groom's to be, add lap club entry to your London stag weekend and we can assure you, your group will be forever thankful for this cheeky experience!
London Nightlife Guide
Covent Garden
Day or night, Covent Garden is a hive of tourists and locals coming together at top watering holes and incredible eateries! The square itself is the place to be for the daytime markets and street food. Surrounded by theatres and upscale restaurants, Covent Garden is a must for your stag weekend! Add a touch of class to your stag weekend by visiting Frenchie, a French restaurant in the heart of the West End will start your night right with a fancy meal!
Camden
Known for more than its buzzing nightlife, the district of Camden draws in a massive crowd, from the trendy to the weird and wonderful, everyone fits in here! Whether a day time stop off to try some of the renowned street food that has been around since 1974, or you are looking for a night time stag activities, Camden has it all! With over 450 stalls and shops to explore, it would be easy to spend a day here alone, but a must visit when planning your stag so in London is Lang Kwai Fong, a bar selling incredible Korean food alongside hosting beer pong tournaments and a karaoke set up!
Shoreditch
Your stag do in London would not be complete with escaping to the party central that is Shoreditch! With group friendly venues scattered throughout, many within walking distance to your accommodation. Pay a visit to the Alice is Wonderland themed Callooh Callay where quirky cocktails are on the menu! Who said your stag has to be all about the beers when there are tasty drinks like these available to your group!
Central London Nightlife
There is always something to see and do with a stag do in London! From the bright lights of Piccadilly, London's own Times Square, to the bars and club venue of Leicester Square, you are almost certain to bump into some
hen parties as they flock to the party capital!
Stag Accommodation in London
Part of the excitement of taking charge of your stag, whether on behalf of a friend or for yourself, is getting to choose some killer accommodation to go with the epic activities booked!
Now, we truly believe in an action packed city like London, your accommodation will be a place to lay your head between activities and sleep off your hangover from the night before, with so much to see and do. Whether you are looking for a budget hotel to suit, a hotel that offers a little more luxury or a party house to bring the activities to you, we have got you covered!
Not sure what to choose?
No worries! Our party experts will be happy to advise based on the wants and needs of your group!
Places to Grab a Bite in London
Happy London, Piccadilly Circus
For casual food on the go, Happy London is the place to be! Served in booths, you will get to experience some top international dished including sushi and cocktails, served from an open grill and top bar!
Burger and Beyond, Shoreditch
Dubbed as having the best burger in London, Burger and Beyond offers great grub for entire group! Oozing with cheese and loaded with fries, this is the perfect stop off as you make your way around London!
Duck and Waffle
This 24-hour restaurant offer not only incredible dishes but stunning views of the city! We can't promise it is a budget friendly option but Duck and Waffle is known for being an amazing experience, that will only add to your Lodnon stag!
Top Trivia!
London is actually a... forest? Yes, that's right! It is hard to believe but the city has so many trees it actually falls under the UN's definition of a forest! Hyde Park is not the only place with trees, head to St Dunstan in the East to see how nature has taken over an old church.
There must be six ravens at the Tower of London at all times! Legend has it the Tower will fall if not, and the tradition is continued to date.
Did you know that London loves its pubs so much that they named five underground stations the same name? The Angel, Royal Oak, Elephant & Castle, Manor House and Swiss Cottage pubs all came before the station itself!
Getting Around London on Your Stag Weekend
Getting your stags from A to B during your stag do in London could not be easier! Not only can you wave down a black cab, but public transport runs all over the city.
For a great budget and group friendly option, Travel Cards are going to be your best friends! Not only are they going to save your group so much time, but money as they allow your group unlimited travel on London's public transport, including Tube, buses, Overground and National Rail services! Day passes can be purchases day to day, but book in advance for a week pass. These sell from £14!
Sweat off the shots from the night before and see the city like never before as you take to the streets on one of the many bikes for hire around the city streets. And for just £1.65 for 30 minutes, your stags are sure to love this option.
Top London Attractions
Between the stag activities, make your London weekend the ultimate party weekend, by mixing in some sightseeing spots!
Take a stroll along the River Thames! An endless supply of incredible views of this big city, you will find yourselves heading from Waterloo tube station to the famous London Eye! Known for it's countless landmark locations, this is a great place to start! Head down Southbank where you will find incredible spots to stop for a bite to eat, shop and explore.
What is London known for if not the Royal Family? Head to Buckingham Palace to grab a group snap outside the home of our monarchy!
From Leicester Square you can get just about anywhere! After a night in Shoreditch, head back this way for a visit to the infamous strip clubs and casinos that reside here. But don't forget, during the day you can stroll from Leicester Square and into Oxford Street for shopping, live music and tons of fun!
Stag Do Games
Whilst the options for entertainment in London are endless, keeping the stags entertained whilst they quench their thirst is an essential part of any stag party! Our expert party planners have suggested their favourite games below
Photo Bingo
Capture memories and see the sights! Create a bingo card of top spots and hilarious prompts for your group to collect over the weekend. Have a prize for the winner of the best interpretation and most photos and a forfeit for the weakest! Win or lose, you will have an endless supply of content for that all important wedding day speech!
Arrogance
A simple game to ensure that drunken antics, all you need is a pint glass, a coin and a drink in hand. Simply take it in turns to flip a coin. Guess heads or tails. Win, you get to move the pint glass to the next person after adding a slosh of your own drink to the concoction. Fail and it will be your go to down the mixture. We can't guarantee this will be the finest drink you taste during your visit!
Send to All
Not for the faint hearted, this game only has one rule. No phones allowed. Break that rule and you forfeit control of your phone. The remaining stags will get to send a text of their choice to anyone, and we mean anyone, in their contacts.
FAQ
Frequently Asked Questions