Stag Party Houses
Over 100 stag friendly houses to rent for group accommodation.
"Just off the back end of a stag that I booked with freedom events and what a blast it was!" - David
So, you have landed the role of a lifetime and are about to embark on the mission of planning the ultimate stag party. Whether for yourself, you're a best man, a mate or family member, a big part of making a memorable stag party is the location, and accommodation you choose as the backdrop of your upcoming event. No matter where you in the UK you can be sure a whole range of the best party houses are just a stone's throw away!
With stag parties carrying a certain reputation from over the years, it can be difficult finding accommodation that are happy to host stag groups. This is where we come in! Our range of hand selected stag houses and large group accommodation are designed with hen and stag dos in mind, meaning your special occasion can be packed full of fun activities, local attractions and all the facilities you desire!
Is a stag party house right for me?
When deciding on the accommodation for your stag weekend the main thing to consider is how much of a role you want your venue to play. Whilst hotels are great for staying city centre and having tons of nightlife on your doorstep, party houses offer a lot more to the occasion. With many having modern facilities such as games rooms, home cinemas and hot tubs, as well as a whole range of mobile activities available to make this a memorable stag party!
Taking into consideration the theme of your upcoming event and the practicality of the plans for your stags, ask yourself are the lads likely to travel for this occasion? Do you need somewhere local or are you all able to travel a little further afield? Do your stags have the budget for the party you are planning? Whilst there is nothing wrong with wanting to do something special and unique, being practical is key when making decisions.
Does your groom-to-be want a wild weekend away in the city, with clubs and bars within walking distance? Or is he looking for a rural getaway, holiday house with great hiking spots and all the activities to come to him? Either way, the wants and needs of the stag himself must be taken into considerations when choosing your accommodation. This is where party houses make the perfect choice for stag weekends! By booking self-catering accommodation you can customise the party be exactly the occasion both you and the stag wants it to be!
Does the sound of lighting up the BBQ, chilling in the hot tub and enjoying the view with your best mates sound perfect to you? Then check out the Peak District Barn Conversion, which offers a games room, a pizza oven and outdoor dining area, making this an all-year-round stag haven!
Trending UK Stag Party Houses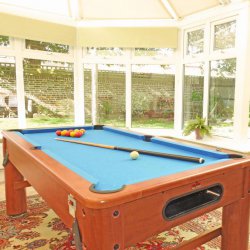 Sleeps up to 19 - 5 bedrooms + 3 bathrooms
This Victorian brick fronted Townhouse is only a 5-minute drive from the beach and just a 4-minute ferry into Portsmouth, making it ideal for packing in activities! For large groups, sleeping up to 19 this superbly furnished Townhouse, you can chill in the fully loaded games room and sit around the dining area whilst a Private Chef cooks for your group before your big night out!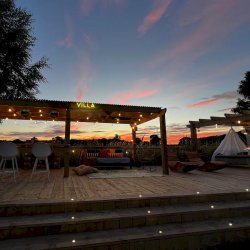 Sleeps 22 - 6 bedrooms + 4 bathrooms
Bring the island vibes to you! It's quirky, yet homely and certainly spacious with a large kitchen and living room with access to the outdoor space. With a private patio area with outdoor fireplace, comfy seating and your own hot tub you may never want to leave, but the beautiful city of York is only 20 minutes away.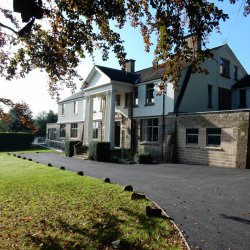 Sleeps 40 - 16 bedrooms + 14 bathrooms
Fancy celebrating with a Hollywood vibe? Your group will get to enjoy 16 themed bedrooms which take their inspiration from 1950's Hollywood legends. To get you into the Hollywood vibe your package includes a casino night that comes with your very own croupier! This house transports you to another era, whilst providing all the mod cons and room you could wish for. Time in the plunge pool and hot tub are a must.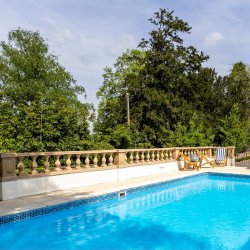 Sleeps 20 - 10 bedrooms + 5 bathrooms
Just 6 miles from the beautiful and historic city of Bath, this private Georgian residence is simply stunning. Arrive, chill, take a dip in the heated swimming pool and hot tub (please ask us to date available). Main Apartment sleeps 12 plus and it is situated at the top end of the drive, in addition there are a further 2 Lodges, that sleep 4 in each, and they are located a short walk away down the drive.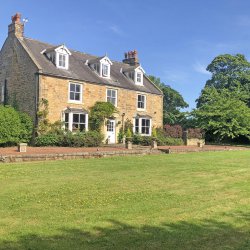 Sleeps 22 - 6 bedrooms + 3 bathrooms
Home for your weekend away will be this beautiful Mansion house! Set up in private grounds and surrounded by fields and woodland., you r group can chill out in the hot tub, get competitive in the games room and eat in the summer style house diner.
The Right Place
There is nothing boring about holiday rentals for your stag party!
Our amazing stag party houses offer everything from a luxury and stylish space to city centre town houses to make the perfect base to your night out. Adding fun weekend activities and games to your accommodation means you can create a bespoke weekend away for your groom-to-be.
Top Mobile Activities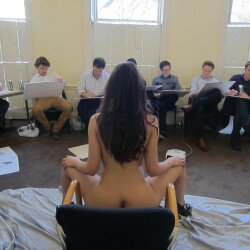 Things just got a whole lot cheekier! It won't be hard to keep your eyes forward as we provide a female model, a tutor and all the materials for a Nude Life Drawing class for your stag party!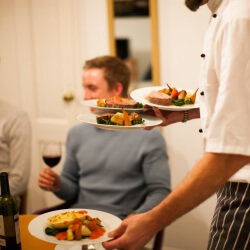 With a weekend of celebrations planned, why not add a private chef to make the most of the occasion? Cooking up a mouth-watering 3 course meal, they will even clean up after leaving your group to celebrate the night away!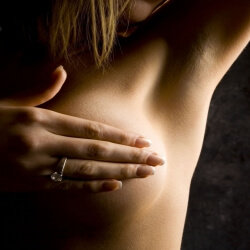 Bring the party to you as you and your stags get to shake, make and taste cocktails with the help of our expert mixologist who will come straight to your party house!
Top stag party house themes and ideas
Choosing your perfect party house is easy when you know what theme your groom-to-be will love! Our team of stag experts have put together some of our favourite themes and ideas for you grooms.
Stag-Fest!
For those fun-loving festival stags, there is so much celebrating to be done when hosting your very own Stag Fest! In the glorious countryside of the Southwest, you will find the Wiltshire Woodland Glamping. Pair a weekend in their luxury yurts with a boozy Bottomless Brunch in Bath, just 5 miles away and personalised wristbands for your stags!
Cheeky & Traditional
Step out of the city and take away the stress of pre wedding planning! Host a traditional stag at our York Farmhouse and Cabin where this glorious countryside retreat offers ultimate party experience. Follow a soak in the hot tub with a drink in the garden bar before heading into the snug for an evening of drinks and games! Why not go full cheese and get personalised T-shirts for your group?
Sporting Legends
What better way to ensure a memorable stag party than taking the lads to South Newcastle Mansion, where pool tables and hot tubs will great the lads. Task your mates with coming dressed to impress as their favourite sport icon, arrange drinking games and add Old School Sports Day, MegaMix or Go Karting to add an adrenaline adventure to your weekend!
Party House Features
Hot Tubs
Swimming Pools
Sauna
Private Chef
Games Rooms
Tennis
Self-Catering Kitchens
Party Rooms
Cinema Rooms
Country Retreat
City Centre Party
Garden
Why Choose Freedom?
Being tasked with the mission of planning and booking a stag party, whether it be for yourself, your bestie or your future in-law, can always seem like a bit of a daunting task. What you have to remember is that it is always an exciting project to take on too, and with the help of us here at Freedom, it will also be a stress-free experience too!
Our team of experts have handpicked a fantastic range of group friendly stag do houses across England that make for the ultimate setting for your upcoming celebration.
With over 26 years of experience, with a great selection of stag parties. we know we are the best stag business, which means we know what makes a great stag party, and it's all right here at your fingertips.
Contact our team today on 01992 655 580