Stag Weekend Guide to Manchester
Top Manchester Stag Activities for 2023
Manchester Stag Do Guide
'This is Manchester, we do things differently here.' - Tony Wilson
Boasting the birth of music mavericks and the inspiration for literary legends, Manchester claims the discovery of everything from Oasis to the world's first Football League, the first LGBT bar to the humble Eccle's Cake. If that doesn't peak your interest, how about a visit to the brilliance of Manchester's Printworks, where the historic publishing building has been renovated in a hive of nightlife and entertainment.
Just one of the many city centre attractions we know your party will love, this guide will take you through everything you need to know.
Put together by our stag weekend experts to take the stress out of planning, read on to find out everything Manchester has to offer!
Why choose Manchester for your stag do?
What other city do you know that is named after boobs? Originating from Mamucium the "breasted shaped hill" in Celtic.
If this isn't THE stag party city, than we do not know what is.
There are many reasons Manchester has become one of the bestselling locations for stag groups, and upon your arrival you will quickly learn that not only are the cities four main districts, each with its own unique vibe of nightlife, packed full of bars and clubs, and entertainment that will make your party stand out amongst the rest, but an industrial history that adds a beautiful twist to this bustling city!
Our Stag Experts
With over 25 years of planning stag weekends in the UK and Europe, we here at Freedom have proved ourselves to be the best in the business! Our party experts are on hand 6 days a week to help you put together your perfect stag party package, chat through the best stag do activities for you and work towards your budget.
Making this a stress free experience with a low £35 deposit to make your booking and an online payment system where the lads pay us direct, your mates get the best time and you get to take all the credit!
Speak to one of our experts today on 01992 655 580
Top Manchester Stag Do Activities
Whether you are looking for an action packed weekend or a few hours fun for the lads, Manchester offers a huge range of exciting activities, games, challenges and entertainment to ensure your group a celebration worth having!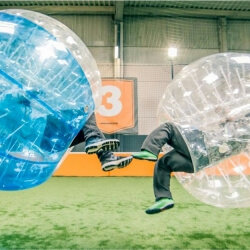 Adding a hilarious twist to the much-loved game of footie, we give you Bubble Football in Manchester. It does not matter the skill level of your group for this will not be like any other match you have played before, as you step into an inflatable suit and bounce, barge and dodge your way to victory!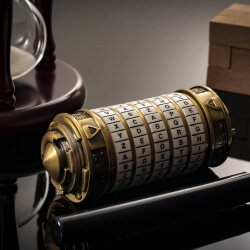 Put your friendship to the test! Locked in a room with your closest mates, you will have to find clues, solve riddles and complete challenges to win your freedom and make it to the pub before closing. Do you think you are up for the challenge?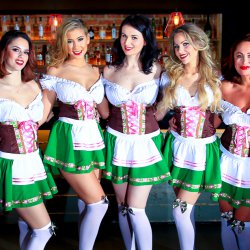 This tour of the best nightlife venues will give your lads a night to remember! One of our most popular, this stag do activity includes a guided bar crawl by two local beauties! With stops for drinks at each bar or pub along the way, you will head on to finish the night in a buzzing nightclub.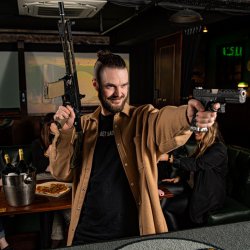 Born trigger happy? Well here is a well stocked armoury and equally stocked bar, your group will get to enjoy 2 hours of shooting simulations! Beers along the way and fire power that Rambo would be proud of! Shoot well. Shoot straight. Shoot to the top of the leader board!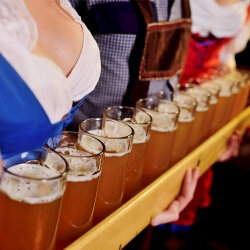 Reserved seats, ice cold beer and music into the early hours! On a Saturday the resident Oompah band sing and dance the night away before the DJ takes you to the early hours of the morning. Waited on by staff in regional Bavarian dress., the excellent atmosphere brings a true piece of Bavaria to the heart of Manchester.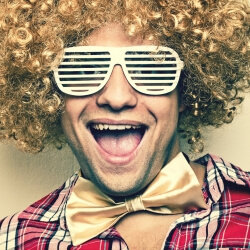 You've just gotta laugh... A Manchester Stag classic, your comedy club will make for the perfect night out for any stag weekend. Enjoy 4 comedians in the city centre before continuing your night with beers and the resident DJ!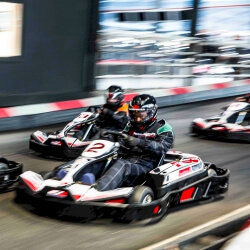 Have a need for speed and want to challenge your mates on the tracks? Don't let the weather get you down! As unpredictable as old Blighty can be, Go Karting can be held indoors and outdoors in meaning there will be no dampening the spirits on your Manchester stag weekend.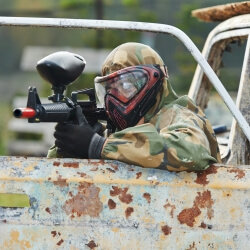 Leave your friendships back at the hotel and let your imagination run wild throughout these six amazing game zones. You will scale the 100ft long Berlin Wall, finding refuge in the hidden sniper spots, as you work in teams to claim the ultimate Stag victory!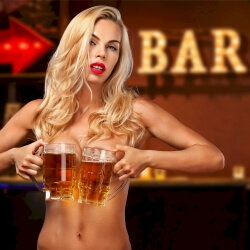 Good food and naked girls...yes you're right, the main ingredients thrown together to give you an unbeatable stag night out. Enjoy a two course meal with the lads before continuing your night with lap club entry to make this cheeky stag staple happen for the groom to be!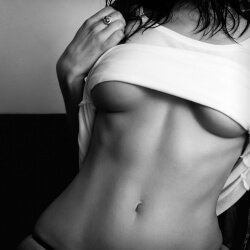 A bucket list must for all groom's to be, add lap club entry to your Manchester stag weekend and we can assure you, your group will be forever thankful for this cheeky experience!
'A city that thinks a table is for dancing on.' - Mark Radcliffe
Manchester Districts & Landmarks
Deansgate
One of the main places to visit during your stag do in Manchester is Deansgate. In the west of this incredible city is a hive of history and culture, where you will find yourselves drifting to throughout your stay. Nestled amongst the incredible architecture of this industrial district stretching from Manchester Cathedral to the Beetham Tower, is a shopping district, bars and clubs and tons of tourist hotspots.
Don't forget to stop off at Deansgate's coolest hidden bar 'One Eight Six', where the handcrafted cocktails are inspired by the barbershop upstairs!
Impossible to get lost, Deansgate links you to all the major districts in Manchester city centre, making it a lot easier to stumble back to your accommodation after a heavy night out!
Deansgate Locks
Whether you are after a fun fuelled stag do of activities, time to take in the city or a booze fuelled bender, the famous Deansgate Locks is a must during your visit!
Set under the arches of the infamous locks and overlooking the waters, is a stretch of bars, clubs and restaurants that make for a unique stag experience. Add Club Entry to your booking to be sure entry for your group into one of cities most popular nightclubs.
If you are after something a little different for your group, why not stop off at 'Lock 91'? The 19th century lock keeper's cottage has been converted into a eclectic bar and boasts an outdoor terrace that offers a relaxed cocktail and ale experience!
The Printworks
One of our favourite districts to brag about when our groups mention Manchester is The Printworks. What was once a huge publishing house, as the name suggests, this massive building now plays home to an utterly unreal selection of eateries and late night hotspots.
With an influx of over 150,000 party goers and visitors every week, there is a reason The Printworks is the most popular place to be!
Looking for a hefty meal to line your stomachs between activities? Look no further than Manchester's all you can eat, around the world buffet, 'Peachy Keens'! An easy way to ensure all your mates are happy and well fed during your Manchester stag do.
Northern Quarter
A vast district in central Manchester, the Northern Quarter is overflowing with some of the best watering holes in the city!
From basement bars adorning glow-in-the-dark graffiti and bursting with arcade machines and your favourite childhood games consoles 'NQ64', to the more sophisticated 'The Whiskey Jar' where you will get a selection of over 400 whiskeys and cocktails, as well as hosting open mic nights and festivals!
Getting Around Manchester
Train
With 2 major train stations linking Manchester city centre's districts to the rest of the UK, between Victoria Street and Piccadilly Station you have an easy and budget friendly way of getting your stags around, and also into the city itself.
Flights
Whilst trains might be your go to for getting into the city, a much cheaper option for the group would be to fly into Manchester Airport which averages, from London, around £70 - £90pp for a return ticket and only takes around 1 hour, in comparison to the over 2 hour journey by train and costing upwards of £100pp.
Manchester Airport is just a 15 minute train ride into the heart of the city, making this a fantastic destination for stag groups!
Public Transport
Whilst many of the city's districts are within walking distance of the stations, you will find trams, buses and taxi stops throughout the city centre in order to ensure your group easy access to activities and hotspots spread across this stag do destination!
Accommodation & Stag Stays
Part of the excitement of taking charge of your stag, whether on behalf of a friend or for yourself, is getting to choose some killer accommodation to go with the epic activities booked!
Now, we truly believe in a vibrant city like Manchester, your accommodation will be a place to lay your head between activities and sleep off your hangover from the night before, with so much to see and do. Whether you are looking for a budget hotel to suit, a hotel that offers a little more luxury or a party house to bring the activities to you, we have got you covered!
With a whole range of group friendly hotels and houses available as part of your Manchester stag do, just browse, add to you package and our team will be in touch to talk through what is available on your dates and the best options for you!
Not sure what to choose?
No worries! Our party experts will be happy to advise based on the wants and needs of your group. Hotels are great if you want somewhere that has everything. Many offering breakfast and with onsite bars and facilities, many groups opt for this for ease of access to everything you need. However, Apartments and Party Houses make a great option if you want you bring the party to you. With mobile activities such as Private Chefs and Life Drawing available, get a shopping of booze and snacks delivered straight to the door and you will be set for a stag night that will go down in history!
Fun Facts!
Manchester was named after... boobs! Yes, lads, you can thank us for recommending this location for your stag. When the Romans settled in this are in AD 79, the two hills reminded them so much of two breasts they named in 'Mamucium' meaning 'Breast Shaped Hills'. We always knew this city was destined for stags!
Look no further for incredible cultural cuisine, as the legendary Curry Mile has the largest concentration of south-Asian restaurants outside of Asia itself. Fancy a visit? You will find Curry Mile located on Wilmslow Road.
The birthplace of the World's first professional football league, Manchester's National Football Museum is a must for an footie fans and grooms to be on this last night of freedom!
'What Manchester does today, the world does tomorrow.' - Ray Walters
Unique Manchester Events
Parklife Festival
The largest metropolitan music festival in the UK, Parklife Festival has been a part of Manchester since 2010 and has welcomed music icons such as Disclosure, George Ezra, Snoop Dogg, The 1975 and the city's very own Liam Gallagher. As you may be able to tell, the music festival is known for it's wide taste in music, as well as it's entertainment zones, street food and amazing atmosphere!
Whilst prices may rise this weekend in June, if your stag is a music lover this could be a great add onto your weekend!
Manchester Day
Another June event, Manchester Day is a celebration all Mancunian's love to take part in!
This already colourful that welcomes everyone from all communities and cultures, comes together to celebrate all this the city loves! Join in the celebrations by dancing along with street performers and tasting the incredible street food the city has to offer. Day drinking has never looked so good, as the streets come to life with pop ups and live entertainment!
Where to Eat & Drink
Gaucho, Deansgate
Whilst not unique to Manchester, there is something about this steakhouse that stands out amongst the rest. Alongside the incredible food it is known for, this restaurant has taken up residency in a converted church, leaving it with unbelievable interior for an indulgent meal!
Three Little Words, Deansgate Locks
One of the coolest bars in the city for relaxed drink, this industrial bar is tucked away in the arches of Deansgate and makes the perfect start to your night. This swanky bar showcases the full range of Manchester Gins!
The Bay Horse Tavern, Northern Quarter
Known to many to have the best pub grub in the city, The Bay Horse Tavern in the Norther Quarter is the best place to cure your hangover. With an opulent and modern old English design, end your weekend here with a banging Sunday roast to toast to the groom to be!
Victoria's Gentlemen's Club
Designed with stags in mind, this late night stop off is perfect to schedule in if your groom wants something cheeky as part of his Manchester stag. With it being one of the best strip clubs in the city, you won't want to miss a visit to this alternative bar.
Stag Weekend Games
Whilst the options for entertainment in Manchester are endless, keeping the stags entertained whilst they quench their thirst is an essential part of any stag party! Our expert party planners have suggested their favourite games below
Photo Bingo
Capture memories and see the sights! Create a bingo card of top spots and hilarious prompts for your group to collect over the weekend. Have a prize for the winner of the best interpretation and most photos and a forfeit for the weakest!
Win or lose, you will have an endless supply of content for that all important wedding day speech!
Arrogance
A simple game to ensure that drunken antics, all you need is a pint glass, a coin and a drink in hand. Simply take it in turns to flip a coin. Guess heads or tails. Win, you get to move the pint glass to the next person after adding a slosh of your own drink to the concoction. Fail and it will be your go to down the mixture.
We can't guarantee this will be the finest drink you taste during your visit!
Send to All
Not for the faint hearted, this game only has one rule. No phones allowed. Break that rule and you forfeit control of your phone. The remaining stags will get to send a text of their choice to anyone, and we mean anyone, in their contacts.
What's next?
So, you have browsed our selection of to stag do ideas and seen everything this vibrant city has to offer, and decided Manchester is the one for you. Just start building you package online, add your activities and accommodation choices, and submit your request to one of our party experts. We will be in touch soon to get your group booked in with a low £35 deposit.
Sit back and relax with a beer whilst we get your event arranged for you!
FAQ
Frequently Asked Questions