Stag Weekend Guide to Edinburgh
Top Edinburgh Stag Activities for 2023
Edinburgh Stag Do Guide
There is no leaving Edinburgh, no shifting it around: it stays with you, always. - Alan Bold
It's not all tartan, heather and kilts. More beers, banter and bonny hen weekend lasses are waiting for you in this city centre. Och aye, the Edinburgh stag do mixes cracking little boozers, stunning old town architecture, Arthur's seat and uber-cool clubs.
Only 8 miles from Edinburgh airport, the Scottish capital city is one of the most beautiful in Europe, an Edinburgh stag weekend offers a celebration unlike any other! Merging rich culture and streets deep in history with a unique nightlife scene, this city party destination welcomes your stag trip with open arms to experience all that Edinburgh has to offer.
Why choose an Edinburgh stag do?
Edinburgh is a city that begs to be discovered, filled with quirky, come-hither nooks that tempt you to explore just that little bit further. - Lonely Planet
It is easy to understand why Edinburgh is a longstanding contender as one of the most popular stag and hen party destinations, as well as being the second most visited cities in the whole of the UK. With winding cobbled streets climbing their way through history, it will be easy to get lost in the beauty of the buildings and history of what was once a small-town dating back to the 12th century.
Merging the listed buildings and ancient castles with a thriving nightlife scene, incredible shopping district and a great range of stag activities for your group to dive into, there is so much to see and do in the Scottish capital we aren't entirely sure you will fit it all into one weekend. That is why out experts have put together this guide to ensure the an unforgettable weekend away for your upcoming stag party!
Our Stag Party Experts
With over 25 years of planning hen and stag weekends in the UK and Europe, we here at Freedom have proved ourselves to be the best in the business! Our party experts are on hand 6 days a week to help you put together your perfect stag party package, chat through the best stag do activities for you and work towards your budget. 
Making this a stress-free experience with a low £35 deposit to make your booking and an online payment system where the lads pay us direct, your mates get the best time, and you get to take all the credit! 
Speak to one of our experts today on 01992 655 580 
Trending Edinburgh Stag Do Activities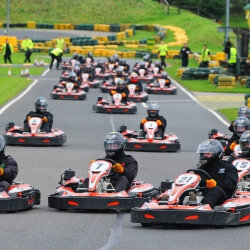 Just 18 miles over the Forth Bridge from Edinburgh is this 500m outdoor track. Race against other groups in 200cc karts in a Grand Prix event with heats, semis and final to become the "King of the Track".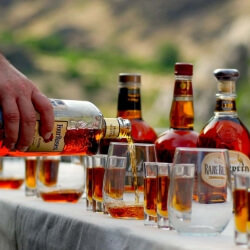 Toast the stag on this exclusive scotch whisky experience. Your private whiskey tasting session lasts 90 minutes and includes 4 drams, connoisseur facts and some ice-breaking games.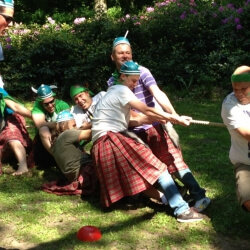 Are you man enough for some serious Scottish bravado? For your Edinburgh stag party we've lined up some crazy highland games... you may discover you've hidden talents.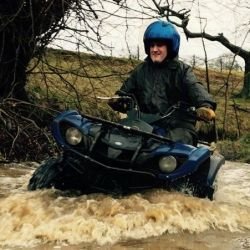 Be challenged on this quad biking safari. You'll be lead by an experience instructor on Honda 250cc quads, tackling obstacles and a variety of terrains.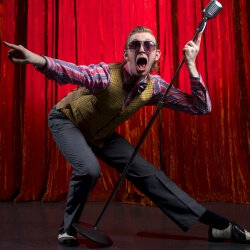 Your stags a total joke, an embarrassment to the human race and needs to be roasted alive by a top bill of comedians. Home to the Edinburgh fringe festival, this city does comedy like no other on the planet, so heckle if you dare on an Edinburgh stag weekend.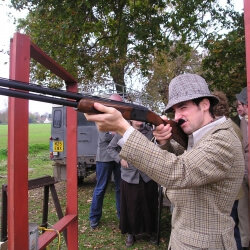 How about experiencing this fine country pursuit of clay pigeon shooting? Those clays will come at you from all angles so take aim... fire... oh fine shot. No pressure, but the loser has to buy the beers!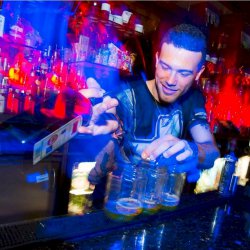 There is no need to wander the streets looking for the best place to have a drink with our Bar Crawl. Save money and hassle organising your Edinburgh nightlife. Get direct nightclub entry with guestlists in the busiest central Edinburgh venues.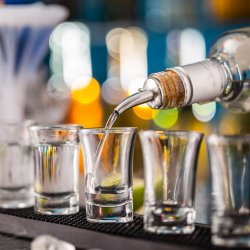 You'll be sure that the stag do in Edinburgh is up for a wee session on the shots, so we've got you covered with an epic drinks package. Let us take the stress out of queuing at the bar with our Edinburgh Drinks Package, pre-order for ease. You'll be given guest list entrance, a reserved area plus a drinks package of your choosing.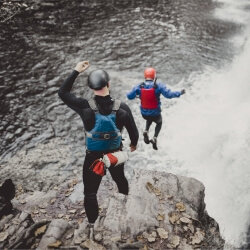 Take on a new adventure during your upcoming stag do by adding Gorge Walking to your package! Jump off cliffs, climb up waterfalls, and scramble over slippy rocks. This will cure those hangovers!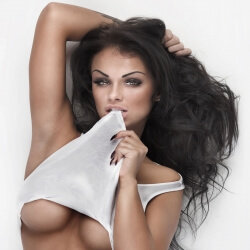 VIP Club entrance to this popular lap dancing bar in the heart of Edinburgh city centre. The Edinburgh Lap Club package includes guaranteed entry. Sit back and relax in comfortable surroundings while you carry on indulging with the liquid refreshments.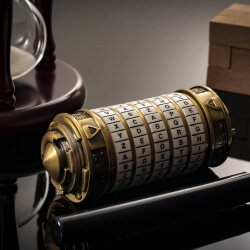 Locked in a room with only a few clues and only 60 minutes to get out! Do you have what it takes to unlock the clues in our escape themed rooms?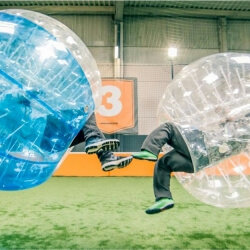 Much like the beautiful game, Edinburgh Bubble Football doesn't need much explaining. Step into your bubble suit, which will turn you from Arsene Wenger to Akinfenwa. After finding your stride it's time to take your place on the pitch. By pitch we mean battlefield, as within seconds we guarantee you will be either face down, flying or upside down having been wiped out by someone in your group.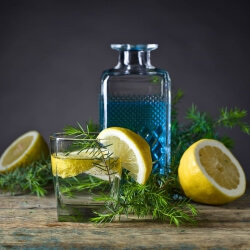 Want more than just a tour of Edinburgh Gin Distillery, then choose to get sloshed in our city centre bar serving a selection of gins and an expert to explain each tasting.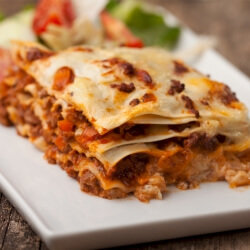 We've lined up a delicious two course meal for your group in a city centre restaurant. Menus are seasonal and offer a huge range of dishes for meat eaters and vegetarians alike, so nobody needs to go hungry. Of course, no meal should go unaccompanied, so we've included a glass of beer or wine to enjoy with your food.
Your Edinburgh Legendary Stag Guide
Spend your time celebrating in one of the most glorious cities in the world. Start your day with a bit if site seeing and take wander up the Royal Mile to the ancient Edinburgh Castle. From here you will not only get the low down on this city's history but incredible views!
Between Go Karting and your Mini Highland Games, take the stag activity towards the Markets where you will be a stones through from your next activity and the lads can enjoy a unique experience and incredible street food.
Hang Out with Potter Heads
Did you know that this magnificent city was not only where JK Rowling wrote the infamous Harry Potter series, but also offered much inspiration to the novels?
As you wander down Victoria Street & West Bow you may notice that the narrow winding street lined with colourful and unique storefronts looks familiar to those depicted as Diagon Alley in the novels. Between the Greyfriars Kirkyard where you will find some familiar names on the tombs, and the many shops and walking tours dedicated to the franchise, if you or your groom-to-be is a Harry Potter fan like us then there is plenty to do and see in this magical old town of Edinburgh!
Make Memories on George Street
One of the most popular streets in Edinburgh for entertainment and eateries, you will find a whole range of shops, bars and cafes amongst the street's glorious architecture of George Street. From high street chains to one-of-a-kind wonders!
For a guaranteed great drink, take your stags to Badger & Co. Known for its cosy and unique pub inspired by Wind in the Willow, experience a culinary adventure and incredible views of Edinburgh Castle from its terrace!
Edinburgh Stag Party Nightlife
From a silent disco to live music venue, the party scene is the beating heart of Edinburgh!
Whilst your days have been filled with cheeky stag activity after activity, the party starts when the sun goes down. Being package specialists, we know what makes a great stag night out and key to keeping all the stags happy is a great meal and plenty of booze... and we've got you covered with both!
After your 3 Course Meal Mexican meal, head down towards the Old Town where you will find a treasure trove of distinctly unique nightlife spots in the city.
Department of Magic
In this potions class you will be able to conjure up a night unlike any other! With themed cocktail making sessions you can brew your own potions and immerse yourself in hours of magic! Oh, and did we mention they also have escape rooms?
Stramash
In the heart of Edinburgh's Old Town, you will find this live music venue, where groups flock for a great night out! Not only does this huge venue offer a unique and beautiful spin on your usual city centre club, but with dance floor fillers and large screens, you are promised a great night out! For a classic night out at bars and clubs you recognise.
Brambles
One of the city's most kept secrets for many years, Brambles is a bar tucked away off the street and bursting with fun cocktail creations your stags are sure to love!
Stag Friendly Accommodation
In a city as vibrant and full of adventure as Edinburgh, we are sure your accommodation will be just a place to rest your head after a heavy night on the town. That doesn't mean you have to compromise on the groom-to-be's wants for his last night of Freedom!
From budget hotels to luxury apartments in city centre locations and just walking distance to some of the best bars and clubs in the city, to unique Party House stays, browse our full range of accommodation options here for your Edinburgh stag party.
Not sure what to choose? No worries! Just give our team a call to chat through what the best options for a great weekend on 01992 655 580!
Fun Facts!
Edinburgh holds host to the world's largest arts festival every year! The Fringe will host over 50,000 performers across 300 locations and generates a whopping £260million for the Scottish economy!
Did you know that over 75% of the Scottish capital's buildings are listed? This is more than anywhere else in the world.
Whilst the national animal of England may by the roaring Lion, there is something rather more magical about the fact that Scotland's national animal is the mythical unicorn!
Edinburgh Weather
Like much of the UK, if you are looking for your best chance of weather you are going to want to book between May and September. These warmer months are going to draw more of a crowd and so be prepared for busier streets. Most stag parties opt for Spring or early Summer months to host their stag party, but there is also something very magic about Edinburgh when Autumn Winter hits! Expect a golden city centre as the leaves begin to fall and an illuminated Royal Mile as the festive lights go up.
Hosting one of the biggest and best Christmas markets in the UK, if you decide a winter stag is for you, stopping by for a mulled wine and some incredible food is an essential part of your stag party!
Drinking games for your stag party
A stag groups staple, drinking games are the best way to ensure easy entertainment for the guys! Whether you need an ice breaker or deal maker, our experts have recommended their favourite classic game to ensure no silent moments during your stag saga!
Photo Bingo

Capture memories and see the city sights! Create a bingo card of top spots and hilarious prompts for your group to collect over the weekend. Have a prize ready for the winner and a forfeit for the weakest!
Win or lose, you will have an endless supply of content for that all important wedding day speech!

Arrogance

A simple game to ensure drunken antics, all you need is a pint glass, a coin and a drink in hand. Simply take it in turns to flip a coin. Guess heads or tails. Win, you get to move the pint glass to the next person after adding a slosh of your own drink to the concoction. Fail and it will be your go to down the mixture.
We can't guarantee this will be the finest drink you taste during your visit!

Send to All

Not for the faint hearted, this game only has one rule. No phones allowed. Break that rule and you give up control of your phone. The remaining stags will get to send a text of their choice to anyone, and we mean anyone, in their contacts.
FAQ
Frequently Asked Questions