Hen Weekend Guide to Edinburgh
Top Edinburgh Hen Activities for 2023
Edinburgh Hen Party Guide
There is no leaving Edinburgh, no shifting it around: it stays with you, always. - Alan Bold
A capital city like no other and known as one of the most beautiful in Europe, an Edinburgh hen weekend offers a celebration unlike any other! Merging rich culture and streets deep in history with a unique nightlife scene, this city centre party destination welcomes all groups with open arms to experience all that Edinburgh has to offer.
Why choose an Edinburgh hen party?
Edinburgh is a city that begs to be discovered, filled with quirky, come-hither nooks that tempt you to explore just that little bit further. - Lonely Planet>/p>
It is easy to understand why Edinburgh is a longstanding contender as one of the most popular hen party destinations. Walk along Princes Street window-shopping, then stroll up the Royal Mile to visit Edinburgh Castle, or fancy walking through Princes Street Gardens before taking a ghost tour at dusk. It is the second most visited city in the whole of the UK, with winding cobbled streets climbing their way through history, it will be easy to get lost in the beauty of the buildings and history of what was once a small-town dating back to the 12th century.
Merging the listed buildings, ancient castles with a thriving nightlife scene, incredible shopping district and a great range of hen activities for your group to dive into, there is so much to see and do in the Scottish capital we aren't entirely sure you will fit it all into one weekend. That is why out experts have put together this guide to planning hen weekends away for your upcoming hen party!
The Edinburgh Fringe Festival in August attracts tourists from all over the world to see shows from relatively unknown artists to TV personalities reliving the early days of small intimate venues. For your own Edinburgh hen party you might want to choose another month and benefit from better hotel availability and prices!
Our Hen Party Experts
With over 25 years of planning stag and hen weekends in the UK and Europe, we here at Freedom have proved ourselves to be the best in the business! Our party experts are on hand 6 days a week to help you put together your perfect hen party package, chat through the best hen do activities for you and work towards your budget.
Making this a stress-free experience with a low £35 deposit to make your booking and an online payment system where the ladies pay us direct, your mates get the best time, and you get to take all the credit!
Speak to one of our experts today on 01992 655 580
Trending Edinburgh Hen Activities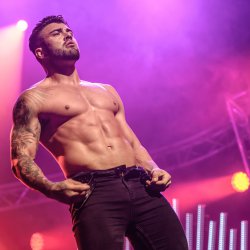 With hot male strippers to start your night off right, a welcome drink ready for you, AND a meet and greet with the Dreamboys after the show, there is no need for us to explain why the Dreamboys have remained one of the best hen party night outs in Edinburgh!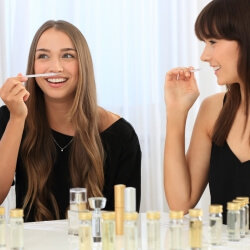 Good news girls... we have got a luxury experience for you! For your hen party in Edinburgh, you will blend and name your very own unique perfume. Whilst your trained specialist guides you through the fragrance journey to help you combine any number of our 18 exquisite blends and arrive at a fragrance you love. Oh, and enjoy a welcome glass of bubbly whilst you do it!
Your Edinburgh hen party is the perfect opportunity for a little pampering. Sit back and relax in the knowledge that you'll be left looking and feeling fabulous, and ready to party! Even better, the beauty therapist comes to you. Choose from a range of 30-minute treatments, from a Back and Shoulder Massage to The Feel-Good Facial!
Put your friendships to the test as you and your group take on one of Edinburgh's most popular escape room challenges! Tackle tasks and solve clues to escape on time in these expertly themed rooms. The cocktails are waiting, girls, how long will it take you to break free?
In your 90 minutes dance class, you'll learn a Spice Girls routine with a professional instructor. We've sorted the music, private room and will even give the hen a bottle of wine and a certificate for all the girls.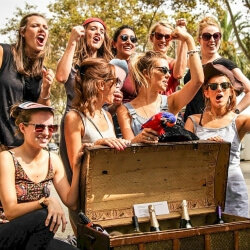 We've modernised an old classic and now you're set the challenge for your Edinburgh hen party. Brain power is a must and a healthy competitive spirit a bonus.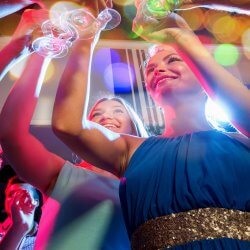 Save money and hassle organising your Edinburgh Bar Tour into the busiest venues. We have direct access to the guestlists in central Edinburgh for all the girls.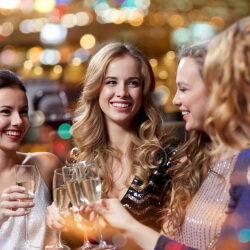 Because we don't believe that your Edinburgh hen party should start by fighting your way to the bar. Let us take the stress out of queuing at the bar with our Edinburgh Drinks Package, pre-order for ease. You'll be given guest list entrance, a reserved area plus a drinks package of your choosing.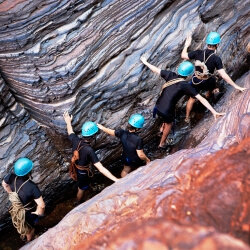 You're in good hands with our highly trained Gorge Walking guides to descend through a steep gorge or canyon with the flow of water. Whilst you explore you will get the chance to jump (from five foot to twenty foot), scramble and swim in amazing natural beauty.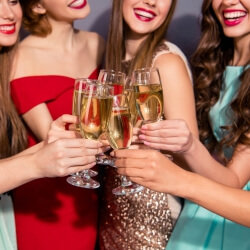 Enjoy a Mexican lunch in a popular central Edinburgh venue with 4 glasses of Prosecco OR Beer, included. It's a great way to lunch with the girls! So how does it work? Well, you'll have a table reservation for 2 hours. You'll be served your lunch and the staff will bring your drinks to the table... sounds good, doesn't it?
Your Edinburgh Guide
Remember, girls, when opting for heels on your night out in Edinburgh, you will find a large portion of their streets are narrow, cobbled and often quite steep. Don't worry, taxis are easy to come by and the awesome range of unique city centre night life and activities are largely within walking distance.
Spend your time celebrating in one of the most glorious cities in the world. Start your day with a bit if site seeing and take wander up the Royal Mile to the ancient Edinburgh Castle. From here you will not only get the low down on this city's history but incredible views!
Between Nude Life Drawing and your Cocktail Making, take the hen activity towards the markets where you will be a stones through from your next activity and the girls can enjoy a unique shopping experience.
Hang Out with Potter Heads
Did you know that this magnificent city was not only where JK Rowling wrote the infamous Harry Potter series, but also offered much inspiration to the novels?
As you wander down Victoria Street & West Bow you may notice that the narrow winding street lined with colourful and unique storefronts looks familiar to those depicted as Diagon Alley in the novels. Between the Greyfriars Kirkyard where you will find some familiar names on the tombs, and the many shops and walking tours dedicated to the franchise, if you or your bride-to-be is a Harry Potter fan like us then there is plenty to do and see in this magical old town of Edinburgh!
Make Memories on George Street
One of the most popular streets in Edinburgh for entertainment, eateries and a little retail therapy, you will find a whole range of shops amongst the street's glorious architecture of George Street. From high street chains to one-of-a-kind wonders!
For a luxe cocktail bar experience, take your hens to Tigerlily. Known for its chic and glitzy interior and award-winning mixologists, this bar was made for hen nights!
Edinburgh Nightlife
From a silent disco to live music venue, the party scene is the beating heart of Edinburgh!
Whilst your days have been filled with cheeky hen activity after activity, the party starts when the sun goes down. Being package specialists, we know what makes a great hen night out and key to keeping all the hens happy is a great meal and plenty of booze... and we've got you covered with both!
After your 3 Course Meal and Cocktail Making session with the pros, head down towards the Old Town where you will find a treasure trove of distinctly unique nightlife spots in the city.
Department of Magic
In this potions class you will be able to conjure up a night unlike any other! With themed cocktail making sessions you can brew your own potions and immerse yourself in hours of magic! Oh, and did we mention they also have escape rooms?
Stramash
In the heart of Edinburgh's Old Town, you will find this live music venue, where groups flock for a great night out! Not only does this huge venue offer a unique and beautiful spin on your usual city centre club, but with dance floor fillers and large screens, you are promised a great night out! For a classic night out at bars and clubs you recognise, the New Town is the place to head for cocktails and fun!
Brambles
One of the city's most kept secrets for many years, Brambles is a bar tucked away off the street and bursting with fun cocktail creations your hens are sure to love!
Fun Facts!
Edinburgh holds host to the world's largest arts festival every year! The Edinburgh Fringe will host over 50,000 performers across 300 locations and generates a whopping £260million for the Scottish economy!
Did you know that over 75% of the Scottish capital's buildings are listed? This is more than anywhere else in the world.
Whilst the national animal of England may by the roaring Lion, there is something rather more magical about the fact that Scotland's national animal is the mythical unicorn! (you won't find one in the National Museum or Edinburgh Zoo)
Edinburgh Weather
Like much of the UK, if you are looking for your best chance of weather you are going to want to book between May and September. These warmer months are going to draw more of a crowd and so be prepared for busier streets. Most hen parties opt for Spring or early Summer months to host their hen weekend, but there is also something very magic about Edinburgh when Autumn Winter hits! Expect a golden city centre as the leaves begin to fall and an illuminated Royal Mile as the festive lights go up.
Hosting one of the biggest and best Christmas markets in the UK, if you decide a winter hen is for you, stopping by for a mulled wine and some incredible food is an essential part of your hen weekend!
FAQ
Frequently Asked Questions