Hen Party Houses
Group accommodation made easy with over 250 hen party houses in the UK.
'Freedom gave us a fabulous package of which every element was so good, we had the best time!' - Gemma
So, you are planning a hen weekend. Woohoo! Let the celebrations commence!
Whilst there are plenty of decisions to be made during the project, one of the most important ones to make is the party location, and alongside that comes your party pad accommodation. Whilst browsing through the website you may be a little overwhelmed by the whole host of choices we offer, it all really boils down to two things. Practicality and the theme of your hen party.
Are your hens likely to travel for this occasion? Do you need somewhere local or are you all able to travel a little further afield? Do your hens have the budget for the perfect weekend you are planning? Whilst there is nothing wrong with wanting to do something special with unique activities, being practical is key when making decisions.
Does your bride want a luxury weekend away in the city, with nightlife on the doorstep? Or is she more of a country gal who wants seaside living and a view of the sea with all the activities coming to her? Either way, the wants and needs of the bride must be taken into considerations when choosing your accommodation. This is where party houses make the perfect base for a hen weekend! By booking self-catering accommodation you can customise the hen party to be exactly the occasion both you and the bride wants it to be!
Does the sound of making memories in hot tubs, bubbles in hand and surrounded by your fav girls sound like heaven to you? Then check out the Manchester Luxury Spa Mansion, which offers sun loungers, a BBQ and outdoor dining area, making this a summer haven!
Trending UK Party Houses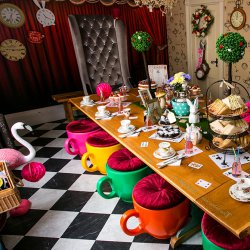 Sleeps up to 24 - 6 bedrooms + 3 bathrooms
Taking inspiration from Alice in Wonderland this creatively designed, 5 storey townhouse has stunning sea views and will enchant you with this themed townhouse the minute you walk through the door. For a pure fantasy experience, the Madhatters tea party will wrap itself around you. Check out the extremely long Enchanted table, chequerboard floor, teacup stools and an over-scale high backed chair at the head for the guest of honour!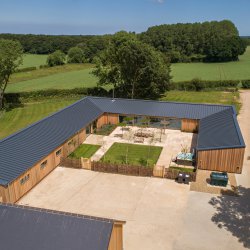 Sleeps 10 - 4 bedrooms + 4 bathrooms
The ultimate weekend getaway, enjoy celebrating by the North Norfolk coast in the modern barn designed with groups in mind. Between the spacious indoor and outdoor social areas, cinema room and hot tub, you will not be short of things to do during your stay. Explore the local gastro pubs and farm shops, before heading back ready for an evening of activities in this gorgeous space!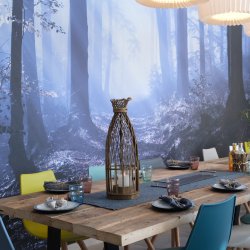 Sleeps 16 - 7 bedrooms + 7 bathrooms
For those of you that like to keep it 'green' wherever possible this is the perfect choice. Green heating and hot water, green car charging point and green fields all around who could ask for more! Enjoy a Peak District weekend away in this converted agricultural barn in a stunning rural location. Chill with friends in the hot tub, games room and around the fire pit.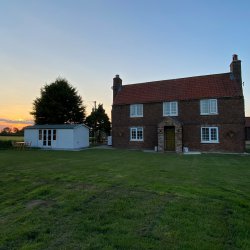 Sleeps 20 - 5 bedrooms + 2 bathrooms
Your group will be staying in the Farmhouse and adjoining Cabin, set on a private estate. Totally peaceful and yet just 10 miles from York city centre. Part of an estate, you'll enjoy time in the huge garden. Relax in the hot tub, get competitive at the pool table and serve chilled drinks from the outside recreational area. Your home for the weekend has a beautiful city nearby whilst also only 40 minutes from the stunning Yorkshire coastline.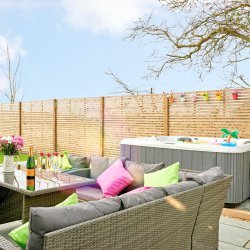 Sleeps 16 - 7 bedrooms + 6 bathrooms
This charmingly light, bright and contemporary house in the South West provides the perfect escape it all opportunity. Chill with a chick flick in the cinema room, make cocktails in the bar and drink them whilst dipping in the hot tub. Nestled amongst the Somerset Quantocks, with its hills, canals and narrow lanes your home for the weekend is the perfect rural retreat.
The Perfect Package
There is nothing boring about hen parties at home!
Our amazing hen party houses offer everything from a luxury and stylish space to city centre town houses to make the perfect base to your night out. Adding fun weekend activities and games to your accommodation means you can create a bespoke weekend away for your bride-to-be.
Top Mobile Activities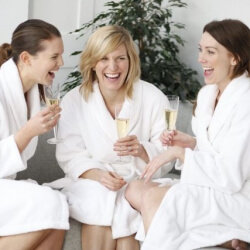 Arrange a pre-party pamper for in hen party houses, each hen will receive a 30-minute treatment from our qualified beauticians. From a back and shoulder massage, manicure, to hot facials, your hens will appreciate this added experience to your weekend away!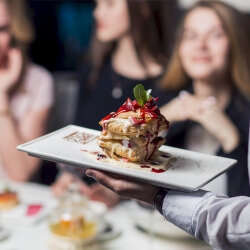 With a weekend of celebrations planned, why not add private chefs to make the most of the occasion? Cooking up a mouth-watering 3 course meal, they will even clean up after leaving your group to celebrate the night away!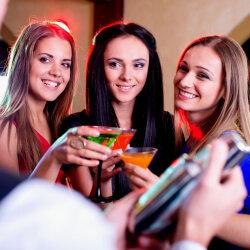 Bring the party to you as you and your hens get to shake, make and taste cocktails with the help of our expert mixologist who will come straight to your party house!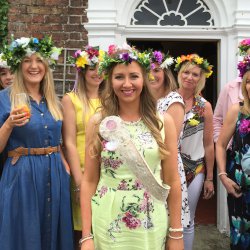 Time to get creative! Be bright, be bold and stand out from the crowd. With an expert guise and all the equipment required, party houses make the perfect venue for crafting these silk flowers into the perfect accessory!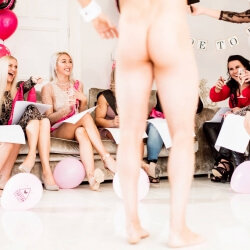 Things just got a whole lot cheekier! It won't be hard to keep your eyes forward as we provide a fit male model, a tutor and all the materials for a Nude Life Drawing class for your hen party!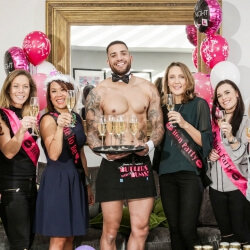 Ooh girls, now this really is a treat! With drop-dead gorgeous butlers on hand to serve your group in no more than a bow tie, collar, cuffs and bottom-revealing apron, this works great alongside your Private Chef, or just a little fun!
Top hen party house themes and ideas
Choosing your perfect party house is easy when you know what theme your bride-to-be will love! Our team of hen experts have put together some of our favourite themes and ideas for your brides.
Hen-Fest!
For those fun-loving festival brides, there is so much celebrating to be done when hosting your very own Hen Fest! In the home county of one of the UK's biggest music festivals, Latitude, you will find the Suffolk Granary & Glamping. Pair a weekend in their luxury yurts with Flower Crown Making and personalised wristbands for your hens!
Zen HEN
Step out of the city and soak away the stress of pre wedding planning! Host a Zen Hen at our Ayrshire Spa House where this glorious countryside retreat offers ultimate relaxation. Follow a soak in the hot tub with a Yoga and Pamper session before cosying up in front of the built-in cinema screen! Why not create a goody bag of spa accessories embellished with your bride's name? A robe, flip flops and game work great to get everyone involved.
Team bride
Wanting a classic hen party with cheeky straws and learner plates? We love that! Why fix what isn't broken? Pair the girly accessories of feather bowers and hen t-shirts with the glamorous vibe you will find at Buckingham Boutique Hotel, where Nude Life Drawing and a Sexy Butler will make for a cheeky weekend away!
Come on Barbie!
Let's go party! Hen party houses don't get better than Somerset Themed House, where wacky is what they do best. In your very own fun house, you will find a large dining area and disco space, as well as dressing rooms to get ready for the antics of the night ahead. Make the most of the property vibe within house Cocktail Making before heading on out at Dollhouse to carry on the theme! Dress code: Pink!
Drunk in love
Go full diva by taking your glam squad to Manchester Luxury Spa Mansion! Not only will you be in hen party central, but the holiday house sleeps up to 20 and features an indoor swimming pool, hot tub and a modern style entertaining area, many making a gorgeous background for you Instagram snaps! Glam up before heading out to Dreamboys with a Mobile Party Makeover!
The Last Disco
Throw it back old school style by hosting a weekend dedicated completely to the bride at Cotswold Pool Getaway! Theme your celebration around her birth year or a decade she loves and go all out. From disco balls and Spice Girls Dance Class to a slumber hen party after Old School Sport Day. With this hen party house boasting an exclusive indoor pool, a spacious bar and plenty of fantastic indoor and outdoor space for entertainment and games!
Island Vibes!
Bring the Love Island vibes to you with an amazing weekend escape to Somerset Quantocks House for your upcoming hen party! Stock this stylish property with personalised wine glasses and water bottles, book a Mobile Chef to come give your gang the VIP experience in the outdoor dining area.
Muggle to Mrs
So, she's found her keeper and is on her way to make an unbreakable vow, but not before your bride-to-be has shot a potion or two - don't worry, we won't snitch! Wisk your best witches off to Sussex Country Hall for a fantasy hen weekend. Bringing serious Hogwarts vibes, this 17th century house will add a spin to your hen weekend! Pack you potion ingredients and host House Games!
Party House Features
Hen houses make the perfect hen weekend for all the girls, especially for large groups in popular UK destinations with facilities at incredible properties.
Hot Tubs
Swimming Pools
Sauna
Private Chef
Games Room
Tennis Courts
Self-Catering Kitchens
Party Rooms
Cinema Room
Country Retreat
City Centre Party
Private Grounds
Freedom have long standing relationships with the perfect place for your hen group to give your best friends a fabulous send off.
Why Choose Freedom?
Being tasked with the mission of planning and booking a hen party, whether it be for yourself, your bestie or your future sister-in-law, can always seem like a bit of a daunting task. What you must remember is that it is always an exciting project to take on too, and with the help of us here at Freedom, it will also be a stress-free experience too!
Our team of experts have hand-picked a fantastic range of group friendly hen do houses across the UK that make for the ultimate setting for your upcoming celebration.
With over 26 years of experience curating the best hen and stag parties we know we are the best in business which means we know what makes a great hen party, and it's all right here at your fingertips.
Call us today on 01992 655 580 for the perfect weekend!