Birthday Party House to Rent
Houses for rent sleeping 8 to 50 friends with activities, hot tubs, games rooms and local activities...
"Freedom gave us a fabulous package of which every element was so good, we had the best time!" - Gemma
It's time to get the party started with houses to rent!
Why not make the most of this opportunity to celebrate by booking one of our hand selected large party houses? Host your dream party in one of luxurious homes or spend your special occasion in some of the most picturesque locations.
No matter what the occasion, one of the most important decisions to make is the party location, and alongside that comes your accommodation. Whilst browsing through the website you may be a little overwhelmed by the choices we offer, it all really boils down to two things. Practicality and the theme of your extra special party.
Are your attendees likely to travel for this occasion? Do you need somewhere local or are you all able to travel a little further afield? Do your friends have the budget for the party you are planning? Whilst there is nothing wrong with wanting to do something special and unique, being practical is key when making decisions.
Does your VIP want a luxury weekend away in the city, with nightlife on the doorstep? Or are they more of a country gal who wants a view of the sea and all the activities to come to them? Either way, the wants and needs of the VIP must be taken into considerations when choosing your accommodation. This is where the best party houses make the perfect setting for a birthday celebration weekend away! By booking self-catering accommodation you can customise the party be exactly the occasion you want it to be!
Does the sound of making memories in hot tubs, bubbles in hand and surrounded by your fav girls sound like heaven to you? Then check out our party houses to rent for large groups, which offer sun loungers, a BBQ and outdoor dining area, making this a summer haven!
Trending UK Party Houses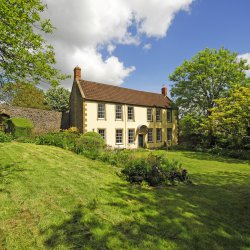 Sleeps up to 20 - 7 bedrooms + 6 bathrooms
Prepare to be enthralled by this 16th century house, that's been carefully renovated to offer you all the modern conveniences whilst losing none of its charm. Four poster beds, open fireplaces, original features and beautiful large windows so you can admire the view. Your comfort is upmost, relax in the Drawing Room, have fun in the games room and chill in the hot tub.
Sleeps 16 - 7 bedrooms + 7 bathrooms
Make your home for the weekend in this 18th century, stone-built farmhouse. Now stunningly converted to provide the space and flexibility for your group. After an exhilarating walk in the Peak District, some chill out time in the hot tub will be most welcomed. You can relish the peace and quiet of the shared 16-acres of natural grounds with sitting-out area and free river fishing.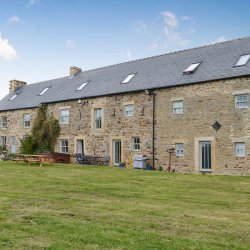 Sleeps 19 - 5 bedrooms + 4 bathrooms
Your home for the weekend will be a stunning Farmhouse on a country estate set in the Durham Dales. Escape and relish the remoteness of a country retreat with fantastic views. You'll have shared use of an indoor swimming pool, sauna and the snooker table in the games room.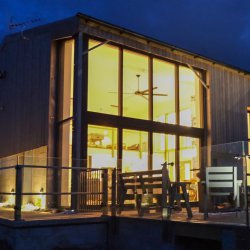 Sleeps 16 - 7 bedrooms + 7 bathrooms
For those of you that like to keep it 'green' wherever possible this is the perfect choice. Green heating and hot water, green car charging point and green fields all around who could ask for more! Enjoy a weekend away in this converted agricultural barn in a stunning rural location. Chill with friends in the hot tub, games room and around the fire pit.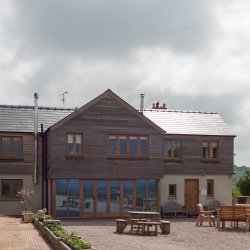 Sleeps 24 - 9 bedrooms + 7 bathrooms
Going big in Wales, we'll arrange the Farmhouse for your party. Take in views of the Black Mountains and stunning Herefordshire countryside... and breath. On the doorstep is Ludlow famous for food and Cheltenham famous for horses and good news the nearest pub is only a 5-minute walk.
The Perfect Package
There is nothing boring about a party at home!
Our amazing group accommodation offer everything from a luxury and stylish space to city centre town houses to make the perfect base to your night out. Adding fun weekend activities and games to your accommodation means you can create a bespoke weekend away for your special celebration.
Top Mobile Activities
Arrange a pre-party pamper for in hen party houses, each hen will receive a 30-minute treatment from our qualified beauticians. From a back and shoulder massage, manicure, to hot facials, your friends will appreciate this added experience to your weekend away!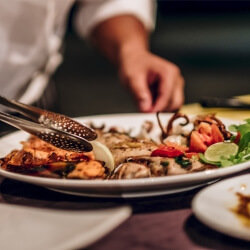 With a weekend of celebrations planned, why not add a private chef to make the most of the occasion? Cooking up a mouth-watering 3 course meal, they will even clean up after leaving your group to celebrate the night away!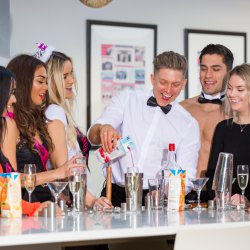 Bring the party to you as you and your mates get to shake, make and taste cocktails with the help of our expert mixologist who will come straight to your party house!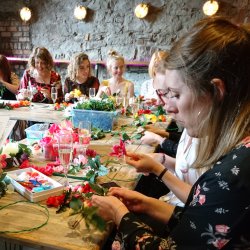 Time to get creative! Be bright, be bold and stand out from the crowd. With an expert guise and all the equipment required, party houses make the perfect venue for crafting these silk flowers into the perfect accessory!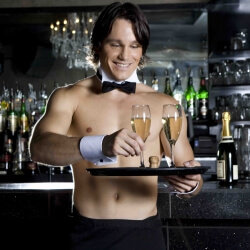 Ooh girls, now this really is a treat! With drop-dead gorgeous butlers on hand to serve your group in no more than a bow tie, collar, cuffs and bottom-revealing apron, this works great alongside your Private Chef, or just a little fun!
Party House Features
Hot Tubs
Swimming Pools
Sauna
Private Chef
Games Room
Tennis
Self-Catering Kitchens
Party Rooms
Cinema Room
Country Retreat
City Centre Party
Garden
Why Choose Freedom?
Being tasked with the mission of planning and booking a birthday party, whether it be for yourself or your bestie, it can always seem like a bit of a daunting task. What you have to remember is that it is always an exciting project to take on too, and with the help of us here at Freedom, it will also be a stress-free experience too!
Our team of experts have handpicked a fantastic range of group friendly party houses across the UK that make for the ultimate setting for your upcoming celebration.
With over 26 years of experience curating the best birthday, hen parties and stag parties we know we are the best in business which means we know what makes a great party, and it's all right here at your fingertips.
Contact our team today on 01992 655 580