Hen Weekend Guide to Prague
Top Prague Hen Activities for 2023
Prague Hen Do Guide
If European cities were a necklace, Prague would be a diamond among the pearls.
Boasting iconic landmarks, indulgent bars and clubs, and even a spa where you can bath completely in beer, there is plenty in this epic city for your hens to fall in love with, when you visit Prague and throughout the weekend. Our Prague Hen Travel Guide will take you through everything you need to know as you book your weekend away, including our most popular activities, recommendations on where to eat, drink and party, and much more!
Why Prague Hen Party?
With guides on hand to show you the Czech capital city sights and a great public transport system, don't be surprised if you find yourself wanting to see everything this city has on offer. Our team of experts are on hand to help navigate you from enquiry to the party, help you choose the activities that are right for you and accommodation to suit your budget. Streets alive with a red hot party scene and open all hour clubs as part of the city's infamous Wenceslas Square, you should expect to see quite a few hen and stag groups throughout your stay, but we can also promise fun filled activities from classics to the weird and wacky, and cocktails cheaper and better than just about anywhere else!
Prague manages the perfect balance between glorious architecture and distinguished nightlife, with a whole range of fun activities to tick all the boxes no matter what kind of weekend you are after. Your hen party in Prague promises to be unforgettable weekend!
Build your Prague Hen Do
Prague is bursting with potential and a huge range of hen party activities.
You can browse our full range of hen activities on our website, from jelly wrestling to bobsleighs, you can find it all in Prague. Just add them to your enquiry and one of our Party Experts will be in touch to build the perfect hen package for your group. Of course, if you aren't sure what to choose from, see our bestsellers below!
Our Top Prague Hen Do Activities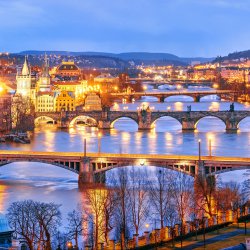 An unbeatable experience, your private cruise down the Vltava River not only keeps your girls hydrated with an open bar but includes a guide to show you all the city sights! Seeing Prague from the river gives you a great view of this awesome city!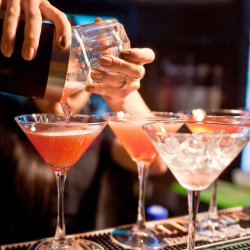 With a professional mixologist at your disposal in the heart of trendy Prague, you and your hens will get to shake, make and taste 2 cocktails each whilst your private bartender teaches you all you need to know about cocktail making. With snacks and nibbles added to the activity, this is a great place to start if you are looking for an afternoon activity to get the drinks flowing!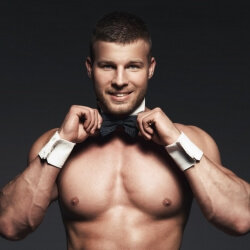 For those wanting a spicy night in Prague, we have got you covered! By booking our Hen Night activity package your group will get to enjoy a traditional Czech 2 course meal with 2 glasses of wine per hen. So what makes is spicy you ask? We'll include a 15 minute male strip show for the bride-to-be.
Inject a bit of culture into your weekend with this Prague Hen Do Brewery Experience, as you Czech out how this famous beer is made and in the country that drinks more of it than anywhere else in the world!
Locked in a room in the capital of the Czech Republic is everything you didn't want on your hen weekend away, right? Wrong! Our Prague Escape Room gives your group an hour to solve puzzles to find hints and hidden objects to escape the room. That is if you want to make your Bar Crawl later! Battle for freedom and beat the clock.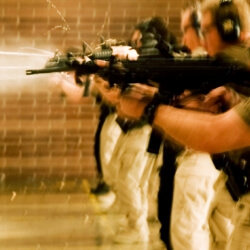 A weekend in Prague wouldn't be complete without a visit to the shooting range. Each hen will be given a AK-47 Assault Rifle and 20 shots to experience the action you only usually see on the TV screen. With transfers included and an English speaking guide, this is sure to be a crowd pleaser!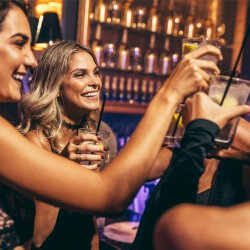 So you have completed a day of the sightseeing and walking tours, maybe you have shook up a cocktail or spend the afternoon in an inflatable bubble as you challenge your friends to Bubble Football. You have seen the city, but not like this! Your guide will give the tour of the some of the liveliest bars in central Prague as you down a welcome shot in each venue and finishes with nightclub and lap club entry upon request!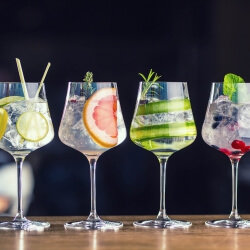 Whilst the Czech Republic may be known for consuming more beer than anywhere else on the planet, gin is back in and this central bar you will be able to enjoy 4 drinks each, alongside bar snacks, as you relish in the 90 minutes of private Gin Tasting!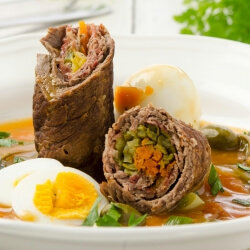 The rumours are true, Prague really does offer some of the best food in Europe! Great grub and plenty of it is an essential part of any hen party and this 2 course traditional Czech meal will ensure the girls don't go hungry. Along with the table reservation and meal, each hen will receive 2 drinks to get the party started early!
I liked Prague. No other city has so much soul. – Jean-Pierre Melville
Where to head on your Prague Hen Parties
New Town
The loudest district in the capital, the New Town is the place to head if you want the eccentric party atmosphere. Home to the infamous Wenceslas Square, where not only will you find the largest number of strip clubs in central Prague, but lavish bars, clubs and cocktail bars more than happy to host your group!
Old Town Square
During the day, the Old Town is the place to head if you are wanting to inject a bit of culture into the weekend. Check out the famous Astronomical Clock in the heart of the Old Town and incredible 11th century gothic architecture the district has to offer, but don't forget to come back in the evening to experience the great pubs and dotted around too!
Charles Bridge
The oldest bridge still stretching over the Vltava River and the second oldest in the whole of the Czech Republic, you will get to witness the city from a whole new view! A great place to see the sunrise after a heavy night on the town or take in the 30 baroque statues of patron saints, creating an incredible outdoor gallery experience, Charles Bridge is a bucket list visit for your Prague hen party weekend! You may even get the chance to take a river cruise down the Vltava River with drinks in hand.
The Lennon Wall
Despite having never visited the capital, curated of the art and street graffiti, the John Lennon Wall was created in the 1980s to honour the icon and the work he did! This makes a great photo opportunity and isn't too far from the above, Charles Bridge.
Prague Castle
Did you know Prague holds world records for both the most extensive collection of bus tickets AND the largest ancient castle? It really doesn't get much more exciting that this! Prague Castle boasts incredible spires and glorious interiors for those of you who want to see the gothic architecture the city is renowned for!
Dine & Drink in Prague
So, you have the hen do activities planned, now it's time to schedule in your meals. Almost as important as the drinks, great food and plenty of it is key to fantastic hen parties.
Take the stress away and book a delicious Afternoon Tea or Medieval Banquet as part of your package, but with so many amazing options in the city centre, we have dropped some recommendations for great food and drink on the go.
Cerveny Jelen
A brand new restaurant opened this year and the largest in the capital, Cerveny Jelen – or Red Deer – stretches three floors and has a beer tank tower to ogle over! Serving some of the best modern dishes whilst its relaxed atmosphere remains, your hen party group will be impressed with indulgent experience!
Café 80s
More than just great food, Café 80s offers a brilliant atmosphere and two floors of entertainment. Set in a stylish music club in Prague's Old Town Square and with a luminous dance floor, this venue promises a party! A mix of incredible cocktails, steaks and 80s/90s music, you really can't go wrong!
Mlynec
Tucked away under Charles Bridge you will find this cosy terrace restaurant which is sure to be a treat for your hens. It isn't hard to see why this is a favourite with both locals and tourists as you take in the beautiful, elegant interiors and views of the famous river and Charles Bridge, as you enjoy top Prague dishes that will keep you coming back!
Must Visit Bars and Clubs Prague
Crazy Daisy
A new cocktail bar on the scene, Crazy Daisy in the bar for you if you want delicious, tasty cocktails and an Instagram worthy backdrop! Whilst they do cocktails like no other, their décor is not understated either. Their lavish neon pink walls and opulent bar stocking over 500 wines from all over the world means this mixology bar offers everything you need to ensure a memorable experience for your hens!
Black Angels Bar
In the heart of the Old Town Square is this underground bar where the professional mixologists do cocktails like no other in a one of a kind bar experience. As you head down to the dimly lit cave, you'll spot giant fish tanks and plus leather sofas that will have you thinking you have stepped straight onto a movie set.
Bed
Have you ever found yourself on a night out in the most uncomfortable heels and tired of standing? Yes, us too, which is why BED sounds like an absolutely dream! Instead of tables and chairs you will find everyone here hanging out on giant beds and surrounded by LED lights make this a dreamy experience as you sip cocktails surrounded by your favourite girls!
Prague Hen Do Flights and Transfers
Little more than 2 hours from the UKs major airports, Prague is the city break you and your hens need to celebrate!
After arriving in the biggest airport in the Czech Republic, there is no need to stress over getting your group in the heart of the city, as Transfers can be arranged prior. It couldn't be any easier! Being 20k north of the city centre, you are going to want to travel in comfort, so we offer an upgrade on the usual mini bus which is unsurprisingly popular with our groups. Upgrade to the Limo Transfers for a VIP experience!
Whilst taxis in Prague can be pre booked or found outside the main entrance of the airport, and their services clearly advertised throughout the arrival halls, we always recommend prearranging transfers for groups travelling into the city. Keeping the hens happy is key and with around a 50 minute journey to the cocktails, you don't want to keep them waiting!
Want to stick to the hen party budget? Buses are available to hop on from the airport. Their timetables are easily accessible online, along with details on booking and their app to make traveling into around the city so much easier!
Getting Around on Your Hen Weekend
E Scooters
Recommended by one of our hen party experts and proving to be popular with groups, Electric Scooters are not only an insanely cheap way of getting around the city, with companies such as Lime charging as little as 80p to unlock them through their app, and just pence per minute to  use, but a quick method for getting the sights into your schedule!
Bus
An easy way of getting from one activity to the other, and much cheaper than taxis, buses are the best option for hauling your group around as they operate through the night even when the Prague metro and trams are not. Unlike the buses we are used to, tickets must be purchased before boarding and can be done so through machines at the stations or any Tobacco Stores, whilst the easiest way to do so is through the transport app on your phone.
Metro & Trams
Whilst Prague's Metro works much like our own Underground with three lines to get you around and running every 2 to 4 minutes, the Trams a surface level option and run between every 8-10 minutes in peak hours. For seeing the city sights, the 'Nostalgic Line' 42 is recommended!
Walk
With great options for central accommodation, walking is a great way to get your group of guys around the city during your hen weekends. Whether it be a wander, a walking tour or a bar crawl, most of Prague's must see's are all within walking distance from one another.
Accommodation & Hen Stays in Prague
With a city bursting with potential for the best hen weekend, we truly believe that your accommodation will be a place to sleep off the shots and get ready for the adventure ahead. With the hen activities chosen, you can find an accommodation option to suit your groups budget.
Just start building your Prague Hen Do Package and choose which Prague accommodation to suit your groups wants, needs and budget. Our expert party planners will take care of the rest!
3 star Hotels and Luxury Hotels are available to our groups if you want the ease of knowing breakfast and house keeping is included, but we find many opting for the city centre Apartments! Being within walking distance to the Wenceslas Square and Old Town, the self catered apartments means you can come and go between activities and stock the fridge full of your favourite booze and snacks to last you the weekend!
Drinking Games for your Prague Hen Weekend
The options in Prague are endless, keeping the hens entertained whilst they quench their thirst is an essential part of any hen party! Our expert party planners have suggested their favourites below:
Photo Bingo

Capture memories and see the sights! Create a bingo card of top spots and hilarious prompts for your group to collect over the weekend. Have a prize for the winner of the best interpretation and most photos and a forfeit for the weakest! Win or lose, you will have an endless supply of content for that all important wedding day speech!

No Names

A simple game to ensure that drunken antics and a great ice breaker! Event better, you don't need anything more than a drinks in hand! With just one rule of no names allowed, after a few drinks you will find yourself coming up with all sorts to get your friends attention, and maybe a few slip up and spills may occur! If you forget then you accept the forfeit and down the remainder of your drink!

Send to All

Not for the faint hearted, this game only has one rule. No phones allowed. Break that rule and you forfeit control of your phone. The remaining hens will get to send a text of their choice to anyone, and we mean anyone, in their contacts.
Our Prague Destination Experts
We are lucky enough to have an incredible team of party planning experts at your disposal. On hand to help you build the perfect package in this latest party destination, they play a key part in planning your event.
Chat to one of our Prague Hen experts on 01992 655 580.
Prague Weather
If you are wanting to ensure the best of the city sights and venture from bar to bar without the risk of rain, July is the best month to take your hens to the city. To experience the averaging highs of 18° you will have to balance peak season prices for flights and accommodation, but we can guarantee a great hen experience as the city comes to life for the summer!
Looking at hosting your event out of season? We recommend April and October as the winter months between November and March can drop to lows of -1°c. Whilst the castle spires look stunning in the snow, getting your hens from one activity to another may be a little trickier.
Prague Local Proverbs
Dvakrat met, jedhou rez
– "measure twice, cut once"
Rano moudrejsi vecera
– "better sleep on it"
Vesla mysl je pul zdravi
– "merry mind is half your health"
FAQ
Frequently Asked Questions