Stag Party in Krakow
With hundreds of restaurants, bars and clubs tucked away down its cellars and narrow alleyways Krakow is a great City!
2016 MEGA SALE
Stag Do Weekend Krakow
Scenic, salty, stupendously fun.
Welcome to a city wrapped in legend. For centuries it was the capital of Poland, the seat of Kings, drawing great scholars and artists from the whole world......and then came the stag! This is the stuff that legendary
Krakow stag weekends
are made of, offering up culture, pubs, clubs, and great food.
Krakow Stag Weekend Nights
Our packages start from you just £69!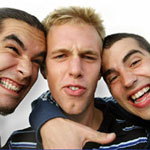 Stag Crack on in Krakow
+ Two Nights Central Accommodation
+ Airport Transfers and Meet and Greet with Beers and Welcome pack.
+ 24 hour rep service
+ Tailored tour of Krakow's best clubs and pubs
......and more
Something for everyone we like to think, however if you cant find exactly what you are looking for or have any questions at this stage please just
Email us
. We're always happy to help.
Krakow manages to reflect all things Polish, whilst successfully connecting tradition with today. Captivating, special and full of history, this is a truly memorable place to visit and host your
stag night parties in Krakow
.
Food is safe whilst being tasty, so be adventurous and order the regional dishes of pierogi, barszcz czerwony, oscypki and zurek Ė if you can say it surely you can eat it.
Stag parties in Krakow ACTIVITIES
Check out our
stag party day Krakow
ideas for your
stag party Krakow
, variety is key.
Stag night in Krakow NIGHTS
Taking you by the hand to where the party's at with our
stag night Krakow
, satisfyingly good
stag nights Krakow
ideas.
Stag do in Krakow INFORMATION
We aim to please at all times, but also we aim to be helpful with any extra
Krakow stag do information
that we find and can pass along to you for the
stag do Krakow
.
Stag weekend in Krakow TRAVEL
Get your flights booked, your bags packed and follow our
Krakow stag travel
tips and advice on the
stag weekend Krakow
.
Freedom Stag Reviews
Krakow Stag Weekends

Reviews :


Jon

's review on

16 April 2015

Great time and great fun!!

The experience couldn't have been better, from booking, payment, itinerary and execution! Perfect. I went to Krakůw and in the back of my mind there is always the worry of whether ur promised ride is going to be waiting at the airport. It was, and everything else from then on was perfect and I needant have worried. Our guide out their, Justina, was perfect and friendly and just did whatever we wanted we when we didn't really know what we wanted to do. Overall it was fantastic.
Stag activities in Krakow
Machine Guns
,
Boat Cruise
,
Bar Tour
,
Airport Transfers
David

's review on

20 September 2013

Dear Carol,

I Would just like to say that the White water rafting was a really good experience, all the troops really enjoyed themselves and they were glad that they did it. The Staff at the Centre were very friendly and very competent at what they do.

The guide whose name I didnít catch or have forgot, I canít speak highly enough of her. Thanks for arranging it and I will be passing on your companies to my friends and work colleagues.

Thanks very much.
David.
Stag activities in Krakow
White Water Rafting
David

's review on

20 September 2013

Before we left the UK, the communications from freedom was second to none, plenty of correspondence and reassurance.
On the day our guide was 5 minutes early in good old navy tradition, and escorted our transfer to the white water rafting centre. she was polite, friendly and full of information in regards to all things Krakow.
We got handed over to the instructors who kitted us all up and made us feel safe on the water. Our guide stayed and watched us carry out the detail and took photographs of us all, which wasn't expected and its little things like that can make the day a big difference. facilities were top notch in regards to clean showers and changing room! the response from the group was better than i was expecting and we couldnt find a fault with the day. It is worth paying the extra for 2 hours, as 1 hour would be too short.

Our guide asked me for the final balance which i explained it was all paid for and i had the evidence to hand, anyways she made one phonecall and it was resolved :)
Stag activities in Krakow
White Water Rafting