Stag Weekend Guide to Budapest
Top Budapest Stag Activities for 2023
Budapest Stag Do Guide
Said to have a nightlife that is unrivalled in Eastern and Central Europe by the infamous Lonely Planet, Budapest offers an unbeatable experience if you are looking for the perfect blend of what every city break needs. Distinctly unique bars and clubs, thrilling activities, great stag do reviews, and a history that has moulded the culture of it's people today!
The below guide will give you all you need to know about our top picks, along with the hot spots in the Hungarian capital, including which ruin pubs to hit first, rooftop bars and the cheapest destinations!
Divided into 7 Districts, each with an individual atmosphere and adding something individual to your hassle free Budapest stag do activities, this city centre has something to suit everyone! Offering a whole range of classic stag activities, from Shooting Experiences to Bubble Football, to the more unique in the city centre, not limited to Beer Spa and Sparty, our guide will take you through all you need to know about this iconic stag city, Budapest stag ideas, and how we can help you make the most of the groom's final night of freedom!
Budapest - A Legendary Stag Weekend Location
'In Budapest, you'll find experiences like nothing else in Europe.' - Rick Steves
Did you know Budapest is home to 123 geothermal springs? Part of what makes this location so distinct is how they have managed to meld the cities nature and history into the everyday, to make an experience beyond the normal.
Unknown to many, Budapest was once two different cities that later merged to become the Hungarian capital , which is why you will often see the two sides of the city referred to as Buda and Pest.
Your Budapest stag party will have you covering it's entirety as you take full of advantage of the natural thermal baths and treat the lads to a spa break like no other. The perfect way to relax and recoup between nights out, our Hangover Spa remains an ever popular activity for our stag groups. Follow up your experience in the springs with a visit to the ruin bars (more about those later!).
Whilst Budapest offers a great range of opportunities to catch up with the lads and see the sights, we know what you have really come to the city for. Cheap booze, great food and amazing party vibes!
Budapest Stag Weekend Activity Ideas
Filling your trip with fun fuelled and thrilling stag do activities is key to a successful lads weekend away, and this party city offers an assortment of stag activities to suit every group. Whether you fancy a Sightseeing Tour, a Boat Cruise with a saucy stripper, or a Wine Tasting experience, here is a selection of activities to choose from: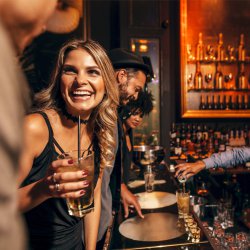 Take advantage of walking bar crawls and see the city from a whole new view! With your very own sexy female guides with expert local knowledge, these are a great crowd pleaser and a bargain activity to add to your event.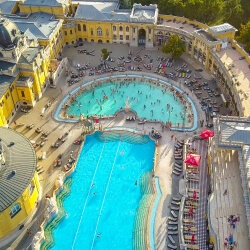 If you've had a rough first night (or two), then the Hangover Spa is a great activity to ease yourself into the next day. Give the stags in your party to enjoy a relaxed few hours before the madness starts again. Enjoy Budapest's iconic thermal baths whilst sipping on a round of beers to see off the headache.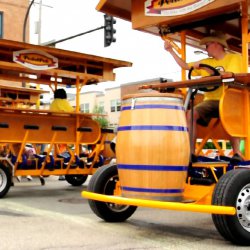 Take on the Budapest Beer Bike! Cycle your way through the city, enjoy all of the sightseeing that this place has to offer, and let your guide ensure you're well watered during the excursion. Well, we don't mean watered per se; you'll have 20 litres of beer to get through before the journey ends!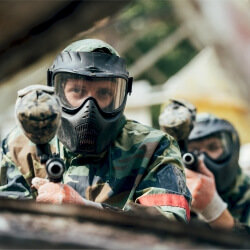 It's time to get down right dirty, and there's no better way to do it than with a few paintballs being fired at your mates. We can't say it's a pain-free experience exactly but paintballing does make for a good couple of hours of fun. A classic stag activity, you can't go wrong!
A weekend in Budapest wouldn't be complete without a visit to the shooting range. Each stag with be given 4 incredibly powerful guns and 50 shots to experience the action you only usually see on the TV screen. With transfers included and an English speaking guide, this is sure to be a crowd pleaser!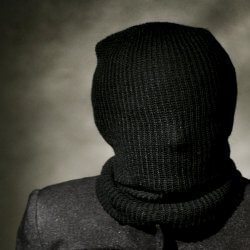 Every stag needs a stich up, and this one will give you all the ammunition need for your Best Man's speech! What starts off as a simple guided pub crawl with the lads will end with you stag being arrested by 2 plain clothes officers and taken away to the 'station'. Of course, we wouldn't let that happen! Instead, cameras at the ready, your groom-to-be will be blindfolded and taken on stage in a strip club where he will be met by a gorgeous stripper! It's all in a nights work.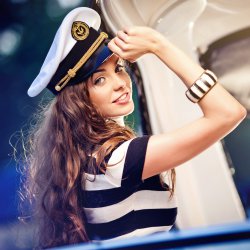 We've got the main event for your Stag weekend sorted! It's all the classics that a stag weekend needs, but taking place as you sail through the city. Exclusive to your group, take in the sights from your private boat while making the most of the on board open bar, where you can enjoy unlimited drinks. Oh, and did we mention it includes a gorgeous stripper?
Five Top-Rated Stag Do Attractions in Budapest
If you're after a few things to do whilst you're visiting this top Stag Do destination that doesn't involve getting pelted with paintballs or having to down several pints within an hour, there's plenty to see and do in Budapest. Here are five of the top-rated attractions for any group size and interest.
Heroes' Square

A well-known historic monument to founding leaders of Hungary, Heroes' Square makes for a great place to meet up and snap a shot or two during your journey.

Thermal Baths

A bucket list adventure, Budapest's geothermal springs are well worth visiting. Located throughout the heart of the city, they promise an experience like nothing else. Relax during the day and take in the surrounding views, or attend one of the Sparties that transform them into a nightlife destination.

St Stephen's Basilica

Architecture is one thing Budapest knows how to do. A great spot to take in another piece of architecture and to give your liver a break!

District VI - Terézváros

A fantastic spot to have a bite to eat between activities or to start your night right. Of all the districts in Budapest, Terézváros offer the best variety of bars and restaurants. Keep in mind this is a slightly more expensive area and not somewhere you would want to spend the whole night drinking.

Sziget Festival

This festival is one of the largest music and cultural festivals in Europe. Taking place in August, it's a great way to enjoy a stag weekend with a difference, especially if your groom to be is big in the music scene.
Best Places To Stay In Budapest
Depending on your budget, you may want to keep it basic and find a place where you'll simply get a bed to sleep on, or you might want something a little bit more luxurious. Here are some great suggestions for accommodation in the city.
Budget depending, the range of accommodation we have available in Budapest ranges from hostels and apartments to luxury hotels. For many, your accommodation will simply be somewhere to lay your head and rest before another day of activities, meaning the budget options will be perfect for you. However, if you want something with a little more of a wow factor than our luxury options are for you. Being city centre, you will be happy to know entertainment, nightlife and great food are all just a short distance from your bed.
If you would like more information on our Stag Stay options, speak to one of our Overseas Stag Experts today.
Best Restaurants To Eat In Budapest
At some point during your time out and about, you'll need to stop for some fuel and no, we don't mean more alcohol!
Groups of over 6 can often be difficult to get into venues in the height of stag season, and so we always recommend pre booking at least one meal during your stay. Choose between a cheeky Steak and Strip, a Medieval Banquet or a brilliant Bottomless Dinner!
Despite having your meals planned out, we know sometimes the most spontaneous plans can be the best, and after a long morning battling it out in the Paintball arena and before you head onto your Escape Room, your lads are sure to be hungry! So we have put together a list of eateries for you to check out.
Where you are after a light bite or some good grub to soak up the beer, between Buda and Pest, you are sure to find a meal the stags won't forget anytime soon.
Szimpla Kert
A stand out, even amongst the weird and wonderful that makes up the iconic ruin bars Budapest is known for, Szimpla Kert is not only one of the best of its kind but the oldest! It is more than it's range of cocktails and craft beers that keep drawing crowds back to the vibrant venue, but the live music, film screening's, DJ sets, and even a flea market in Sundays! With street style food and delicious meals to keep you full, day or night, the Szimpla Kert beer gardens is a must visit for your stag weekend in Budapest.
Riso Ristorante & Terrace
For those that are looking for a picturesque place to dine, this beautiful evening dinner spot is a great option. With an Italian and Mediterranean menu, it attracts lots of large groups, including stags.
BB'z Bar & Grill
This spot is a preferred choice for those who want a more traditional but international range of food. Popular for burgers, it's a great place for sitting down quickly to line the stomach before painting the town red!
There are plenty of other options when it comes to restaurants and places to enjoy light bites. We suggest trying some traditional Hungarian food where possible!
Best Bars To Visit In Budapest
Moving across from Buda to the nightlife in Pest side, whether it be for a bar crawl or bevvy, the options for your group are endless, and not limited to your traditional bars.
If you've not heard of them before, ruin bars are exactly as you imagine. Buildings that would have been otherwise abandoned (ruins), converted into ruin pubs, bars and entertainment hubs. Keeping their slightly dilapidated look is all apart of their charm! Each uniquely different, they are a great reflection of this vibrant city.
Budapest nightlife is unlike any most of you would have experienced before!
Here are a couple of best ruin bars to check out when planning your pub crawl.
Romkert
For more of a mainstream crowd without losing the eclectic vibe that will make your stag party stand out amongst the rest, Romkert (or 'Reloaded') will have you partying at the foot of the mountain with the city lights beside you. An open air hub of chart toppers and and DJ sets that will have you out to see the sun rise.
Instant Fogas Complex
This quirky drinking location looks like it could be straight out of a scene from Tim Burton's Alice in Wonderland. Following a significant refurbishment, it's now a collection of clubs that used to be located close to one another.
The complex is made up of 7 dance floors and 15 bars, meaning plenty of opportunities to buy drinks for your stag in question. With longer opening hours, it's a great place to set up shop for an evening of drinking and dancing.
Doboz
Translated as 'The Box', this party venue boasts a capacity of 1,500 in it's ancient courtyard, making it first choice for lots of stag groups. It's got a pub and club, and amongst its other cultural spaces, this will make it feel like a never-ending venue.
Getting Around Budapest
After planning stag weekends for over 25 years, we do like to call ourselves fully fledged experts at what we do. This means that we have got you covered for all the little things we know is added stress when booking any weekend away, let alone a stag do oversea!
So, you have your flights booked and you have added airport transfers to get your stag group from Budapest airport and into the heart of the city. With the help of our team you have selected a handful of activities your groom is going to love. But what about getting your mates around the city?
Whilst many groups like to opt for Uber's or local taxis, this can often work out expensive and working out who paid for what can be added agg that no one needs.
Well, we have you covered!
In Budapest you can take full advantage of a 72-hour travel card offers unlimited use of the fantastic public transport which runs throughout the city. Not only is this great value for money, but with an underground, trams, boats and trolley's to get you around as well as buses, you won't have any problems getting from A to B.
Final Thoughts
There are some great places in Europe worth exploring for stags off the leash. A Budapest stag do is certainly one that you'll remember. From the assortment of wonderful accommodation spots to the variety of bars, restaurants, and fun activities, you'll definitely have a blast here.
Just as Buda meets Pest, culture melds with nightlife to create an experience unique to Hungary!
Book your Budapest stag do now online or give our team a call today to get started.
FAQ
Frequently Asked Questions