How to Book
Get Planning
Choose great Activities, Nightlife, Accommodation in superb destinations across UK and Europe.
Get Booking
Pay a £35 deposit to secure your weekend in a few simple clicks.
Get Inviting
Invite your mates to pay their deposit and balances individually through our online payments.
Get Going
Receive your weekend itinerary, pack your bags and enjoy the Stag weekend!
Clear, Simple Pricing
Dedicated Account Manager
Full Financial Protection
Stag Guide
Top Stag Activities for 2023
Find stag do activities near me
Freedom stag do activity centres are all over the UK and Europe. In the UK we have thousands of tried and tested activity suppliers, either city centre or within easy travelling distance of the most popular stag do cities.
City centre - venues include the trendy bars, buzzing nightclubs, atmospheric restaurants and activity choices like Escape rooms, Sports Bars, and Beer Kellers.
Stag activity centres - each city has its own impressive selection of stag do activities on the doorstep. Ranging from the classic crowd-pleasers of paintball and Karting to the ever-expanding listing of stag action packed day activities.
Alternative Stag Do Ideas
Your groom is a trend setter and isn't interested in the typical stag activity stuff. The bar is high and the challenge has been set to organise a truly original stag weekend. So if you're the bestman looking for stress-free alternative stag day activities, put the kettle on and read up on the ever-expanding list of unusual stag do ideas:
Cheap stag do ideas
When planning a stag party, it's important to ensure your plans don't exclude the stags mates by wallet size. Always include a few cheaper stag activities, then Joe with his new house purchase and pregnant wife can choose to come to part of the weekend without losing face. Here are some ideas that should be part of any perfectly formed stag do: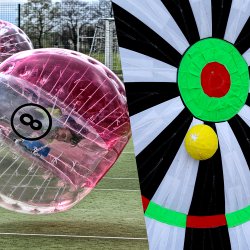 Our megamix (2 activities) and tregamix (3 activities) can literally save you £30 on booking sperate activities. And you get to choose from Bubble Football, Foot Darts, Combat Archery, Dodgeball, Disco Dodgeball, Beer Google Football and School Sports Day.
Stag do ideas for small groups
The average stag do is 15 guys, but we get a lot of smaller stag groups enquiring. Lets face it, close mates heading out to celebrate can have just as much fun and remember even if the activity has a minimum group size you can always cover the cost. Our popular list of stag do ideas for small groups include: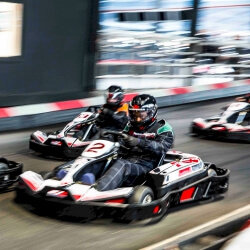 Join the open race day and compete against other petrolheads. The Grand Prix and Endurance events are extended time slots and allow smaller stag groups to become constructors teams. Finishing top of the podium is a team effort and has the advantage that you all win.
FAQ
Frequently Asked Questions