Stag Weekend Guide to Barcelona
Top Barcelona Stag Activities for 2023
Barcelona Stag Do Guide
Fiesta like there's no mañana!
One of the most popular overseas stag party destinations, Barcelona is more than sunny beaches and late nights, though it does those really well too! This lively city is home to renowned landmarks such as the stunning Sagrada Familia church, it's fantastical structure towering over the Catalan capital and makes a bucket list destination for both culture and incredible photos.
Put together by our stag group experts to take the stress out of planning and to make you destination decision a little easier, read on to find out all there is to know about this amazing stag location, uncover all the top tips on hosting your Barcelona stag weekend and learn more about the trending activities in the city centre!
Why have a Barcelona stag party?
Divided into districts, each with their own unique vibe and adding something different to your stag weekend in Barcelona, it will be easy for you and your stags to get lost in the brilliance of the city's district of Las Ramblas. Partying until early hours is a standard part of the nightlife scene in Gothic Quarter, where the night does not start until midnight and your group will be drinking until 6am!
To go with the stag sporting activities such as Bubble Football, Paintball and Stadium Tours, Barcelona boasts Europe's largest football stadium, and second largest in the whole world! Nou Camp, home to FC Barcelona, is a must do landmark for any footie fan stags visiting the city.
Our Stag Weekend Experts
With over 25 years of experience in planning stag weekends, we are proud to say we have sent thousands of hen and stag groups to one of a kind experiences in the UK and overseas, and are passionate that we are the best in the business at what do!
Our team are on hand 6 days a week help organise your perfect stag party, whether you are booking for yourself or you are the best man or friend of the groom to be and need a little advice on getting started.
Browse our full range of Barcelona stag activities now to start building your quote today!
'There's something about Barcelona that just makes me feel alive' - unknown
Trending Barcelona Stag Do Activities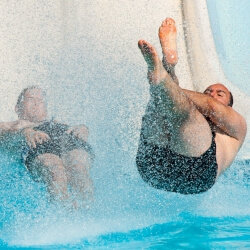 Illa Fantasia water park is located just outside of Barcelona and hosts over 22 thrilling water rides. For the summer months there really is no better place to escape the city than Europe's largest water park!
A treat for the lads, this three-course steak dinner with beer will get their hearts racing as it followed by a beautiful female strip show in a private room, with nightclub entry for start the night right.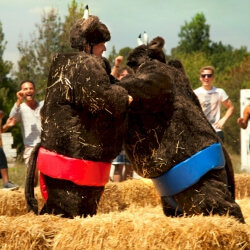 The perfect ice breaker for a group where everyone may not know each other, or a hilarious start to your weekend, challenge your friends to our Spain Games where you will take on multiple challenges and obstacles, Wipeout, gladiator podium, sumo, giant slide and more!
A big meal for your big night out, this Barcelona Stag Party Night has everything you need to make this an epic night out! Start by enjoying a 3-course meal at a central restaurant before continuing the evening with guest club entry for your whole group!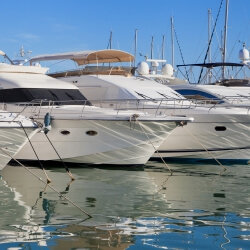 Charter your very own luxury yacht to cruise the Med. The upmarket booze cruise, you and the guys will get to enjoy light tapas and chilled alcohol refreshments served on board and swim in the Med.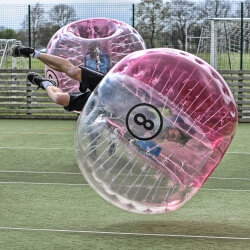 Adding a hilarious twist to the much-loved game of footie, we give you Bubble Football in Barcelona. It will get Messi. So, this is how it works... you're encased in a bubble suit and split into teams. Let the Barcelona Bubble Football games commence, winners take all. The rules are... there are no rules... bounce, bump, roll your way to victory.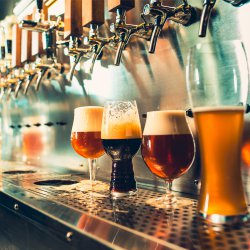 Craft beers are undoubtedly on trend right now and we offer you a beer guru / sexy hostess to guide you through two and a half hour session, you'll get the chance to sample seven craft beers from all over the world. In the comfort of a private bar area, the guys can share their thoughts and decide the ultimate winning ale.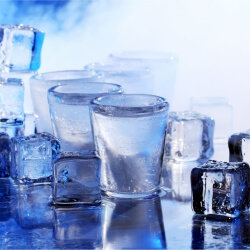 The Ice Bar is the coolest place to hang out in Barcelona. The world's first beach side Ice Bar, your group can escape the hot days in the city with a refreshing ice cold cocktail. A unique experience, expect a lounge completely made of ....you guessed it, ice! Literally everything from the walls, furnishings, and the bar itself, where you will enjoy a cocktail, a beer, or any drink you want, at a temperature of -5OC.
Fun Facts!
Did you know that, whilst National Geographic has dubbed Barcelona as 'the best beach city in the world', all of their golden stretches are in fact FAKE? Despite being built specifically for the 1992 Olympics, these beaches still remain some of the most glorious in Europe!
Barcelona is home to the world's first Ice Bar located on a beach! Icebarcelona is definitely worth a visit if you want a break for the Spanish sun!
Barcelona Stag Weekend Accommodation & Stays
Part of the excitement of taking charge of your stag, whether on behalf of a friend or for yourself, is getting to choose some killer accommodation to go with the epic activities booked!
Now, we truly believe in a vibrant city like Barcelona, your accommodation will be a place to lay your head between activities and sleep off your hangover from the night before, with so much to see and do. Whether you are looking for a budget hotel to suit, a hotel that offers a little more for your group or apartments to bring the activities to you, we have got you covered!
With a whole range of group friendly hotels available as part of your weekend in Barcelona, just browse, add to you package and our team will be in touch to talk through what is available on your dates and the best options for you!
Not sure what to choose?
No worries! Our party experts will be happy to advise based on the wants and needs of your group. Hotels are great if you want somewhere that has everything. Many offering breakfast and with onsite bars and facilities, many groups opt for this for ease of access to everything you need. However, Apartments make a great option if you want you bring the party to you! Get a shopping of booze and snacks before heading back to the apartments and you will be set for a stag night that will go down in history!
Where to Spend Your Stag Party
One thing you can be sure of when you head to Barcelona for your stag weekend is that you will not be short of things to do! Not only will you find a fantastic range of activities for your group to add to your package, from a Bar Crawl to Paintballing, Go Karting to a Tasty Tapas meal. But between that, your group will have time to discover why the Barcelona nightlife makes this city so popular.
Las Rambla
Amongst the hustle and bustle of Las Rambla, the main area of Barcelona you will most likely find your group drifting to, are a selection of stop offs you should add to your bucket list for the weekend. Learn something new whilst we are sure a few laughs from your stags at the Museu de l'Erotica, offering a cheeky twist on the museums you may be used to!
Whilst the South side of the district offers a atmosphere much like Amsterdam's very own Red-Light district. With bars and clubs a plenty, your stags will not be short of things to do in Las Rambla.
Gothic Quarter
A must see district and something we definitely recommend, in Barcelona's Old Town you with find the Gothic Quarter. Aptly named for the incredible gothic architecture that flourished in this area in the middle ages, it will feel as though you have stepped back in time!
But don't worry, we know you want more than sightseeing for your stags, which is why you will find the Gothic Quarter to be a buzzing nightlife scene with happy hours, dance floors and cocktail bars to ensure an experience unlike any other your lads would have had!
Sagrada Familia
An architectural triumph, the Sagrada Familia is a Spanish landmark and Barcelona's most iconic building. With construction on the church beginning in 1882, believe it or not, it remains in works to date, beating the length of time it took for the Egyptians to construct the pyramids!
Whilst it may not yet be complete, when it is it will stand as the tallest religious building in the whole of Europe and is definitely a must see whilst in the city centre!
Barcelona Weather
To make the most of the long sunshine hours, book your Barcelona stag for the Spring months, March to May ensuring your group get to enjoy your party in the golden glow whilst avoiding the crowds of peak season.
Enjoy the Autumn months, September to November, in the city but we recommend avoiding the winter months if you want to experience all that Barcelona has to offer!
Stag Party Games
Whilst the options for entertainment in Barcelona are endless, keeping the stags entertained whilst they quench their thirst is an essential part of any stag party! Our expert party planners have suggested their favourite games below
Photo Bingo
Capture memories and see the Barcelona sights! Create a bingo card of top spots and hilarious prompts for your group to collect over the weekend. Have a prize for the winner of the best interpretation and most photos and a forfeit for the weakest!
Win or lose, you will have an endless supply of content for the all important best man speech!
Hot shots
A great game to play in your accommodation or get your bar tender involved, fill up your shot glasses with a mix of alcohol, water (or whatever you have in your fridge). Throughout the night, shout HOT. Grab a glass, down your shot and see what trouble you get into!
Send to All
Not for the faint hearted, this game only has one rule. No phones allowed. Break that rule and you forfeit control of your phone. The remaining stags will get to send a text of their choice to anyone, and we mean anyone, in their contacts.
Getting Around Barcelona
On arrival at Barcelona International Airport we'll arrange airport transfers direct to your accommodation - 'nada problemo'. Then collect your group and whiz you back to the airport once your party in Barcelona is over - 'perfecto'.
Known for being one of the world's most bike friendly cities, expect to see a lot of people out and about on two wheels during your time in Barcelona! This also means it is incredible easy to see all the sights and get your stags from A to B on a budget, costing around €25 a day to hire a bike!
If biking isn't for you and you want to relax during your weekend, the city is known for having great public transport making it easy to get around Barcelona. We definitely recommend your group invest in the 'Hola BCN Travelcard' which will give your girls unlimited travel during your stay, including buses, train, metro and underground!
'Italy has great food and Barcelona has great energy!' - Stefon Harris
FAQ
Frequently Asked Questions