Party Ideas - Hen Do Dares and Games
Hen Night Dares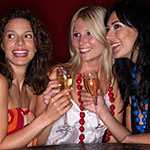 It's your responsibility to organise the hen night. You've gone through the various
hen day ideas
, several times, you've agreed on the budget, you've spoken to everybody invited, and you've even managed to pin everybody down to a date and decided what you all want to do, be it a nice meal and a club or a full on hen weekend away. Now all you need are some good themes and ideas to make the hen party experience one to remember!
Every hen night is different, and so it's very difficult to come up with fun ideas that everyone will want to do and enjoy. However no matter what you are doing or where you are going,
one hen night tradition
that gets everyone into the spirit of things is
hen dares
!
If there is anything guaranteed to leave girls quivering in their boots at hen parties, its being subjected to a list of dares. These can be as cheeky or as funny as you want and its always a great idea to get photographic evidence which can be given to the hen afterwards as a souvenir of her amazing hen night!
Dares come in many forms and could be anything from a treasure hunt to a drinking game.
Here are some
hen night dare suggestions
:
Down a pint of beer in one!
Persuade a stranger to buy you a drink
Kiss a man in uniform
Fit a condom over a bottle using only your mouth
Stand on a chair whilest the others in the group decide on animal impressions
Make up silly names for all members of your group which must be used at all times. Failure to do so results in a forfeit
Get the phone number of a man whose name begins with a chosen letter of the alphabet
Convince a man that you used to be a bloke
Chat someone up in a funny voice like Ali G, Orville or Marge Simpson
Approach a stranger and insist that you know each other well
Collect a man's sock
Ask a married couple for advice
Hen Night Games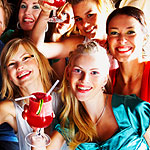 The most popular hen night games are ones involving drinking. Get some photos of the hen in various stages of her life and in each of the venue's you visit, get one of the other girls to stick a photo up. During the evening get the hen to run around and try and find the photo and bring it back within 2 minutes or face a forfeit in the form of a shot or disgusting drink.
How Well Do You Know Him
This game is also another way of getting people to do forfeits. Ask the groom 20 or so questions about himself before the hen weekend. At the hen party, get all the girls to ask the bride-to-be questions on how well she knows her future husband.
Never Say Never
One of the ways of making sure everyone in the hen party gets in on the forfeits act is the NEVER SAY NEVER game. All the girls sit in a circle or around a table. The first girl starts out with a true statement ("I never kissed a priest before") and anyone that has done whatever the person says is required to drink. The next person in the circle makes an I NEVER statement and everyone that has done that dastardly thing has to drink.
Truth or Dare
This is also another very popular game to keep the hen night forfeits coming. You give the person an option of answering a question or doing a dare. Let your imagination run wild and see how many embarrassing questions and dares you can come up with!
One word of warning though when it comes to thinking up the dares for
hen party games
, you may have to do them yourself! Dares are a great way to inject fun to the evening, and it will help people to get to know each other and have a brilliant hen night experience!
Hen Weekend Ideas
[back]