Hen Weekend Guide to London
Top London Hen Activities for 2023
Let Loose - Hen Party Ideas in London
Come on you girlies, leave the stilettos behind for later, bring on the backpack and hit the city of London with bags of energy and a clear agenda for your daytime hen party London extravaganza.
Getting around London
First to mention is how to get your hen group around the city. The options are endless. You can choose the usual modes of transport – buses, taxis, tubes and trains in abundance – or be more adventurous on maybe the Open Top Double Decker bus tour or the Big Red Bus sightseeing tour where, with an open ticket, you can hop on or off, allowing you to explore the sights on your London hen nights at your own pace. These offer a fascinating and entertaining commentary, useful if you're new to the city.
Depending on your budget, you could even sightsee in a helicopter to make a truly memorable hen in London, though the London Eye - the highest viewing platform in London - will certainly be a cheaper option, taking its passengers 137 metres above the River Thames. The views over Westminster and beyond are breath-taking.
Best Hen Attractions
Since the attractions in this fabulous city are unrivalled, may we recommend that they figure somewhere on your hen party celebration. Buckingham Palace, the best-known royal palace in the world, is the official home to our Royal family and the Royal Standard flag flutters over the east front when Her Majesty the Queen is in residence. Just stand and admire, or be fortunate to walk the Queen's corridors and gardens during the months of August and September, in the footsteps of many of the world's state leaders.
Then either meander through the enviable grounds and lakeside of St James Park, which is the oldest Royal park and is surrounded by St James Palace and the Houses of Parliament, or stride up The Mall, the setting for many ceremonial parades and national celebrations.
At the top of The Mall, enjoy a well earned rest in Trafalgar Square, joining Admiral Lord Nelson as he surveys this busy tourist square from his vantage point 51 metres above. Pop into the National Gallery, home to one of the largest collections of Western European paintings in the world, where entrance is free and you can be inspired by famous works from Leonardo Da Vinci, Van Gogh, Monet, Degas, and Rembrandt to only mention but a few. End the tour with lunch in their fabulous restaurant that won the Time Out Best British Restaurant.
Take the entire hen party back in time near Tower Hill tube, where you can find over 1000 years of history within the grounds of The Tower Of London. Meet a Beefeater. Imagine the emotion as Anne Boleyn walks to meet her tragic fate on the scaffolding on Tower Green.
Piccadilly Circus Hen Party
Piccadilly Circus is a popular location for hen parties in London due to its central location and vibrant atmosphere. If you are looking for activities to do with a group of hens in the area, here are some suggestions:
1. Cocktail making class
You and the hens can learn how to make cocktails with a professional bartender. This is a fun and interactive activity that is sure to get everyone in the party mood.
2. Comedy night
London is renowned for its comedy scene, and there are several comedy clubs in the area that host regular shows. This is a great option for a fun night out with the girls.
3. West End Show
Close to many of London's famous West End theatres, so why not book tickets to see a musical or a play? It's a perfect way to spend a night in the city.
4. Foodie tour
The West End is also home to some of the best restaurants and food markets in London. You and the hens can go on a food tour to sample the local cuisine and get a taste of the city.
5. Karaoke night
If you and the hens love to sing, why not book a private karaoke room in a bar or club in the area? It's a great way to have fun and let loose.
These are just a few suggestions, and there are many other activities you can do in the surrounding areas. The key is to choose something that everyone will enjoy and that will create lasting memories for the bride-to-be and her friends.
Hen Heaven Shopping
Fuelled with food and frivolity, now's the time to flex those credit cards and blow caution to the wind. Hit the shops next with no expense spared - the West End is just around the corner. After all, it is your special hen weekend in London.
Whatever your budget, there are shops to suit. Whilst the West End is famous for its night-life, it also has every type of clothes shop you could hope for, from designer labels on Bond Street, bargains on Oxford Street or the renovated market building of Covent Garden with its interesting shops, craft markets, bars and cafes. Taking in Oxford, Regent and Bond Streets, Soho, Theatre-land, Chinatown, Covent Garden, Leicester Square, Piccadilly and Edgware Road, The West End really does have it all.
If you're ready for a cuppa, why not indulge in afternoon tea at The Ritz Hotel, 150 Piccadilly, in their sumptuous Palm Court, where a choice of sandwiches, scones, jam and clotted cream combine to make an unforgettable afternoon. Note, though, a formal dress code is required. Just perfect for your unique London hen weekends.
A little further afield in Knightsbridge, why not pay a visit to our national treasure, Harrods. Whilst the store offers a private car park for customers with a valet service, for most folk, it is probably best to catch the tube. The focus is definitely on luxury goods, though you can still buy a pint of milk in the sumptuous food-hall. Being possibly the most famous store in the world, Harrods does feature on most tourists' 'must-see' lists. It occupies a vast site in this premier location and sells a phenomenal range of products from pets to pianos to pashminas.
For a more fashion-led, trendier department store, just head down the street to Harvey Nichols, where McQueen, Versace, Comme Des Garcon and cocktails can be found. Definitely a place to be seen during your hen night London, as well as to shop.
London Hen Do Ideas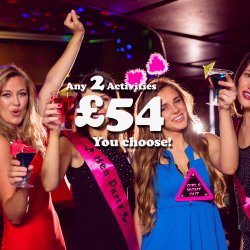 Become the star organiser by combining any 2 of our most popular hen party activities for just £54! Bubble MayHen / Old School Sports Day / Nude Life Drawing / Lip Sync Battle / Dance Class / Italian 2 Course Meal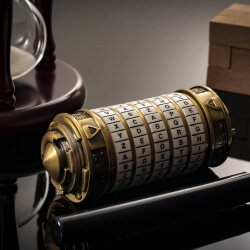 Locked in a secret room in London...can you escape? You've got 60 minutes or you're here for the weekend! Battle for your freedom by solving a series of clues, riddles and puzzles.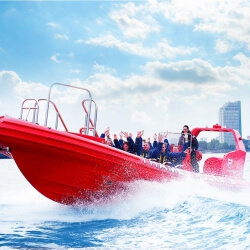 If you can stop screaming for long enough you may spot some famous London landmarks on your journey along the Thames. Thrills, top speeds and plenty of excitement for your London hen party.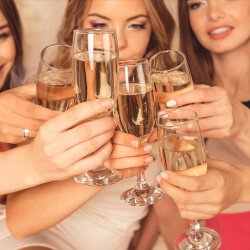 Late breakfast/lunch with unlimited free flowing booze for 90 minutes. The perfect way to recover after the night before! With London Themed Bottomless Brunches you choose from a varied menu, including Brunch Grill, Fried Chicken and Smashed Avocado Brunch!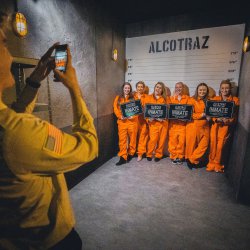 An experience our team know and love, the Alcotraz Cocktail bar is unlike anything you have been apart of before. No need for your best glad rags here as you will be each given an orange jumpsuit to where before being escorted into your prison cell - but don't forge to smuggle in your drink with the help of some friendly prison guards! An all immersive cocktail experience, this will make your hen party in London one to remember!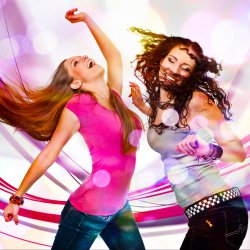 Prepare the girls for the big day with a private dance class just for you! Destined to be hilarious and definitely one to remember, you will get 90 minutes with your expert dance instrus/ctor to learn your routine. With over 35 themes to choose from including Spice Girls, 80s/90s, Mamma Mia, Burlesque, Disney and so many more, there is sure to be something to suit your bride to be!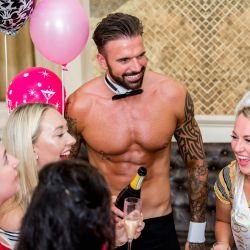 A classic afternoon tea with finger sandwiches, cakes and delicious teas and coffee. But London Afternoon Tease has a cheeky twist. We've added in something extra, something to make those sandwiches taste that little bit tastier....your very own topless butler to serve them to you. If you want he'll butter your scones, pour tea and tend to your every need!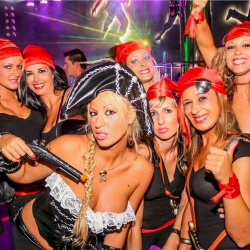 Hen groups team spirit mixed with brain power will see you London hen party girls quickly solving the clues. The classic treasure hunt has been thoroughly modernised and is a fun way to discover more about our great capital city.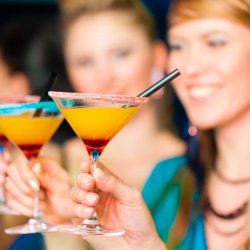 It's cocktail'o'clock! How about a few cocktails at this VIP room of a cool bar in central London. A welcome drink awaits you, cheers! Our cocktail masterclass always proves to be a popular choice for parties... and rightly so!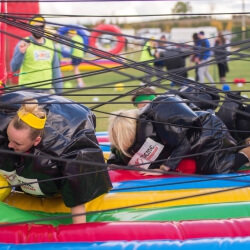 Spend the afternoon competing against other teams on giant inflatables to reign champion at the London Goofy Games. The tournament includes 2 rounds, play all four games and those at the top of the leader board move forward to the final to battle it out to crown the winner. Presentation will take place at the end for the overall winners.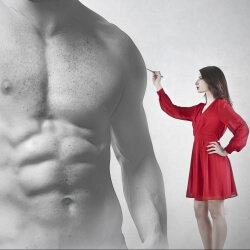 Admiring the naked male form is a popular choice for any London hen party, but for our more discerning ladies we're combining it with art. So, here's your chance to ogle and draw, sharpen your pencils ladies!
Royal Parks
Though I'm sure by now that those hen-feet must be blistering, just a little further down the road from Knightsbridge, you can pass into Kensington, where the beautiful Kensington Palace and Gardens are located. You don't need to be a royalty fanatic to recognise the home to Princess Diana between 1981 and 1997. It was also the birthplace of Queen Victoria and where, as a young girl she discovered she was to be queen.
Bordering the gardens is the famous Hyde Park, where a vast array of outdoor pursuits takes place and which boasts the Speakers Corner and Serpentine Lake. Perhaps now's the time to dangle those feet in the fountain.
Famous Faces
Finally, if your celebrity-spotting plans haven't quite worked out, then why not grab a quick taxi to Marylebone and have your photos taken with a whole host of stars from Nelson Mandela to Brad Pitt. The waxwork models in the legendary Madam Tussauds museum will ensure you end your daytime hen party in London with a giggle and some impressive pictures to show your friends back home.
Hen Party Games
Here are some popular games for hen parties that you can consider:
1. "Never Have I Ever"
A drinking game where players take turns making statements starting with "Never have I ever..." and those who have done the action take a drink.
2. "What's in Your Purse?"
Each player brings their purse and the host goes through the items, assigning points to each item. The player with the most points at the end of the game wins.
3. "Two Truths and a Lie"
Each player takes a turn saying three statements about themselves, two of which are true and one which is false. The other players try to guess which statement is the lie.
4. "Mr. and Mrs." Quiz
A bride-to-be is quizzed about her fiancé and how well she knows him.
5. "Pin the Macho on the Man"
A spin on the classic "Pin the Tail on the Donkey" game, but with a male pin-up poster and blindfolds.
6. "Wedding Trivia"
A quiz game to test the bride-to-be and her friends' knowledge of weddings, love and relationships.
7. "Photo Scavenger Hunt"
A fun game where the hen party is split into teams and given a list of items to find or people to take photos with in a set amount of time.
8. "Bridal Bingo"
A bingo game where players mark off squares on their cards as the bride-to-be shares anecdotes about her life and relationships.
Remember, the most important thing is to have fun and make memories!
FAQ
Frequently Asked Questions
How do I surprise my bride on her hen do?
Depending on the bride's personality it could be a fun idea to include a few surprises. But remember she only gets one hen night so think carefully.
Should the hen party be a surprise or arranged by the bride? With most hen weekends, the bride is commonly consulted on the basics, the date, time, invite list, and where it will start. The degree of freedom the bridesmaids get to go off piste, depends on the chances of awakening the bridezilla.