Hen Weekend Guide to Birmingham
Top Birmingham Hen Activities for 2023
Let Loose - Birmingham Hen Party Ideas
Our Hen Experts
With over 25 years of planning Birmingham hen parties, we here at Freedom have proved ourselves to be the best in the business! Our party experts are on hand 6 days a week to help you put together your perfect hen party package, chat through the perfect hen do activities for you and work towards your budget.
Making this a stress free experience with a low £35 deposit to make your hen party booking and an online payment system where the girls pay us direct, your mates get the best time and you get to take all the credit!
Speak to one of our hen party destination experts today on 01992 655 580
Hen Heaven Shopping
It's just a few suggestions to get you thinking and show you what's on offer.
Of course, on our Birmingham by Day section shopping had to be right up there. If you find your credit card itching to flex itself, be let free and explore you're assured plenty of opportunities during your Birmingham hen parties.
Birmingham is indeed a shopper's paradise, whether it's head-turning chic or pocket loving bargains you're on the look out for.
The Bullring
The Bullring is the size of 26 football pitches (even if you're not a fan of the sport, you can appreciate the size). Imagine all those shops ready to relieve you of your money.
The Mailbox
If it's designer boutiques that you're after you'll be pleased to hear that Birmingham claims to be chasing Milan, Paris and New York and for designer label heaven you need to head to The Mailbox – the former post office building converted with style. Report back!
The Jewellery Quarter
Birmingham produces a significant amount of the jewellery made in Britain today. As well as trying on all that bling you could visit the Museum of Jewellery and discover for yourselves the skill of this important industry.
The Clothes Show
If you time your visit right you could experience the ultimate in shopping: The Clothes Show at the National Exhibition Centre. The NEC is officially the busiest in Europe with more than 180 exhibitions each year for 4 million visitors.
Best Hen Party Attractions
Canals Bars
For something a little different you hen night Birmingham girls could book yourselves onto 'The More Canals than Venice Walk', it lasts just an hour and promises you show you all there is to see of the waterways of Birmingham.
Theme Park
If that's too sedate how about a trip out to Drayton Manor Theme Park? There's 280 acres of the biggest wettest and scariest rides around, including Europe's only stand-up roller coaster.
Cadbury's World
Calling all chocoholics, can you feel the draw? Cadbury World must be on your list of things to do. A little self-indulgence is well earned and here you can indulge your senses at this multi-media chocolate experience. On offer is a combination of history, fantasy and fun, oh yes and they give you chocolate on the way around and invite you to a taster session.
Sealife Centre
The National Sea Life Centre is the U.K's first and largest inland Sea Life centre and invites you to explore the depths with over 60 displays of marine life. We're talking sharks, turtles, rays, octopus and more, much more. 3,000 creatures and the world's first 360-degree transparent underwater tunnel, allowing you to stand suspended mid-ocean.
Safari Park
A different spectrum of the animal kingdom is waiting for you at the West Midland Safari Park. You can self-drive through the park or book onto an organised tour. You should be on the look out for the rare white lion and track down elephant, rhino, tiger and many more.
Arts and History
For those culture vultures amongst your hen party in Birmingham you won't and can't be disappointed. The Barber Institute of Fine Arts is located on the Birmingham University campus. Here you will find works from Gainsborough, Monet, Turner, Renoir just to name a few.
The Birmingham Museum and Art Gallery houses a collection of the world's finest collections of Pre-Raphaelite art in the most beautiful of buildings.
Live Entertainment
For theatre life you could pay a visit to the Birmingham Hippodrome or see what's showing at the Alexandra.
If music is your thing you could be tempted along to Symphony Hall, which is home to the City of Birmingham Symphony Orchestra.
Chill Time
Sometimes you hen party Birmingham girls require just a little chill out time, if that's the case let us make a few recommendations. The Botanical Gardens or home to BBC Gardener's World Kings Heath Park could provide the answer.
Of course in and amongst all that you'll need to find time for some lunch and maybe a cold, large glass of wine. Birmingham is well geared up to meet these requirements.
Top Birmingham Hen Day Activities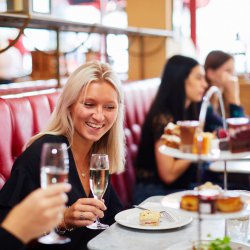 Your hen groups table reservation is for 90 minutes and includes free flowing Prosecco and delicious afternoon tea. The girls will receive savouries and tasty mini desserts, plus scones with jam and cream and a wide selection of teas and coffees.
Girl power at it's finest. Learn the moves to your favourite Spice Girls routine in Birmingham. Your 90 minute class to Spice Girls mega hits, takes place in a private venue with personal dance instructor and a free bottle of wine for the VIP.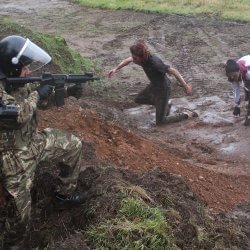 An immersive experience unlike anything you have been a part of before, this Zombie Bootcamp will put your group through intensive training with riot shields, batons and rifles alongside the last few remaining soldiers surviving a zombie apocalypse!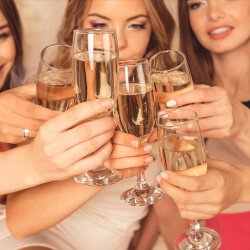 Late night? Need something to prepare you for the day ahead? This is a great way to start your day...brunch with unlimited drinks! With Birmingham Bottomless Brunch choose from a tastebud tingling menu. You're celebrating so we've added unlimited prosecco, beer, cocktails and soft drinks.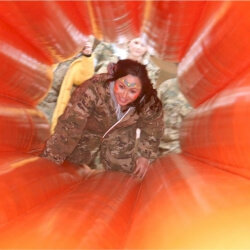 Compete in this hilarious set of gladiator style games in our appropriately named Inflatable Games in Birmingham. This really is a laugh out loud It's a Knockout style activity where you will compete against all the ladies in up to 8 wacky and exciting games that combine to give you one crazy hen do activity experience!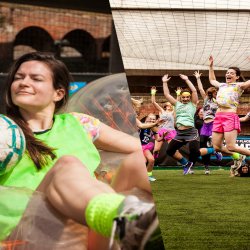 Why choose when you can have the ultimate hen day out with this Birmingham MegaMix! Pick 2 from our range of classic hen activities, Bubble Football, Combat Archery, Footdarts, Dodgeball, Shock Football, Beer Goggle Football and School Sports Day.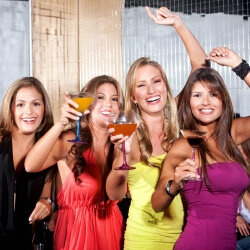 Cocktail Pitchers on arrival with delicious cocktails to taste, made by our expert Bartender exclusive to your group. Then it's your turn to choose and make your own cocktail, with fun interactive team games, a two course meal and flavoured bomb to finish.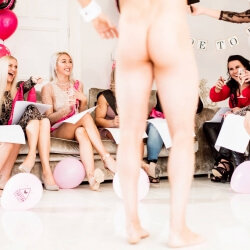 Admiring the naked male form is a popular choice for any Birmingham hen party, but for our more discerning ladies we're combining it with art. So, here's your chance to ogle and draw, sharpen your pencils ladies!
Hen Planning?
Best Streets in Birmingham
Corporation Street
A major shopping street located in the city centre, it runs from the Victoria Square to the Aston Expressway and is approximately 1.2 miles long. The street is lined with a variety of shops, restaurants, bars, s well as several historic buildings and landmarks. Including the Bullring shopping centre, the Victoria Square shopping centre, the Cathedral Church of St. Philip, the Grand Central shopping centre, the Birmingham Museum and Art Gallery, and the Town Hall.
Broad Street
Broad Street is a bustling entertainment and nightlife district located in the heart of Birmingham, England. Here are some things you can do on Broad Street:
1. Visit the Arena Birmingham: This large indoor arena hosts a variety of events throughout the year, including concerts, sports games, and comedy shows.
2. Check out the nightlife: known for its lively nightlife scene, with many bars, clubs, and restaurants to choose from.
3. Explore the Brindley Place canal area: This picturesque canal area is located just off Broad Street and features a variety of shops, restaurants, and bars.
4. See a show at the Birmingham Repertory Theatre: This renowned theatre is located nearby and hosts a variety of plays, musicals, and other performances.
5. Visit the National Sea Life Centre: This popular attraction is located just a short walk away and features a variety of marine animals, including sharks, turtles, and penguins.
6. Go bowling at the Hollywood Bowl: This large bowling alley features multiple lanes, as well as arcade games and a bar.
7. Visit the Birmingham Museum and Art Gallery: This large museum is located just a short distance away and features a variety of exhibits, including art, history, and science.
New Station Street
New Street Station is a major railway station located in Birmingham city centre. It is the busiest railway station in the United Kingdom outside London, serving over 170,000 passengers per day.
The station is connected to the Grand Central shopping centre, it also has several amenities for passengers, including a food court, coffee shops, and a waiting area with seating and charging points. The station also offers assistance for passengers with disabilities, including accessible toilets and ramps.
FAQ
Frequently Asked Questions
How do I surprise my bride on her hen do?
Depending on the bride's personality it could be a fun idea to include a few surprises. But remember she only gets one hen night so think carefully.
Should the hen party be a surprise or arranged by the bride? With most hen weekends, the bride is commonly consulted on the basics, the date, time, invite list, and where it will start. The degree of freedom the bridesmaids get to go off piste, depends on the chances of awakening the bridezilla.