Hen Weekend Guide to Dublin
Top Dublin Hen Activities for 2023
Dublin Hen Party Guide
A bucket list location, a weekend in Dublin promises a hen party with lasting memories and one you won't soon regret… or maybe one you won't remember!
Knowing where to start can be a challenge in itself, so whether you are a maid of honour, mum or the bride-to-be herself, our guide will help you through all the steps to put together a bespoke package that the whole group will love.
Knowing our experts are on hand for the whole process, you can ensure your friends hen will live up to her expectations, as we understand this is a once in a lifetime event for many!
Why Go to Dublin for Your Hen Weekend?
Thinking of hosting your hen party in Dublin? Well, the Irish capital really is the perfect place for it. If the accents don't do it for you, there are also some great hen party activities and lots of booze that only enhance the incredibly backdrop of this historic city. The centre ,sprawled with chic cocktail bars, clubs, and pubs, the bride-to-be and her hens can truly let loose and get the party started.
Did you know Ireland was the first country to legalise gay marriage by vote? Not only this, but Saint Valentine himself is buried in the heart of the capital.
This really is the city of love and the perfect place to start the wedding antics with your girls as you get ready for your big day!>/p>
There is always something new and exciting to be found amongst the history this city holds. Booze is said to run in the blood of the capital, and so part of your visit has to be tasting the finest drinks they offer, and this isn't limited to their signature Guinness- there are tons of stylish bars to indulge in.
This iconic capital city full of the loveliest residents, take full advantage of the Friday night party venues and join in with the traditional Irish dancing. Party ideas around Dublin are not in short supply!
Hen Activities in Dublin
Picked by our experts, below we have the put together a list of our bestselling activities and hen party ideas to inspire your ideal hen night antics!
Take your Dublin hen weekend to the max and include classics such as Cocktail Making, Party Nights Prosecco Lunch and one of the new top activities for the girls, Gin Tasting!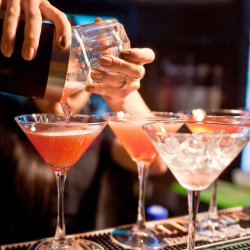 Everyone loves cocktails, so why not shake, make and taste your own? Along with the glass of bubbly on arrival, you will be introduced to your expert mixologist and bartender who will take you through the wonderful world of mixology. You and the girls will learn how to make two delicious cocktails, and you'll be able to enjoy some of your own creations. here will also be some finger foods to properly line your stomachs before heading out for a wild night!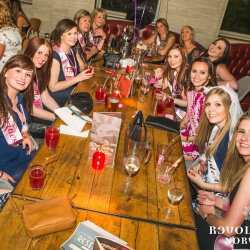 A party within your party? Kick off your night one of the most popular bars in the city centre of Dublin. The reserved area will give you your own space to enjoy food platters and drinks. This party night is one of the best ways to commence your celebrations, with some amazing cocktails and great music to keep the vibe going.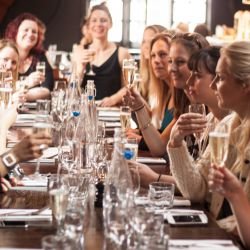 Prosecco and great food, what could beat that? For your Prosecco lunch, you'll be taken to a stunning hotel and eat in one of Dublin's most fashionable locations. The restaurant focuses on Irish procedures and specialises in European Modern Cuisine.
h your meals pre ordered in advance, you and the girls can wine and dine to your heart's delight!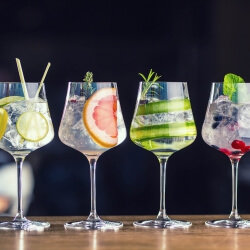 It's always gin o'clock, especially when it's your hen do! Taste and experience several gins perfectly paired with delicious garnishes by your gin specialist who will give you a brief history of the iconic drink. Once you're on a bit of a buzz, you'll be ready to head out for some more celebrations!
Fun Facts!
Did you know Ireland is referred to as the Emerald Isle due to it's vast green landscapes and dominating woodlands? It really is a gem of a location!
The Best Hen-Friendly Pubs and Bars in Dublin
Vintage Cocktail Club
This little hidden gem is a top-class spot to add to your weekend agenda. You'll dive deep into the Prohibition Era at the Vintage Cocktail Club. This Crown Alley bar has a very relaxed vibe welcoming in groups with their vintage-chic twist on drinks to suit your roaring 20's themed evening!. The bar fills up fast, so book a table in advance to avoid disappointment.
The Auld Dubliner
Don't let the name fool you, this pub is still very young at heart. The Auld Dubliner is an authentic Irish pub that will keep you coming back. Walking in, you'll be welcomed by greatmusic. From some of the most talented musicians and over flowing drinks, The Auld Dubliner is a must-see and very close to the famous Temple Bar.
The Temple Bar
The Temple Bar is the most well-known bar in the whole of Dublin. An iconic pub in the Temple Bar district, don't be surprised if you spot tons of tourists, hen and stag groups around. A lively atmosphere, fantastic live music, and delicious drinks will greet you inside. A little pricier, but it is worth a visit to be a part of their ultimate party nights. Their quirky beer garden is the busiest one in the city centre, so get there early if you'd like to find a spot - this popular hub fills up fast!
Top Restaurants to Eat at During a Hen Do in Dublin
The Market Bar Group

The Market Bar opened in 2004 and has always been hosted in a gorgeous 19th-century Victorian warehouse since. Between the six bars, two restaurants, and a groovy nightclub in the warehouse, this a sure crowd pleaser.

Between the Black Market Bar and restaurant and the Market Bar and restaurant, you are promised tasty food and great vibes. The Market Bar is located in the South Great George's Street Arcade building and is in the heart of social Dublin.

After a delicious meal, you can head to the Chelsea Drugstore cocktail lounge and then the basement nightclub to end the night with some cheeky dancing! Booking in advance is always recommended, so add your Nightclub VIP package to your package when booking.

Farrier & Draper

Farrier & Draper can be found on South William Street in Dublin's creative quarter. This stylish bar has excellent service, world-class food, an amazing atmosphere, and great drinks.

It is sprawled across three levels, and you can choose various rooms to book out, such as the Gallery room, Georgian room, and the Mezzanine. They also have a secret hidden gem below street level - La Cucina, an authentic Italian restaurant.

The chefs put their heart and soul into the food, so you will be treated to an excellent meal. There is also a private dining space that can fit 15 guests, so if you are looking for something a bit more exclusive, they have you covered!

Uno Mas

Uno Mas can be found in Aungier Street and is an intimate little joint. Expect all things Spanish here! The menu includes delicious small plates and tasty mains ranging from padrón peppers to salt cod, sobrasada croquettes, and more.

Uno Mas will be a classy and fancy night out, and the restaurant's stunning interior also adds to the entire experience.
Best Hen Do Accommodation in Dublin
We know how important getting your rest between fun filled days is and so we have a whole range of accommodation options available throughout Dublin, many just a short distance from the heart of the city centre!
To suit your groups budget and needs, as you build your hen package you will be able to choose from a budget hotel, apartments, luxury, and more!
All based in the city centre or just a short distance away, our accommodation options suit all your needs. If your group are looking for a hotel that will provide that hangover breakfast, or if you would rather self-catered apartments, our party experts are on hand to help choose your perfect overnighter.
Getting Around During Your Hen Do
Dublin is quite compact, so walking is a good option. However, the city's public transport is excellent. Whether by bus, train, tram, or taxi, and the Leap Card will give you access to all public transport for your weekend, starting at just €8 for 24 hours or €16 hours for 3 day use, it makes the perfect budget option for getting your group around.
Getting by on foot isn't so bad when you have guides to take you round the traditional Irish pubs and all the best venues! Don't forget to add your Guided Bar Crawl to your booking to get a tour of the town unlike any other!
Luckily, with everything close by, you won't have much trouble getting from A to B! Get ready to immerse yourself in the Irish culture.
FAQ
Frequently Asked Questions