SpeechMate
Are you daunted by the prospect of writing your best man speech? You're not alone. It scares the bejeezers out of most of guys. And for good reason. What you're being asked to do is write and deliver 10 minutes' worth of stand-up. That's tough for anyone.
Fortunately, there's help at hand in the shape of SpeechMate, an intuitive speech-writing tool designed specifically for best men. SpeechMate creates entertaining speeches tailored just to you. Not only that, it also comes with an online video series of short, digestible tutorials that will teach how to deliver your speech it like a pro.
Here's how it works
• Complete an assessment: give details about the groom, your style of humour, and the wedding party.
• Receive your winning speech: SpeechMate's clever algorithms will turn your answers into a speech that's tailor-made for you.
• Edit and download: preview your speech, swap content within any paragraph of your speech, and download.
So if you want to avoid being THAT guy on YouTube and deliver a speech that will be remembered for all the right reasons, then SpeechMate is your new best friend.
Here's some of the cool stuff you can do with it
• Create a speech specifically tailored to your unique profile, saving yourself hours of time crafting one from scratch.
• Swipe left or right to see five different content suggestions for each section of your speech, meaning you'll never be short of high-quality, relevant material.
• Make use of SpeechMate's professional speech structure to make sure your speech flows effectively and conforms to wedding etiquette.
• Edit, delete, or save material to suit you.
• Work on your speech across multiple devices that update in real time, so you can work on it when you want, where you want.
• View our series of 30 digestible public-speaking videos where a professional teaches you how to deliver your speech with humour, calm, and confidence.
• Access original and funny material written by speechwriters including one-liners, toasts, and advice to the groom so you can have the audience howling with laughter.
Visit
speechmate.com
to start your free trial.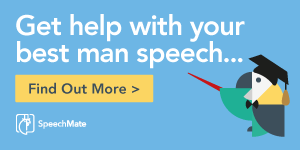 FAQ
Frequently Asked Questions
How do you make a stag do special?
Go for the hassle-free option, don't waste hours planning, only to end up with a full-time job sorting out payments from guys you might not know to suppliers you have never used before. That's our job, you simply pick the best activities / accommodation and leave us to get it sorted. Then sit back and take all the credit.