Birthday Weekend Guide to Newcastle
Top Newcastle Birthday Activities for 2023
Newcastle birthday party guide
Boasting excellent accommodation and hosting events, Newcastle birthday weekends promise to be a memorable long weekend for your birthday. This city comes alive at night with trendy bars, helping you give your friends an unforgettable weekend!
When the sun goes down the Quayside fills up with party goers, meaning your group are sure to have a great night out all year round. Possibly explaining its popularity and reputation in the United Kingdom for nights out, Geordies generally love people visiting their city for parties.
Home to the Premiere League, St James Park, the Bigg Market, amazing architecture such as the Tyne Bridge and founding the Geordie Shore legacy, Newcastle has culture as well as friendly bars and fancy dress opportunities to keep your group entertained!
Newcastle - The UK's Birthday Capital
Our #1 Party destination, the undisputed 'Party Capital of the North' has no shortage of entertainment, night clubs, trendy bars and live music venues. There are five different nightclub locations around town with their own vibe, and each suiting your individual needs and all birthday weekends.
Promising an outrageous night out for the lads and lasses alike, Newcastle combines adrenaline fuelled daytime activities with the best nightlife the UK has to offer. With plenty of opportunities to try the famous Newcastle brown ale and shake up a Cocktail or two, you will be instantly immersed in the world of Newcastle.
Build Your Own Newcastle Birthday
Sure to be an unforgettable birthday weekend for your best mate, start building your own birthday in Newcastle with one of our expert party planner to guide you through the whole process– start by simply adding some bestselling activities to your birthday weekend.
Challenge your mates to Quad Biking or an Escape Room followed by an epic night out with our ever popular Bottomless Dinner and VIP Nightclub experience. Our team of Newcastle Party experts are on hand to help you build your birthday weekend in Newcastle. Full of amazing opportunities for birthday weekends; with five distinct nightlife zones to its name, it should not surprise you Newcastle has plenty of choice when it comes to bars and activities.
Newcastle birthday activity ideas
The opportunity for birthday weekend activities in Newcastle are unmatched. Take your friends clay pigeon shooting, on a 90s Dance Class, quad biking, gorge walking followed by a guided bar crawl around the city centre. Let us take you on a guided walking bar crawl in Newcastle city centre, including entry to 3-4 bars and a nightclub. Our Geordie hosts will ensure everyone gets in the party spirit for an unmissable night ahead! See our full range of activities in Newcastle here.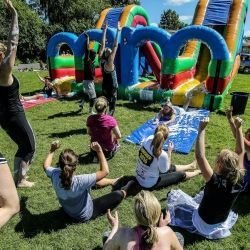 These hilarious Geordie themed games will have your birthday party groups in stitches as you bump and battle your way through knockout style Inflatable Games in Newcastle!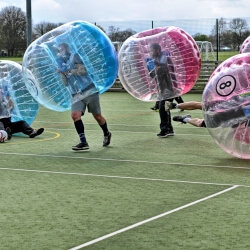 Activities in Newcastle don't get much better than this. It's Premier League meets Zorbing as you battle to win in Bubble Football on your Newcastle Birthday party!
Newcastle Footgolf is the latest birthday craze. It's different and it's epic! Take two of the most popular birthday party sports and merge them into one – we think we are onto a winner here!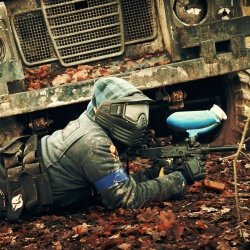 Outdoor paintball is a birthday weekend staple when it comes to birthday activities. It's the Call of Duty for the all action Birthday Hero in Newcastle. Action man meets Rambo semi-automatic paintball guns at the ready! Don the camouflage war paint on, move with all the stealth of a highly trained Desert Rat as you hunt the enemy down SPLAT! Silent but deadly.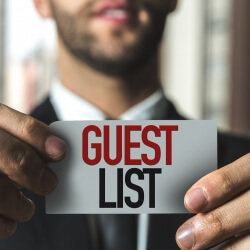 Oh yes, it's time to celebrate it style! Whilst we can't offer a private bar we can promise nightclub entry + VIP treatment all the way... well it's only as you deserve on your special night out in Newcastle city centre. With a reserved table, drinks package and chart toppers, this is the perfect end to your unforgettable night!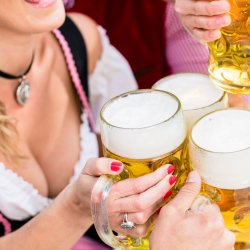 You can't come to Newcastle and say you completed the weekend without taking part in your very own bar crawl! Collecting beers on the way, your Beer Babes will be on hand to guide to your bar crawls to all the best spots in to the city centre and keep you entertained along the way! A sure lads birthday pleaser, this is one of our bestselling activities and, understandably so.
Bars and Clubs for a Top Newcastle Birthday Weekend
Being birthday central and known for the Geordie Shore gang, there are hundreds of group friendly bars that will be happy to quench your lads and lasses thirst on your birthday weekend! Our bar crawl offers all the best spots and after a hilarious day taking on a range of our birthday activities, whether it be a bar crawls, party bus, or quad bikes you will be in need of an unforgettable night. Sink pints of the local favourite Newcastle Brown ale or enjoy the more sophisticated side of the Newcastle nightlife by taking in a few drinks at the local club.
The Gosforth Hotel, Newcastle
Start your unforgettable birthday weekend in Newcastle with a visit to The Gosforth Hotel. This tradition British boozer is a place to kick things off, promising great drinks and even better grub to line your stomachs before a night on the toon!
Stein Bier Keller, Newcastle
You don't have to drag your friends all over Europe to experience the iconic Bierkeller! If you love birthday weekends on the town and a few beers, then Stein Bier Keller has everything you need. This is an underground pub where 27 of Europe's finest beer's are served and fancy dress in encouraged - what more could you want for your birthday party?
Lane 7 Newcastle
Lane 7 is one of the trendiest bars to hit during your birthday party in Newcastle. The new bar provides quirky boozing, arcade games, pool table, dirty burgers and delicious cocktails. A hangout that stands out against your normal pub, this bar promises entertainment on a whole other level!
Best Places to eat on your Birthday weekend in Newcastle
Okay, now let's be honest… the best thing about designing your own birthday weekend for your mate's final night of freedom in the Party Capital of the country, is being able to decide exactly where you are going to get a tasty meal. And, trust us when we say the options are endless!
With an action-packed weekend, we know your mates are going to build an appetite (and living your stomachs before a night out is never a bad idea!) and it is therefore a necessity to find the best places to visit. In the Toon the various cuisine choices are varied according to what you fancy. From independent coffee shops to indoor markets, chain restaurants and even craft beer stores serving the finest burgers in the world.
With 29 Gregg's stores in Newcastle there is no excuse not to grab a sausage rolls on the go, but if your craving something more substantial, the 3 restaurants below are all within walking distance of Newcastle city centre!
Banyan Newcastle - After your group birthday activity why not head to Banyan, situated beside Grey's Monument in the heart of Newcastle-Upon-Tyne. Banyan is a stylish bar serving beautiful food and drink.
Twenty Twenty is the perfect place late night drinks, happy hour drinks, bottomless brunch, pizza with your pals or a coffee the morning after. It boasts whopping 20-inch pizzas and an incredible 20 cocktails on a fantastic menu for you to challenge your birthday VIP.
The Holy Hobo is a trendy bar promising good vibes and great food! Whether you need caffeine to get you through the hangover blue, they offer the best caffeinated cup in Jesmond, as well as a whole range of quirky cocktails and handcrafted meals and food platters! The Holy Hobo is hipster heaven, with neon signs and botanical décor, it will definitely give your plenty offer opportunities to snap some shots for Instagram!
Where to head on your Newcastle Birthday weekend
Bigg market
Its reputation is known throughout town and possesses beltas that precede it. Newcastle's loudest drinking districts and the first home of an old Newcastle birthday party, there are bars you can dance on tables at, or ones filled with music gathering crazy crowds along the river.
Jesmond
Conventionally concentrated on Osborne Road, the leafy neighbourhood is home to Newcastle University students as well as one of the best happy hours on the North Coast. Despite being only a few hundred yards apart, the bars spill into the street in a variety of ways. Sure to make your birthday weekend a lot more memorable, Jesmond is a hive of nightlife and high spirits!
Diamond Strip
As you wander down this street, you might find yourself with a bit of Deja Vu. The Diamond Strip is known as the backdrop to Geordie Shore and is Newcastle's most exclusive street, making a great spot for birthday celebrations. Packed with party goers all raring for an epic night out, the bars and clubs have a chic elegance, where champagne is served by the Magnum! But don't worry, whether it be a quirky club, a budget boozer or something a little sexier, you will be sure to find it on the Diamond Strip!
Grey/Dean Street
Grey Street is an older brother of the larger market that runs from Newcastle Monument to the Quayside near the Tyne bridge. Grey Street is stylish. Continuing along the road there is Dean Street where clubs and real ale can be spotted and surrounded by a fleet of supercars.
Quayside
Quayside Newcastle has many arts and culture venues, bars and bridges. A lively nightclub that offers decadent bars along Tyne. Bright young people descend on the Quayside on Sunday and celebrate against the backdrop of the Millennium Bridge on the Tyne river.
Newcastle Birthday accommodation
We have options for Newcastle's party accommodation no matter your budget or need– with more than 20 hotels, apartments or hostels in the bustling town, catering for large group sizes and just a short walk from Newcastle's nightlife.
Our party experts are on hand to curate the best party package for your Newcastle Birthday! Just give us a call on 01992 655 580 to find out more or start building your birthday package online.
How to travel around on your Newcastle Birthday
Train
The magnificent Central Station opened by Queen Victoria is only a few blocks from the city centre, which itself has compact and easy walking paths surrounded by many walking trails and tours.
Metro
With the cities famous Metros connecting Newcastle throughout the day, it is a great choice for getting your group of tags around, offering great value tickets with the all zone Metro Day saver with unlimited travel costing only £5.40!
Parking
There are plenty of multi-storey car parks at the City Centre and with dozens of Newcastle Birthday Hotels that allow free parking, you will be set for your weekend, as we are sure driving will not be part of your boozy package
Newcastle Airport to City Centre
Newcastle airport is located a mile north-west of the city centre. Offers a metro connection, which takes you just 15 minutes to Monument, and a taxi stop at the entrance, just 10 minutes away. Getting in and out is easy. You can explore these cities in a day trip with the Metro, Bus or by foot. Metro: The Tyne & Wear metro has become a major attraction in this part - Newcastle's replacement for the New York Metro
Drinking games for your Birthday party
A Birthday staple, drinking games are the best way to ensure easy entertainment for your mates! Whether you need an ice breaker or deal maker, our experts have recommended their favourite classic game to ensure no silent moments during your birthday saga!
Photo Bingo

Capture memories and see the city sights! Create a bingo card of top spots and hilarious prompts for your group to collect over the weekend. Have a prize ready for the winner and a forfeit for the weakest! Win or lose, you will have an endless supply of laughter!

No Names

A simple game to ensure drunken antics, all you need is a pint glass, a coin and a drink in hand. Simply take it in turns to flip a coin. Guess heads or tails. Win, you get to move the pint glass to the next person after adding a slosh of your own drink to the concoction. Fail and it will be your go to down the mixture. We can't guarantee this will be the finest drink you taste during your visit!

Send to All

Not for the faint hearted, this game only has one rule. No phones allowed. Break that rule and you forfeit control of your phone. The remaining attendees will get to send a text of their choice to anyone, and we mean anyone, in their contacts.
FAQ
Frequently Asked Questions