Party in the 'Toon'
11/07/2018
When the idea was spread around the office about heading to Newcastle, we all jumped on the opportunity and before you knew it, we were on the minibus on our way up there!
After the long drive and a few cans of cocktails, we finally reached our destination at the Quality Hotel in Bolden.
We had a smooth check in and then all descended to our rooms. We walked through the door in the year 2018 and came out in the 1920's ready for our Murder Mystery activity. No longer was I sharing a room with Angela, it was the Queen Mary herself! After our outfit reveals and after we managed to stop laughing, we all got into our characters on the quest to figure out who the murderer was!
We then decided to hit Newcastle town and see what it was all about. While we grabbed a quick drink in the Hotel bar, our 'mini disco' taxi turned up to take us to a few bars and we then ended in Revolution. After a sing, a dance and a quick selfie with the famous Newcastle Millennium bridge, we stumbled our way back into the taxi and headed back to the Hotel.
We had a couple of hours of well needed sleep and was up bright and early for a cooked breakfast to refuel for our next activity. We arrived at the farm ready to take on
Its a Knockout
and were split into teams going head to head against each other. We pushed, barged, jumped and somehow managed to survive the battles on the inflatables and had lots of laughs along the way.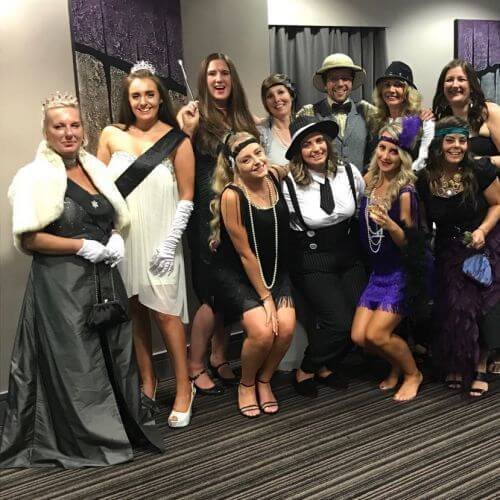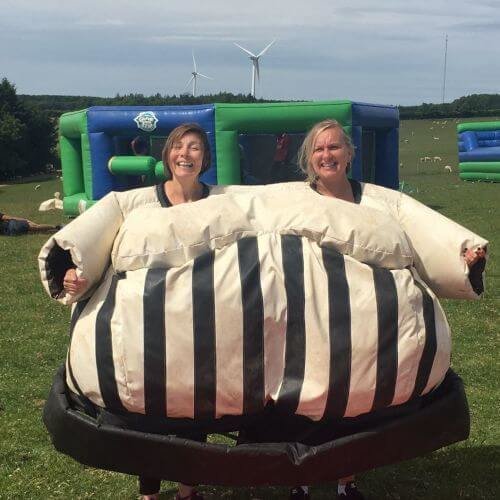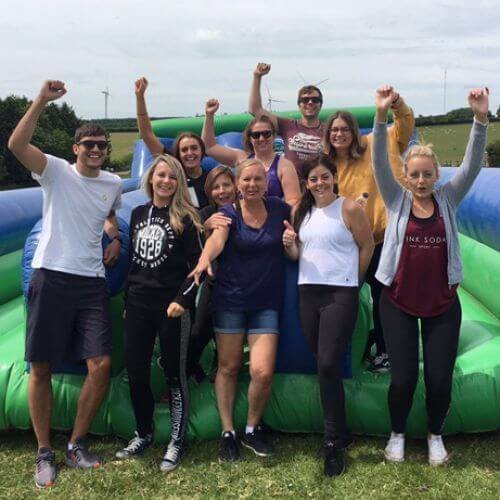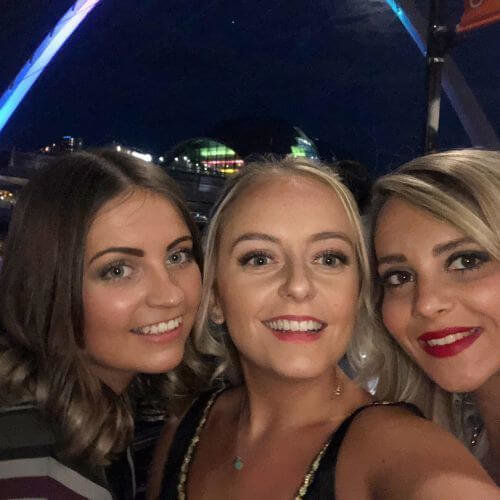 When we got back to the Hotel (after a quick McDonalds stop off), we went to have a little swim in the pool and freshen up for our evening activities. We then headed into Newcastle Town to the iconic Blackfriars venue for our
Gin Tasting
. We entered the traditional meeting hall and sat around the antique, 19th centre wooden tables, tasting and exploring the different flavours of Gin. (To be honest, I personally didn't like Gin before this class however I must say, it did convert me and I can now officially call myself a Gin drinker!)
We then moved onto Revolution for our
3 Course meal plus Drink
to grab some food to line our stomachs for the night ahead. After our delicious 3 course meal and a few cheeky shots and cocktails in between, we headed to Tiger Tiger to warm up our vocal cords for our Karaoke Night. We entered the booth and sung until our hearts were content, or should I say, until our voices couldn't take it anymore!!
After all of our singing, we were shown to our booth for the
Nightclub VIP
where we were presented our drinks for the evening. We sung and danced the night away and then headed back to the hotel (special shout out to our lovely Becks for driving us drunken lot and getting us home safely)
Before we knew it, we were up again for our breakfast followed by our long, very quiet and sleepy journey back home to Essex. Newcastle was a definite yes from the Freedom team… even though we were a little on the tender side when we came back into work on Monday but it was all worth it!
By Lucy - Customer Relations