Stag Weekend Guide to Birmingham
Top Birmingham Stag Activities for 2023
Let Loose Your Birmingham Stag Groups
It's all good news for you stag night Birmingham boys! No city in Europe has a younger population or puts more energy, passion or creativity into enjoying a night out in the West Midlands.
There are more students here than in any other city outside of London and we know how demanding those students can be about being offered the opportunity to party. This epic city is happy to oblige.
You want plenty of choice on your stag do in Birmingham and that is exactly what all the lads will get.
Recommended Late Night Bars
Trendy bars, traditional pubs, numerous clubs, live music and endless rated restaurants are calling all you night owls. Birmingham's nightlife is diverse and vibrant.
If you heed only one piece of advice from us, let it be this; you can't go wrong with asking your taxi driver to drop you off at Brindley Place. Situated within the City's rejuvenated canal network and home to many bars and restaurants. You'll find familiar names like All Bar One for a swift pint on the groom's last night of Freedom.
Bank Bar & Grill
As the name suggests is housed in a former bank and promises a little sophistication. Upscale brasserie-style venue with outdoor seating serving up pasta, seafood & steak, plus dessert.
Pitcher and Piano
Is next to the canal and has outside seating if you're lucky with the weather. This modern chain bar serving beer, wine & cocktails, plus a menu of grazing plates & pub classics for your stag weekends.
Walkabout Sports Bar
Australian chain bar with a straightforward menu, pool tables, beer pong, themed party nights & live big-screen TV sports. Situated on Broad Street, it's the centre of Birmingham's nightlife, popular with all the guys for sport with tv screens, and huge super screens so you don't have to miss any of the action.
Revolucion De Cuba
Take a journey into Havana's heyday with our authentic Cuban cocktail bar and restaurant. Latin-inspired food, tapas, classic and newly crafted cocktails, all to the soundtrack of a live salsa band. Bringing Cuban sunshine to the heart of Birmingham city centre.
The Mailbox
Birmingham's former Royal Main sorting office and now houses some sophisticated designer shops, hotels and bars and clubs. You have 18 canalside restaurants and bars to choose from, plus a boutique cinema
Arcadian Centre
The Arcadian Centre is another you could add to your list; in particular for the ultimate stag clubland scene. It's the city centre's original social hotspot with an array of atmospheric bars and dynamic restaurants nestle harmoniously to create a vibe utterly unique to this special place.
Stag Parties Restaurants
Great food will feature at some stage on your stag night Birmingham? Well this city can't fail to satisfy, you are guaranteed a whole range of choice to meet any demanding culinary desires.
Indian Curry Houses
Think Birmingham think curry, well Balti actually. The Balti Triangle is host to 50 different restaurants so you are quite literally spoilt for choice. Birmingham is known for its vibrant food scene and Indian curry is one of its specialties. There are numerous restaurants and eateries in Birmingham that serve delicious Indian curries. Some of the popular ones include:
Lasan - It's an award-winning Indian restaurant in Birmingham that serves contemporary Indian cuisine, including a variety of curries.
Pushkar - This modern Indian restaurant in Birmingham offers a wide range of authentic Indian curries, including vegetarian and non-vegetarian options.
Asha's - It's a luxurious Indian restaurant located in the heart of Birmingham that offers a range of curries, including seafood, lamb, chicken, and vegetarian options.
Raja Monkey - This casual eatery in Birmingham serves authentic South Indian street food, including a variety of curries.
Itihaas - This elegant Indian restaurant in Birmingham serves traditional North Indian cuisine, including a range of curries.
Chinese Quarter
Here are some of the popular Chinese restaurants in Birmingham:
Chung Ying Central - This restaurant is located in the heart of Birmingham's Chinatown and serves a range of authentic Chinese dishes, including Cantonese-style dim sum and seafood.
Tattu - It's a contemporary Chinese restaurant located in Birmingham's financial district that offers a range of modern Chinese dishes, including dim sum, sushi, and seafood.
Wing Wah - This is a large Chinese restaurant in Birmingham that serves Cantonese and Szechuan cuisine, including a range of dim sum, seafood, and noodle dishes.
Peach Garden - This is a popular family-run Chinese restaurant in Birmingham that offers a range of traditional Cantonese and Szechuan dishes, including dim sum, seafood, and hotpots.
Ming Moon - This is a buffet-style Chinese restaurant in Birmingham that offers a wide range of dishes, including dim sum, seafood, stir-fry, and noodles.
Thai
Chaophraya Thai restaurant is a 2-floor venue for Thai cuisine with striking contemporary decor, an open kitchen and large terrace.
Mexican
Las Iguanas on Temple Street offers flame-grilled Latin American dishes and shared plates served in a contemporary chain dining room.
Greek
Mythos Greek Taverna is a snug restaurant offering classic Greek fare, small plates & wines, plus a heated terrace & music. Whereas the Athens Greek restaurant guarantees a good party atmosphere with belly dancing, plate smashing and dancing with a traditional Greek and international menu.
Sushi
Takumi Japanese restaurant with a contemporary vibe offering sushi, noodles & dumplings, plus beer & sake. Or Kyoto Sushi & Grill in the Arcadian centre serving Japanese delicacies & desserts.
Italian
Italian food always has something for everyone and you will find familiar names such as Pizza Express and Zizzi, but for something a little difference try Buonissimo at Harborne. A small but friendly restaurant serving modern Italian and Mediterranean food, they make every effort to use free-range and organic food. Or Brindley Place again for Cielo, it's very contemporary and has a water feature.
Birmingham Nightclub Entry
The night is still young and may we suggest its time to hit the clubs on your stag party in Birmingham. Whether you're looking for the edgy club culture or just the current tunes it's all on offer in Birmingham.
Birmingham has a vibrant nightlife scene with many nightclubs catering to different music tastes and preferences. Here are some of the popular nightclubs in Birmingham:
Pryzm
This is a popular nightclub located in the city center that offers multiple rooms with different music genres, including R&B, hip hop, house, and EDM.
The Night Owl
For a big night out this is a retro-themed nightclub that plays soul, funk, and disco music from the 60s, 70s, and 80s.
Snobs
This is a legendary nightclub in Birmingham that has been around since the 1970s and offers indie, alternative, and rock music.
LAB11
This is a warehouse-style nightclub that hosts regular electronic music events, including techno, house, and drum and bass.
Amusement 13
This is a multi-room nightclub that hosts a range of events, including techno, house, and bass music.
Popworld
Bar and late-night dance club with the feel of a Top of the Pops set and a 70s musical soundtrack.
Rosie's
Unpretentious, bi-level nightspot featuring dance parties & comedy nights, plus cocktails & nibbles.
Basement
Beatnik, Trick Disco, Kronic sound, has 2 different rooms, one for the obvious and another which transforms with the times.
Top 10 Birmingham Stag Do Ideas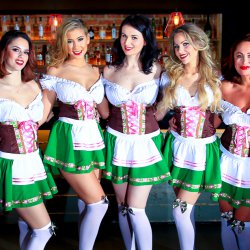 Get a tour of the town the right way! With Birmingham Bar Crawl Babes we have some gorgeous ladies in sexy German beer maid outfits ready and waiting to ensure your event goes off without a hitch. Armed with local knowledge, free shots at the first venue and games and challenges along the way, this bestselling stag activity is a must!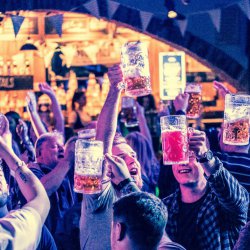 A beer swilling, beer drinking, beer appreciation night out! With the resident Oompah band and DJ taking you to the early hours of the morning, you will be waited on by staff in regional Bavarian dress. An excellent atmosphere brings a true piece of Bavaria to the heart of Birmingham.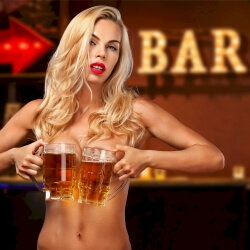 Don't overcomplicate things. After an adventurous day out doing adrenaline fuelled activities, your lads are doing to need two things. Great great and club entry. Dinner and strip combines the two, following your two-course meal with VIP entry into a central Gents club!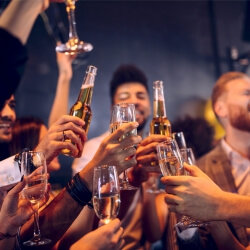 Experience luxury with guestlist entry and your own exclusive area in a central club. Party like the stars with a drinks package served by your hostess for the evening!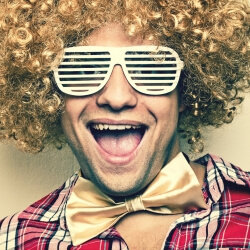 Top local comedians are ready with their jokes, gags and one-liners. It's time for a proper laugh on your Birmingham stag do. You'll be entertained by four of the best before the party carries on with the after-show party with DJ and guest list clubbing until 2am!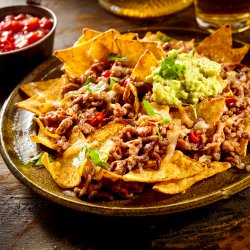 Test your taste buds with the heat of authentic Mexican food. Your Birmingham stag do temperatures are all set to rise. Whether you are after a 2-course meal or a 3-course meal to get you ready for the night ahead, we have got you covered!
Stag Planning?
FAQ
Frequently Asked Questions
How do you make a stag do special?
Go for the hassle-free option, don't waste hours planning, only to end up with a full-time job sorting out payments from guys you might not know to suppliers you have never used before. That's our job, you simply pick the best activities / accommodation and leave us to get it sorted. Then sit back and take all the credit.