Birthday Weekend Guide to Dublin
Top Dublin Birthday Activities for 2023
Dublin Birthday Party Guide
Planning a birthday isn't easy. Alongside picking your activities, you are tasked with choosing where you'll be eating, staying, and where to sample the iconic Guinness. Well, that is where we come in! We take away the stress of having to decide on venues and all the pressures that come with it. Just pick your Dublin Birthday Activities, settle on an accommodation type that suits your budget and set your dates. We do the rest!
To give you some inspiration, our experts have put together a list of some of our best birthday party activities to go with the top restaurants, bars, and hotels. We'll tell you more about the famous Temple Bar, all the best birthday ideas and how to book the best celebration in Dublin!
Why Visit Dublin for Your Birthday Weekend?
The Emerald Isle attracts tons of visitors every year thanks to its rich history and stunning scenery, with the Irish capital being the place to party! But Dublin can offer so much more than just its nightlife.
Whether you want to paint the town red or you want a sporty and activity-packed weekend, there's something for everyone in Dublin. It's a city made for visitors, and its versatility is why it's so hugely popular for birthday activities!
So what are you waiting for? Get those pounds converted to euros and start planning an epic Dublin birthday party.
Fun Facts!
Did you know that 10 million pints of Guinness are produced everyday and their founder signed a 9,000 year lease for the brewery? There is a reason not only the drink is so popular but the Brewery Tour of the Guinness Storehouse where you will get to learn more about the cities iconic bevvy.
You can't have a bevvy in Dublin without toasting to your VIP. But the locals won't be heard saying cheers. Instead 'Slainte' is used to toast to good health!
Ireland was the first country to legalise gay marriage by vote making this city not on historic but progressive too!
Dublin Birthday Party Activities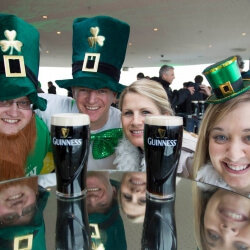 A trip to Dublin is never complete without a visit to the world famous Guinness Storehouse! Arguably one of the most exciting tourist attractions in Ireland, this seven-story experience delves deep into the rich history of "the black stuff." During the Guinness tour, you'll discover how it's made whilst sampling the silky smooth creation. The tour starts on the ground floor of the building, climbing to the top of the Guinness Storehouse until you reach the Gravity Bar right at the top. It's in the Gravity Bar where you can enjoy breath taking views of the city skyline, reaching the Wicklow Mountains - the location where Guinness' water is from. Cheers!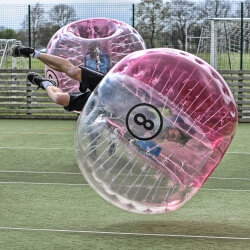 Bubble football is a clever twist on the traditional 5-a-side - with the twist being the players wearing huge bubble suits! This super fun experience includes the pitch hire and a referee to keep score on a range of hilarious games. Your whole birthday group will have the opportunity to wear the zorbing suits while they bump, crash, and bounce around the pitch! Beware, though - once you topple over from laughing, it's very hard to stand back up!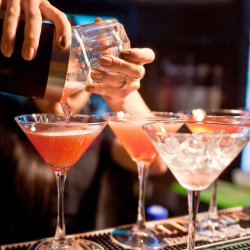 Everyone loves cocktails, so why not shake, make and taste your own? Along with the glass of bubbly on arrival, you will be introduced to your expert mixologist and bartender who will take you through the wonderful world of mixology. You and the girls will learn how to make two delicious cocktails, and you'll be able to enjoy some of your own creations. There will also be some finger foods to properly line your stomachs before heading out for a wild night!
Our Dublin Party Experts
Planning a birthday weekend can be a challenging task to take on, and after over 25 years of doing it ourselves, our team are aware of the highs and lows that come with it. But that's where we come in! To take away the stress and advise on which birthday activities would work for your group, our Dublin experts are on hand to ensure an epic weekend!
Top Group-Friendly Bars and Pubs In Dublin
The Temple Bar
Despite the name, Temple Bar is not a bar, but a street full of them. Temple Bar is Dublin nightlife personified and just one of the many reasons why the capital is loved so much. The epicentre for Dublin's nightlife, the Temple Bar is a must-visit - it's loud, and you're guaranteed awesome craic! This immense drinking destination is packed with bars and pubs - all the best venues crammed onto a buzzing street. If you're up for exploring, you'll find many tiny alleys leading off the main street to even more group friendly bar venues. The Temple Bar is a hugely popular attraction for a reason and bucket list destination for your upcoming Dublin birthday!
Whelan's
Another iconic Dublin venue, Whelan's, is situated on Wexford Street. This legendary venue is the true origins of music in this Irish capital. The Whelan's stage has adorned some of the biggest names, including Bloc Party, Ed Sheeran, and Arctic Monkeys. The venue has also been the set for lots of films such as P.S I Love You! Although live music is its speciality, Whelan's boasts the essential elements of a Dublin pub - cheap spirits, Guinness, and friendly locals, so a great birthday night is guaranteed!
Dtwo
It doesn't get much louder, bigger, or better than Dtwo. A two-floor bar, beer garden, and club, it's hugely popular with birthday, stag & hen parties and is located inside the Harcourt Hotel (which will be very convenient if this is where you'll be staying). There's also an all-weather terrace, so you can still enjoy the lively atmosphere when the Dublin weather takes a predictable turn for the worse. With the capacity to accommodate up to 500 people, the terrace even has a "backyard BBQ", serving kebabs, burgers, and loads more delicious grub.
Dublin Accommodation
Over the last 20 years we here at Freedom have sent countless groups to experience a birthday party in Dublin! To ensure the best experience, we are able to offer the best group-friendly accommodation in Dublin. You can choose from best on budget hostels in Temple Bar, a 3 star hotel or the luxury hotel depending on your budget and needs for the group.
Some of the better options for accommodation include award winning hostels in trendy locations, bachelor penthouse apartments sleeping 4-6 friends each, and Jurys hotels, but for those blowing the budget on activities we can book group rates at our budget friendly options.
Best Places To Eat On A Birthday In Dublin
Boxty House
If you're looking for a traditional Irish food experience, check out the Boxty House restaurant that sits next to the River Liffey and the Ha'Penny Bridge. Boasting a seasonal menu, this restaurant is a great choice, serving all the classic favourites such as potato pancakes, as well as a variety of vegetarian dishes.
777
A favourite in the city centre, 777 is a Mexican restaurant that doubles as a tequila bar. Serving some truly tasty Central American cuisine, this Mexican Cantina is a must-visit. Is a birthday party really a birthday without a little tequila?
Ha'Penny Bridge Inn
The Ha'Penny Bridge Inn can be found right in the middle of Dublin's cultural quarter - opposite the iconic Ha'Penny Bridge. You can expect a warm welcome from this family-run pub, and you're guaranteed to be surrounded by friendly locals and other tourists. As well as delicious food and a great atmosphere, you can enjoy live music every night for a traditional Irish experience.
Dublin Transfers
If you're flying in, Dublin Airport is located north of the city centre, and buses run regularly to and from the city. If you're arriving by ferry, you'll be taken straight into the heart of the city as you'll arrive at Dublin Port.
To avoid any added stress on the day, pre-booking your transfers is always recommended so that your Dublin birthday weekend goes to plan with no interruptions!
Getting Around on your Dublin Birthday
From there, you can easily get to the heart of the city from the nearby tram station - The Point. When it comes to getting around the city and to and from various activities, there are many different taxi companies in the city for ultimate convenience.
Want to see the best of what the city has to offer? Add a walking Bar Crawl to your booking and spend you nights amongst locals and tourists visiting the best bars Temple Bar has to offer!
Drinking Games for your Dublin Birthday
The options in Dublin are endless, keeping the lads and lasses entertained whilst they quench their thirst is an essential part of any party! Our expert team have suggested their favourites below
Photo Bingo

Capture memories and see the sights! Create a bingo card of top spots and hilarious prompts for your group to collect over the weekend. Have a prize for the winner of the best interpretation and most photos and a forfeit for the weakest!

Arrogance

A simple game to ensure that drunken antics, all you need is a pint glass, a coin and a drink in hand. Simply take it in turns to flip a coin. Guess heads or tails. Win, you get to move the pint glass to the next person after adding a slosh of your own drink to the concoction. Fail and it will be your go to down the mixture.

We can't guarantee this will be the finest drink you taste during your visit!

Send to All

Not for the faint hearted, this game only has one rule. No phones allowed. Break that rule and you forfeit control of your phone. The remaining people will get to send a text of their choice to anyone, and we mean anyone, in their contacts.
FAQ
Frequently Asked Questions
Is Dublin a good location for a birthday?
Yes! Dublin is one of the best-equipped cities to accommodate parties. It has everything you could need for an unforgettable weekend - Temple bar, amazing locals, great memories, and copious amounts of alcohol!
This makes Dublin an awesome place for bar crawls - you can pretty much fall out of one pub and stagger straight into the next one. Storm the karaoke stages, attend a bar crawl and drown in the "black stuff", add nightclub entry, before stumbling into the sunset with your mates - the Dublin atmosphere is simply awesome.