Birthday Weekend Guide to Cardiff
Top Cardiff Birthday Activities for 2023
Cardiff Birthday Ideas
Spread between an ancient fort and an ultramodern waterfront, compact Cardiff seems to have surprised even itself with how interesting it has become. - Lonely Planet
Whilst not always the first place that may come to mind for a birthday weekend, Cardiff has grown to become a hive of nightlife and home to tons of unique birthday activities since becoming the capital of Wales in 1955! It now stands as one of the most popular party destinations.
Did you know that 18 million tourists flock to Cardiff every year?
Between the unique bars, clubs and restaurants found in Mermaid Quay and the iconic Cardiff Bay being the setting for may tv series, including the base of the Doctor Who spin off, Torchwood, there really is so much to be discovered in this city centre!
Put together by our event experts, read on to find out all the latest Cardiff birthday do ideas and city centre activities to make your birthday weekend stand out amongst the rest!
Why choose a Cardiff birthday weekend?
There is no doubt of a good time with a birthday weekend in Cardiff!
Packed into one of the newest European capitals is a huge range of landmarks and legendary birthday activities for you to take full advantage of. Admire the contradictions of modern, yet wonderfully rustic. Urban, yet refreshingly green. Hard working, yet laid back and a Capital city, yet friendly and intimate.
Are you wanting to try something a little different? Then why not book some adrenaline pumping activities to go alongside a tour of the Principality Stadium (previously the Millennium Stadium)? Include a game of the hilarious Bubble Football or Goofy Games to ensure an action-packed birthday weekend!
If your friends are looking for a wild night out, then Cardiff has got you covered. With districts dedicated to bars and clubs, live music venues and unique nightlife spots around the city, there is something for every group to enjoy.
Top 10 Birthday Activities in Cardiff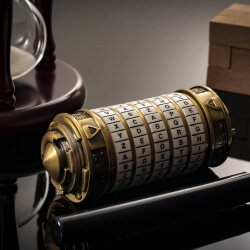 Will your friendships survive this Cardiff birthday do challenge? 60 minutes locked in a room. Find clues and solve puzzles or risk being here for the weekend! The drinks are waiting guys, you better be quick!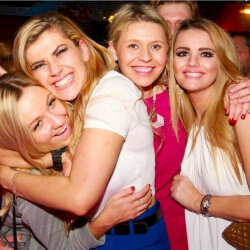 A classic pub crawl with the added bonus of you getting guestlist entry to several bars along the way! Take a tour of the city centre the right way, by bar hopping from venue to venue.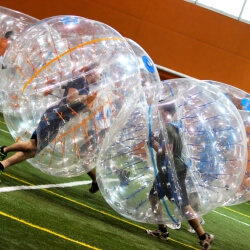 Challenge yourselves to this twist on the sporting classic but stepping into your bubble suit and bounce, barge and battle your way your way to victory! This is not your usual five aside game of footie which means whether you are a seasoned pro or just looking for something different to do, Bubble Football is a guaranteed laugh!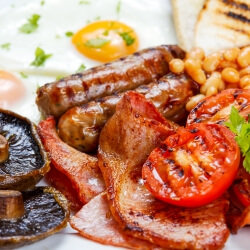 Late night? Need something to prepare you for the day ahead? There is no better way to start your day than with a cooked brunch and 4 drinks to get the party going!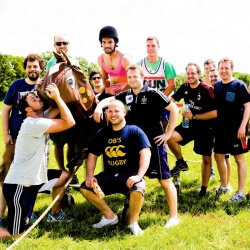 Looking to dabble in a bit of Leak Lampin' or some Sheep Shenanigans, are you brave enough to venture Across the Taff? This totally unique and hilarious 'Welsh Games' day out is guaranteed to have you rolling around with laughter.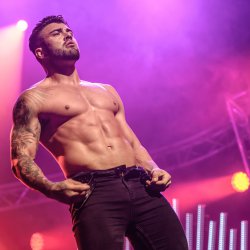 With hot male strippers to start your night off right, a welcome drink ready for you, AND a meet and greet with the Dreamboys after the show, there is no need for us to explain why the Dreamboys have remained one of the best birthday party night outs in Cardiff!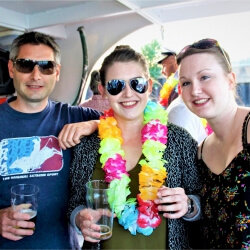 During your three-hour tour Booze Cruise you'll leave Europe's largest waterfront development before heading out into the Cardiff Bay, it will then make its return back to Mermaid's Quay taking in the Cardiff skyline, but not before your group get to enjoy the on board fully stocked bar and dance floor fillers!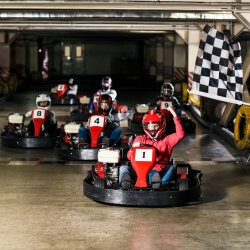 How about some serious hi-octane thrills for your Cardiff birthday. That chequered flag is waiting, and the winner takes all. This will leave you all revved up and ready for a night of partying. Take on Wales' premier indoor karting facility with its 400 metres track and a 50-metre flyover!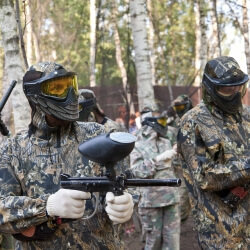 With 30 acres of woodland to conqueror and 100 paintballs each, you'll have half a day to spend in the various game zones, including a purpose build village and nuclear bunker. Leave your friendships back at the hotel for the battle is one!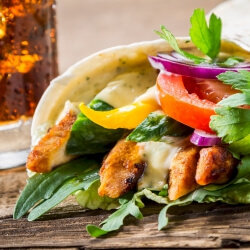 Using carefully sourced ingredients from around the world, to conjure delicious authentic South American food made with passion, love and lots of Latin magic. Enjoy an irresistible bolt of Latin American energy with 2 courses from the menu.
Our Cardiff Birthday Experts - Why choose Freedom?
With over 25 years' experience in curating bespoke birthday weekend packages and thousands of groups sent to action packed birthday and birthday excursions, we know we are the best in the business!
Don't believe us? Let our groups speak for themselves!

I just want to say how helpful and friendly I have found this company, they gave us a fabulous package of which every element was so good we had the best time, the activities were so much fun, and accommodation was brilliant. - Gemma, last May

With a low £35 deposit to secure your booking and an individual payment system which means your friends pay us direct, booking through Freedom ensures a stress-free experience!
Your Cardiff Birthday Do Guide
Greyfriars Road
Offering a profusion of the hottest nightclub venues to include in your Cardiff birthday do, Greyfriars Road is the place to head for cocktails aplenty and a great night out!
Castle Quarter
Named after Cardiff Castle found at the heart of the district and made up of an abundance of shopping Arcade's and highstreets, the Castle Quarter is where to head for the best places to eat, shop and drink throughout birthday weekends in the Welsh capital. Castle Quarter also hosts the city's Christmas Market every year!
Cardiff Bay
Europe's largest waterfront development, Cardiff Bay dates-back-to the Industrial Revolution of 1790 and now hosts great days out! Head to Mermaid Quay for the best places to eat, shop and relax with a pint or two. Make sure you keep an eye out for Roald Dahl Plass, an epic amphitheatre named after the Cardiff born author, where events and festivals are held every year!
Top Birthday Accommodation
With so much to see and do on your Cardiff birthday weekend, we are sure your accommodation will be a place to sleep off the drinks of the night before. Whether you are looking for a budget friendly hotel, a luxury-break or even a party house to accommodate your group, we have got you covered!
Browse our full range accommodation online now to start building your Cardiff Birthday Weekend package or give our team a call to discuss the best options for your group on 01922 655 580!
Cardiff Weather
Whilst on average Cardiff receives more daylight than Milan, the weather during your Cardiff birthday weekend will reflect that of the rest of the UK.
If you are planning on visiting lots of the iconic Cardiff landmarks and want to make the most of The Bay, then we suggest booking June - early September, where the city experiences highs of 21. Just expect as influx of summer tourists this time of year.
To avoid the crowds but still make the most of your birthday weekend away, we suggest booking spring-time where the showers will be a little more limited and your group will be able to take advantage by packing the daytime hours with fun filled activities!
FAQ
Frequently Asked Questions