Birthday Weekend Guide to Albufeira
Top Albufeira Birthday Activities for 2023
Albufeira Birthday Guide
Whilst keeping it's small town charm, with narrow streets and hilly backdrop, the city now boasts glorious beaches and an amazing nightlife scene. From all hour beach bars to relaxing days under the sun, Albufeira offers the perfect setting for to fill your days with exciting birrthday activities and nights out!
Exploring a city with no preconceptions can sometimes add to the experience, but Albufeira is a tourist hotspot and so being prepared beforehand means you can ensure your group a great time.
Put together by our birthday party experts, this guide will take you through everything you need to know ahead of your big event! Whether you are a friend looking for the best sunny location for the birthday party, or a VIP who has just booked and wants to know more the city, this guide, along with our team who are just a phone call away, will have you hosting the party of the year!
Why have an Albufeira Birthday?
Sun, sea, shots or strippers, Albufeira has all the essentials for a birthday weekend away!
The key thing to remember is that the city is made up of two distinct districts, the Old Town and the New Town. Each with their own purpose and each you are sure to visit during your stay, they offer the perfect blend to the city making it an ideal birthday destination.
Find a spot to set up and soak in the morning sun on one of the Old Towns golden sands, this quieter side of Albufeira will allow you to sleep off the hangover before heading onto one of their beachfront bars. Here, you will notice everything is a lot more relaxed making it an ideal daytime destination between activities.
Curating an experience unique to Albufeira, the New Town is a hive of neon lights and wild nights out. Abuzz with live music, cheap drinks and high energy, The Strip will be the hotspot for birthday parties alike for your evening entertainment and all the best bars.
Offering a unique experience, Albufeira is a sunny destination that promises a good time for all groups!
Build Your Albufeira Birthday
Guaranteed to exceed expectations, Albufeira birthday party weekends are bursting with potential for an iconic time in the sun for you and your mates. Start building your own Birthday Package now by simply choosing from our top Albufeira activities, adding nightlife and accommodation. Then our team will be in touch to advise, and to help you put the finishing touches your birthday!
Our Top Birthday Activities Albufeira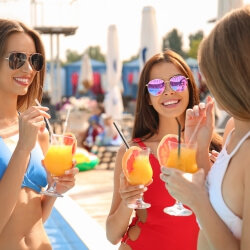 Party like never before! Between chilling on a reserved sun lounger to dancing with a drink in hand, you will be dancing to chart toppers. An upgrade to the your usual party experience, soak up the sun in the best way possible!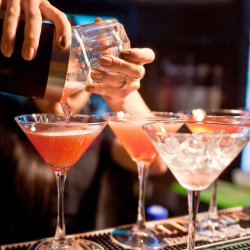 Start your Algarve birthday party the right way with a 2 hour cocktail making session, where the girls will get to shake, make, and drink a minimum of 2 cocktails each! Add in a professional bartender and use of a hot tub, and it isn't hard to see why this is one of our bestselling birthday activities.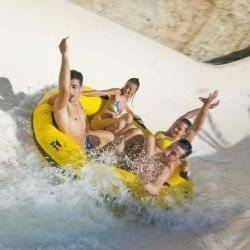 The ultimate summer activity, head to one of the top water parks in the area for a day of adrenaline pumping games! Rollercoasters, waterslides and wave machines are just the beginning!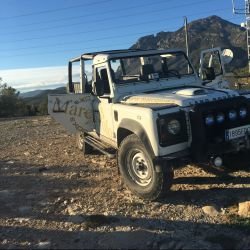 Sit back and enjoy the beautiful landscapes of Algarve with a scenic tour through the country in open top jeeps! Stop off at quiant villages along the way and learn more about the impressive riverbanks and land you are exploring.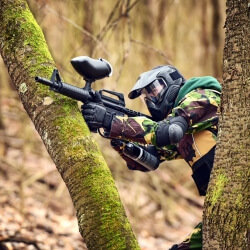 Paintball is a guys birthday weekend staple when it comes to birthday activities. It's the Call of Duty for the all action Hero in Albufeira. Action man meets Rambo semi-automatic paintball guns at the ready! Don the camouflage war paint on, move with all the stealth of a highly trained Desert Rat as you hunt the enemy down SPLAT! Silent but deadly.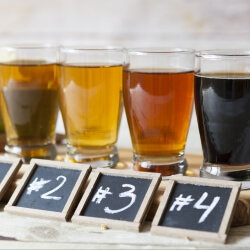 If your birthday boy-to-be is big into beer than this is the perfect activity for your group! Your brewery tour comes with 5 beers to taste and snacks to eat along the way.
Locked in a room in a foreign city. Not exactly how you thought your birthday celebrations would go. But surrounded by your best mates, you will have to work together to solves riddles and games.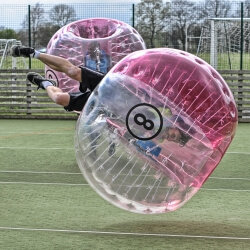 Our national sport with a twist? It is genuinely hilarious! Its Alan Shearer meets Jonah Lomu as you bounce and barge your way to the points playing (or trying to play) Bubble Football on your Albufeira birthday party! Some people think the idea is to score goals...we are not so sure!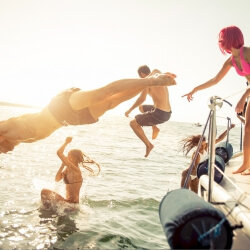 Perfect for your group getaway, boat parties will complete your ultimate birthday party weekend as you enjoy a 3 hour Boat Party with an onboard DJ and 2 free drinks each. As if that was not enough already, you will be able to swim in the gorgeous oceans Portugal is known for and we have even included transfers!
Where to Head on Your Albufeira Birthday
Old Town
For when you need some down time between the off road activities and shooters, Albufeira's old town is the place to head. Surrounded by gorgeous views and exquisite Portuguese dining, you are sure to find somewhere to relax with a pint or a sangria with only the best sea views.
Beaches
Just in front of the Old Town you will find Praia do Pescadores and Praia do Peneco, two of the best beaches to visit during your weekend away.
The Marina
Full of shops, bars and super yachts, The Marina is an up and coming part of Albufeira. A different vibe to the Strip, it may be a welcome break away after a heavy night on the town.
New Town
Let's get the party started! The New Town district will probably be where you find yourselves spending the majority of your time if a party weekend is what you are after. Where the Old Town is where you head to relax, the New Town is streets of neon signs, cheap booze and where the wild night will start.
Tavaria Island
For an experience away from the Albufeira party scene, just a hundred metres across the sea you will find this stunning tiny island! Tavaria is perfect for adding some sunbathing and snorkelling to your party agenda.
Dine & Drink in Albufeira
After a skinfull the night before, we know exactly what your VIP birthday need. Good grub and plenty of it!
Whilst we know it can be difficult for groups larger than 6 to find tables on the go, which is why we have made it easy for you to book in advance with our Dining options ranging for Bottomless Dinner to a 3 Course Mexican Meal, after a day of feeling the adrenaline whilst Quad Biking or out on one of our Jeep Safaris, there is no need to be hunting around for where is best to eat. We have done that for you!
Senhor Frog's
This venue is truly deserving of it's 5 star reviews! With over 24 of the some of the best pizza's in the capital to choose from, Senhor Frog's not only promises a great atmosphere but food for everyone, as they are known for their gluten free and vegan pizza options too! Whether you stumble in or schedule a visit into your itinerary, Senhor Frog's ensures a hearty meal!
Johnny's Saxophone Bistro
A highly recommended bar and eatery, Johnny Hopper's Bistro is all about the entertainment. A guaranteed great night, your group will get to enjoy great food and drinks whilst listening to the ultimate throwbacks, taking part in quizzes and enjoying the live music performances.
Invictus
What will keep you coming back in the amazing staff and great pub vibes that Invictus offers. With hearty grub and great cocktails, between the regulars and the staff, you will be up and joining in with the infamous karaoke in no time! Popular with birthday groups!
Porto de Abrigo
If you are looking for incredible food and an equally amazing backdrop, then look no further. Porto de Abrigo. With it's outdoor seating boasting the best views of the Albufeira Marina, you will get to watch the fishing boats bob on the crystal blue water and get to pick your own fresh fish to enjoy under the sun. A stunning venue that is sure to be a hit with your whole group.
Albufeira Birthday Flights and Transfers
With regular flights between the UK's major airports and Faro Airport taking under 3 hours, Albufeira takes the lead as a sunshine birthday destination.
When it comes to getting your friends from A to B and back again, there are a few different factors to consider. Such as arriving at night will decrease the options and increase the price of getting transfers on the day. If you are coming out of season, there will also be less choice for your group to take. Not to threat, there are still lots of great ways to get the party started asap with the below transfer options!
Private Transfers
The most popular and hassle free option is to plan and book your transfers ahead of time. These can be added onto your package meaning you pay and we arrange.
Bus
The journey between Faro Airport and Albufeira takes around 40 minutes, and so if you want a budget option for your group, taking public transport could be for your group. Added to the schedule this year, the number 56 route (Aerobus) will take you directly into Albufeira before carrying onto Lagoa, Portimao and Lagos. These run six times a day Monday – Friday in peak seasons, reducing after and on the weekends. Tickets costing just €8.00, if you don't mind the waiting around then the price could be worth it!


Getting Around on Your Birthday Party
Trains
Whilst there is lots within walking distance of your accommodation, trains are a tried and tested method of getting around. Cheap, quick and reliable!
Walk
With so much to see and do in Albufeira, most groups decide to stick to on foot when in the city centre. Take in the views as you down the drinks, go a walking tour and bar crawl, the options are endless.
Accommodation & Birthday Stays in Albufeira
With a city bursting with potential for the best birthday parties, we truly believe that your accommodation will be a place to sleep off the beers and get ready for the adventure ahead. Based in central Albufeira, secure and suiting to your budget, we have some fantastic group accommodation available to your mates!
Just start building your Albufeira Birthday Package and choose an accommodation to suit your groups wants, needs and budget. Our expert party planners will take care of the rest!
Drinking Games
The options in Albufeira are endless, keeping the birthday VIPs entertained whilst they quench their thirst is an essential part of any birthday party! Our expert party planners have suggested their favourites below
Photo Bingo
Capture memories and see the sights! Create a bingo card of top spots and hilarious prompts for your group to collect over the weekend. Have a prize for the winner of the best interpretation and most photos and a forfeit for the weakest! Win or lose, you will have an endless supply of content for that all important wedding day speech!
Arrogance
A simple game to ensure that drunken antics, all you need is a pint glass, a coin and a drink in hand. Simply take it in turns to flip a coin. Guess heads or tails. Win, you get to move the pint glass to the next person after adding a slosh of your own drink to the concoction. Fail and it will be your go to down the mixture. We can't guarantee this will be the finest drink you taste during your visit!
Send to All
Not for the faint hearted, this game only has one rule. No phones allowed. Break that rule and you forfeit control of your phone. The remaining friends will get to send a text of their choice to anyone, and we mean anyone, in their contacts.
Our Albufeira Destination Experts
We are lucky enough to have an incredible team of party planning experts at your disposal. On hand to help you build the perfect package in this latest party destination, they play a key part in planning your event.


Chat to one of our Albufeira experts on 01992 655 580.
Albufeira Weather
One of the main reasons to come to Albufeira is to take full advantage of the incredible summer months and stretches of golden sand. You can be guaranteed the opportunity to relax in the sea or spend hours sipping drinks outside a bar as you take in the views when visiting June through to September where the temperature is at it's highest and the season is in full swing.
December through to February where Portugal experiences it's lower weather and the season isn't quite the same experience.
FAQ
Frequently Asked Questions