Return Airport Transfers in Berlin
Two way private airport transfers between Tiegel airport and your accommodation in central Berlin.
---
What's Included
Two way transfer from Tiegal Airport
Private transport
Taken to your accommodation

£59.00Per Person



10 Minimum Guests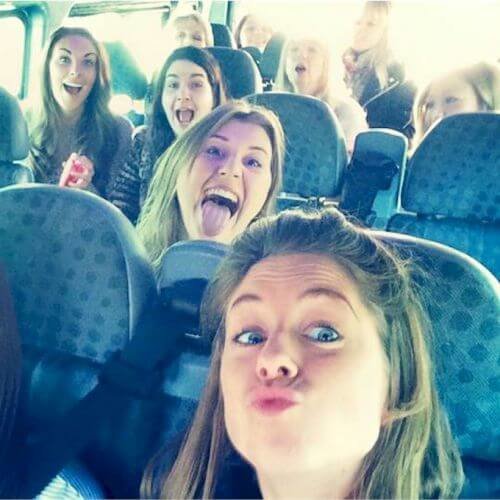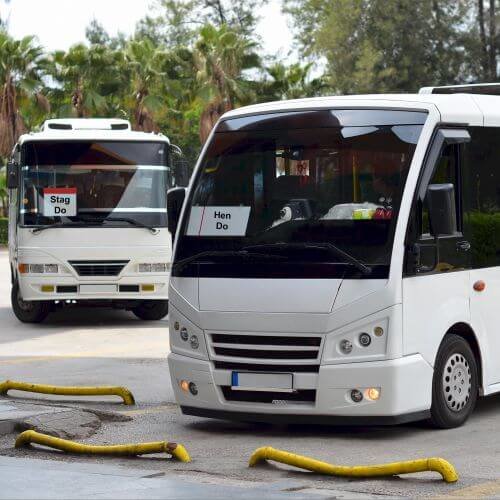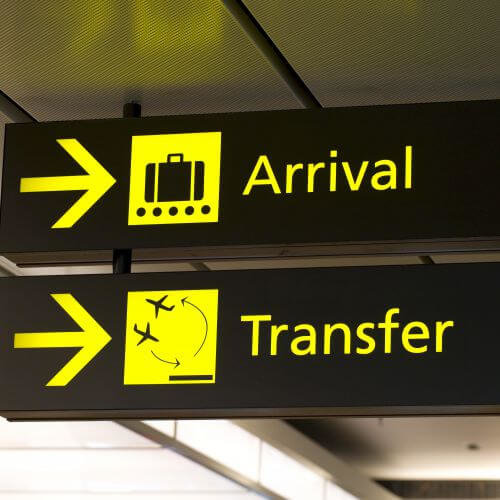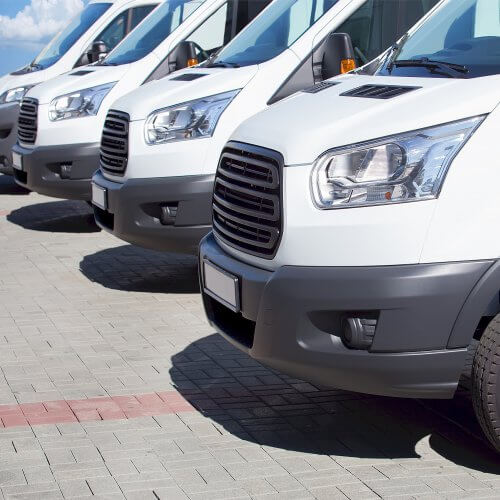 Save time, hassle and money with our private return airport transfers. As you step out of the arrivals lounge your guide will be waiting for you, ready to whisk you straight to your accommodation in a minibus.

This saves time waiting in the taxi rank and means your group can travel into Berlin together plotting the weekend's antics. You will all arrive at your accommodation together and can check in at the same time. This option is particularly good for large groups - especially for the organiser.

For your departure transfer your guide will pick you up from your accommodation with plenty of time to catch your flight home.


---
Hen Notes
Please note this is based on your party travelling all together each way as one group. If you have party members arriving on different flights and require multiple transfers please let us know and we can quote you accordingly.
If you are flying into Schönefeld Airport, please let our team know as this airport is further away from Berlin..


Timings
The transfer takes approx. 30 minutes.


Locations
Tiegal Airport to Berlin City Centre


---
Booking Online
You can book your activity straight away via our secure online booking system, so you know you are ready to go!
And don't forget, your friends can pay us direct via our event area, so you don't even need to collect payments.
Book Now
Hen Return Airport Transfers Reviews
I wouldn't even know where to start on the review this company deserve. At the very start Zoey was brilliant with answering all my questions when I wasn't sure on destination or even the activities I wanted to do for our bride to be. She would reply instantly even at night sometimes. Communication from then to the travel date was exceptional. Once we got to Budapest we met our guides. Silvia, Dorka and Ursh. These were our hero's for the weekend they helped us prevent and argument in a restaurant when they tried to over charge us, when one of the hens fell over, Silvia found the only open pharmacy to get a bandage and some antiseptic cream and went out of her way to puck it up for us and not to forget the mother of the bride and Groom got them self lost and they found then and got them back to the accommodation safely. Towards the end of the weekend they ended up just being part of the group and we all had so much fun with them. I'd recommend this company to anyone booking a hen or stag do. They really do care about making sure you have a stress free and fun time. Thanks guys. 🥰

By Samantha Hassan
15th April

I can not recommend Freedom Weekend Ltd enough!! I used them to plan my activities in Budapest for 9 people on a hen do! Their communication, help and support was amazing from start to finish, always happy to answer questions and were prompt with their reply! Their set up to organise a group is brilliant as people can pay individually and see what the activities are, which makes collecting money hassle free!!! The activities were great and loved my all the hens and great value for money! I'd like to say a big thank you to Laura for doing a great job at organising everything and answering all my questions and to Sari and Sasha who were are guides for the weekend! They got us to were we needed to be and gave us some good tips, having them made the hen run smoothly and less stressful trying to find our activities!!! I'd highly recommend Freedom Weekend Ltd and I'd use them again! Lianne

By Lianne Skivington
31st March

Just returned from my hen do Benidorm and had such a fantastic weekend !! from the airport transfers to accommodation to our activities we could not have asked for better !! cocktail making was fantastic .. our hotel and staff was perfect for what we needed and our host that met us Paul was an absolute laugh he came on our pub crawl and was just brilliant and always there if we had any questions ! thanks again to everyone at freedom we will definitely be using again!

By Kirsty Dixon
22nd August

Freedom Ltd helped make planning an overseas hens really easy and the whole experience with them was really enjoyable. Thank-you for making my friends hens so memorable.

By Ashleigh Kirstenfeldt
19th July

I just wanted to say a big thank you for organizing such a lovely hen do for my friend as everything went just as planned. We had a lovely rep Doris who was very friendly and explained everything so well to us so we knew what was happening next. Also thank you so much as I know I left it so short notice for everything to come together but we all had such a lovey time. I would really recommend the place we stayed too might be worth getting in touch with the owner to use for future hen do's as was such a beautiful apartment and Doris said was one of the best she had seen....Faces. The cocktail making was a lovely activity that allowed us ladies to all get together and know each other more. Was a relaxed atmosphere with friendly staff and a handsome cocktail maker. The club we went to was called PEACHES and was a good choice of music from r&b to a bit of hip hop. We had a vip corner to ourselves and would recommend drinks to come over as worked out better value for our money. The next day we really enjoyed the Thermal baths which was just perfect as we got to relax and also meet new people. They also have a good choice of massages available for those who may not want to go into the pools........this was my favorite one booked. We also arranged for a 3 course meal which was very basic but tasty followed by a gorgeous stripper which did not feel cheap. However, even though this was arranged in a separate room I would of liked the music to be a bit louder and for him to stay just that little bit longer and taking more pictures as it seemed he may have been in a hurry. (dessert here was very nice yum yum). I organised some t shirts to be made and even though there was a little bit of a delay in delivery for these but we managed to have them ready for the day. The t shirts were just what I expected with all the correct information on. I would recommend you to anyone that is organizing a hen do as its allot of pressure and can get very overwhelming. Your company took allot of that pressure of me and allowed me to just concentrate on what I was going to wear lol. Also just get some clarification on the transport when going from one place to another but we checked that its costs very little to use taxi's and they take contactless. Many thanks again for all your hard work and hope this feedback has been useful.

By Nin Sagoo
29th March

I just wanted to say a big thank you for organizing such a lovely hen do for my friend as everything went just as planned. We had a lovely rep Doris who was very friendly and explained everything so well to us so we knew what was happening next. Also thank you so much as I know I left it so short notice for everything to come together but we all had such a lovey time. I would really recommend the place we stayed too might be worth getting in touch with the owner to use for future hen do's as was such a beautiful apartment and Doris said was one of the best she had seen....Faces. The cocktail making was a lovely activity that allowed us ladies to all get together and know each other more. Was a relaxed atmosphere with friendly staff and a handsome cocktail maker. The club we went to was called PEACHES and was a good choice of music from r&b to a bit of hip hop. We had a vip corner to ourselves and would recommend drinks to come over as worked out better value for our money. The next day we really enjoyed the Thermal baths which was just perfect as we got to relax and also meet new people. They also have a good choice of massages available for those who may not want to go into the pools........this was my favorite one booked. We also arranged for a 3 course meal which was very basic but tasty followed by a gorgeous stripper which did not feel cheap. However, even though this was arranged in a separate room I would of liked the music to be a bit louder and for him to stay just that little bit longer and taking more pictures as it seemed he may have been in a hurry. (dessert here was very nice yum yum). I organised some t shirts to be made and even though there was a little bit of a delay in delivery for these but we managed to have them ready for the day. The t shirts were just what I expected with all the correct information on. I would recommend you to anyone that is organizing a hen do as its allot of pressure and can get very overwhelming. Your company took allot of that pressure of me and allowed me to just concentrate on what I was going to wear lol. Also just get some clarification on the transport when going from one place to another but we checked that its costs very little to use taxi's and they take contactless. Many thanks again for all your hard work and hope this feedback has been useful.

By Nin Sagoo
29th March

Cannot fault Freedom for their excellent customer service! Everyone I spoke with was friendly, professional and genuinely cared about our booking of 18 hens to Barcelona this March. Highly recommended

By Kelly Parker
8th March

We recently went to Benidorm on a hen party. We had the most amazing weekend it was perfect for the mixed age group, cheap and super easy to organise. Thank you so much!!

By Lauren Mcwilliams
15th June

Well what can I say Freedom Ltd have been amazing! I have just come back from a hen weekend in Budapest of which i booked various activities throughout the weekend. We had an amazing host Adam that met us at the airport, helped us get to our activities and joined in the fun. He truly was wonderful and made everything run very smoothly for us. I would 100% use Freedom Ltd again, customer service was great from start to finish!

By Gemma Wade
9th June

I have recently organised my sisters Hen do to Budapest using freedom. They were very efficient in communicating the different events to the cost. The payment system worked well to show how much money you had left to pay and demonstrating the break down of each cost. When we arrived at Budapest our guide was waiting with a mini bus and a round of drinks which was refreshing after the flight. We got back to the apartments and she shared some important information which was really useful. We had a bar crawl organised on the first night, a different guide met us to take us on the trip, he was a lovely person however didn't have the energy to motivate 15 girls. I was slightly disappointed that there was no effort of organising ice breakers for the bar crawl, our first bar was dead with no music. He was also asking where we wanted to go, when we had no idea of any bar in Budapest. On the second day he met us again and we had an amazing time on the beer bike and the thermal baths. It was really helpful having him around he communicated where each event was and made sure it was all organised. He would always reply to any of our questions verbally and through text, which made us feel very safe. I would 100% recommend freedom, they were amazing from start to finish, they were inclusive, organised and efficient throughout the whole weekend.. thank you so much for making my sisters hen one to remember

By Rebecca Davies
28th May

Previous
Next