Day Ideas
Night Ideas
Stay
Deals
Apartments Accommodation

Self Catering
Free Wi-Fi
Lounge Area
Air Conditioning
Tea/Coffee Facilities
Linen & Towels
Kitchen Utensils
Great Location
Bathroom
Fully Equipped Kitchen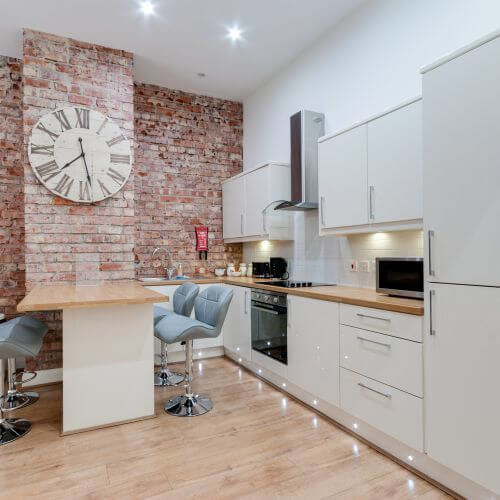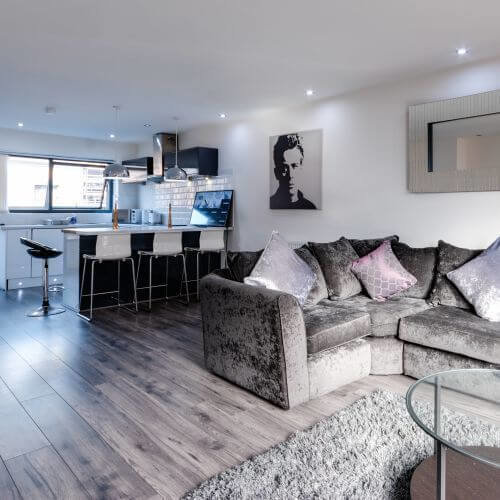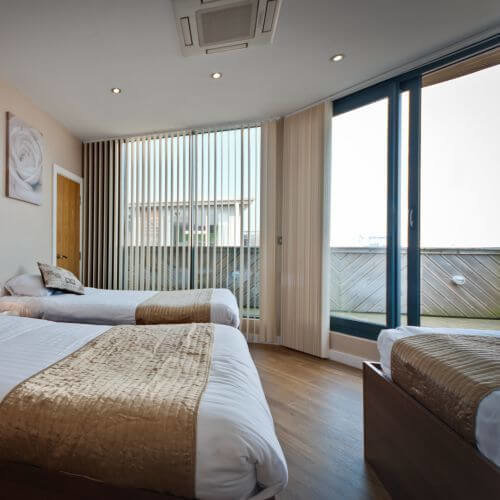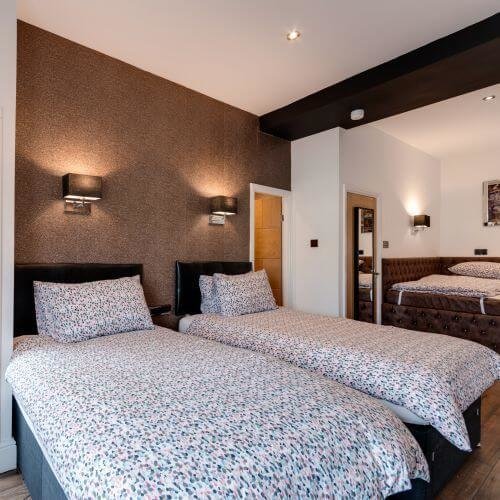 Our Liverpool Apartments are well located in the city centre providing the perfect base for a weekend in this popular city.

You'll be just a short walk away from major Liverpool attractions and landmarks such as the Liver Building, Liverpool One and, of course, all its vibrant and exciting nightlife!

Different apartment sizes allow flexibility of group sizes so they are a very popular choice for weekends. Just as you would expect, apartments, are relaxing and comfortable and a great base for your group for a weekend in this popular city

Facilities generally include lounge area, TV, fully equipped kitchen, bathroom, wi-fi and linen/towels. It is common that apartments will come in different styles and designs, even if next door to each other.

You will be in a mix of apartment size depending on your numbers, either in one or split across a couple of apartments in the same block.

Apartments are the perfect option for groups and great value for money but book early as they are a very popular choice.
3rd time we've used freedom now they are absolutely faultless nothing too much trouble and awesome overseas reps. Just booked Budapest for 2024 and Zoey sorted the job out within the same day all booked and ready to go.

By Arran Woods
11th October

Zoey was extremely helpful, she went above and beyond what I expected even managing to secure an activity that was not available on your site but was available elsewhere. She was also communicating via email and calling even on her days off. If I also called the team they were also very helpful and able to give me updates and answer any queries during time Zoey was not available.

By Oliver Hartnack
6th June

Very quick response time and all well arranged by Zoey. Thanks

By Nick Lammers
20th October

The stag do was brilliant, the shooting was a great setup and catered for all ability's plus it was a great place to have a first drink. The hotel looked from the outside like it was haunted but inside it was newly refurbished and the rooms were massive and excellent for the price we paid. And ending the night at beerkeller was really good to get us up and dancing all though they had run out of the drink most of us had pre-ordered and there was a bit of confusion when we first arrived as to where to go but overall we had a great time (although) I can't remember much of this part. I would recommend anyone to use freedom again as it made really easy for the grooms man to check who was coming and how they paid plus no one had pay out of there own pocket then chase people around. Thanks for your help.

By Gareth Yeomans
16th September

We did a life drawing class in Berlin in September which was a really fun stag activity. Amazing to see how hard everyone was working to try and show their drawing skills and lots of fun memories which will keep people chuckling for years to come. Thanks for Zoey for arranging this for us.

By Phil Ashton
9th September

Very easy to organise our stag do with minimal fuss, the boat cruise and bierkeller that was sorted for us were spot on, left to our own devices and got absolutely smashed!!! Would definitely recommend, and will be using again. Big thanks to Karen and James.

By Stu Astall
14th July

Very happy with the stag event, even though half of our party dropped out last minute. The event organisers changed the way they ran our event to accommodate.

By Callum Riches
27th May

It was a great venue and the whole process of booking it was really straightforward. The stag was really impressed with the place and said the whole weekend was exactly what he wanted so mission accomplished as far as we're concerned!

By Paul Clarke
19th May

Couldn't be happier with Freedom. Trying to arrange a Stag Party for 19 could have been a nightmare but it was all made so easy for me through Freedom. Every Event was exactly as advertised. All staff were extremely helpful. The experience we had for the price we paid was amazing. Hotel was spot on, (although lacked Parking). Laura in Customer Relations was brilliant and sorted everything out quickly and kept in contact throughout. Would give more stars if I could.

By Jonathan Salway
13th May

Freedom were great to deal with from start to finish. Lauren made the whole process easy and stress free. I will definitely use again. Highly recommended!

By Nick Aitken
12th May

Previous
Next