Team Party in Blackpool
"The Las Vegas of the North". The town is famous for its Tower, Three Piers, Pleasure Beach and Illuminations. Every visit to Blackpool is guaranteed to be a fun-filled adventure!
Team Events in Blackpool for Sports Tours and Team Socials
Blackpool team event
~
tacky, trashy, unabashed, and totally fun!
Blackpool is Britain's most popular seaside resort for a reason, there is more fun to be had here than you could possibly have the capacity for! Switch the bingo for grand casinos the Blackpool tower for the Stratosphere and we reckon you've got yourself
Britain's answer to Las Vegas,
tackier granted but no less fun and definitely equally unabashed. You want
fun by the sea,
Europe's
best rollercoaster's,
and
outstanding nightlife
which is geared towards groups of eager revellers?! Buckle up its going to be a hell of a ride!
A few good reasons….
Ultra pleasurable Pleasure beach
Europe's tallest and fastest rollercoaster
Super Cheap Eats
Geared up for groups.
7 mile seafront promenade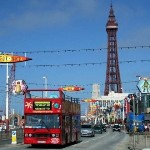 Team Activities, Team Nightlife and Team Accommodation
Daytime activities in Blackpool.
If the pleasure beach doesn't float your boat, or you're a second timer and looking for something different, we have a selection of daytime activities the team should like.
Blackpool nightlife
is geared up for groups on let loose time, leave your inhibitions behind and join them, fancy dress is the norm, as is having the time of your lives! We have some great Blackpool team nightlife options, pre-book your team tour nighttime antics through Freedom.
Team accommodation Blackpool.
With over 16 million visitors annually, Blackpool has answered with over 2500 accommodation options from hotels to B&B's and self catering apartments. That being said these do get booked up, especially in the height of the summer season. For the best group accommodation options, at great prices, book with Freedom.