Timings
Tours start on the 1st April and last one on the 6th September.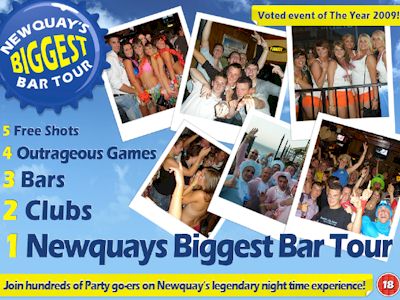 8pm
- Venue 1- Meet and Greet- freebies, facepaint and half price cocktails!
9pm
- Venue 2- A great drinks promotion in the second bar makes sure everyone is getting into the party spirit. The first party game gets underway- watch out for a rep standing on a table with a bed sheet...
9.45pm
- Venue 3- The party is in full flow by the third venue, and some great commercial beats get you bouncing like Beyonce and jigging like Justin. The reps start the second game, get stretching and warmed up because this game will find the 'benders' amongst you...
10.30pm
- Venue 4-This is the moment everyone has been waiting for, the fourth venue. A fantastic drinks promotion coupled with the ultimate in party games, The Lap-dancing Finale, makes the fourth venue THE craziest 45 minutes of your life. The limits are well and truly pushed as people compete for a cheer and the chance to be crowned the lap dancing queen....
11.15pm
- The Club- Then finally on to the busiest and best nightclub in Newquay, where you will be partying, dancing and drinking until 4am.
4am
- Hen home time -