Price: £24.95
per person

Minimum
Guests: 6

Duration:
2 hours

Location:
Bournemouth
Enjoy a 2 course Le diner and a drink with your friends at Café Rouge in Bournemouth. Le menu s'il vous plait is temptingly good and best served washed down with vin blanc, vin rouge or de biere or a soft drink.

Mais Oui choose 2 courses from the Menu:
(V Suitable for vegetarians. G Made without gluten. GO Can be made without gluten on request)
Starters
French onion soup - signature Rouge recipe made with beef stock, finished with Gruyere cheese and croutons GO
Pate - smooth chicken liver pate, with bread and Mediterranean chutney GO
Camembert - breaded camembert, served melted with redcurrant and cranberry sauce V

Main Course
Demi Poulet - half roast chicken flavoured with thyme and black pepper, served with French fries and salad garnish GO
Fish and Chips - battered fish fillet, served with French fries and tartare sauce
Crepe au Four - baked crepe filled with Portobello and chestnut mushrooms, spinach V
Minute Steak - char-grilled rump steak, served with French fries and garlic butter GO
Beef Bourguignon- slow-cooked beef in red wine with bacon and mushrooms, served with mashed potato and garden vegetables

Dessert
Creme Brulee - traditional set vanilla pod custard with caramelised top and strawberry and black pepper sorbet V, G
Lemon Tart - signature French lemon tart, with creme fraiche V, G
Ice Cream - 2 scoops of: vanilla, chocolate, strawberry, tarte tatin, salted caramel or chocolate and raspberry fondant ice cream G


Don't forget, pre-booking a meal is recommended with all large groups, it takes the stress out of splitting the bill at the end of the night, you can be super organised and just enjoy the evening!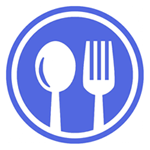 View Sample Menu
Party Upgrades
Ask our Team about Nightclub entry for after your meal.
Party Notes
Please note there is an additional cost if you choose the steak or salmon main course.
Fancy dress is acceptable PG rated rather than X rated, if you are unsure please check with the restaurant.
Timings
You choose a start time on booking.
Locations
Café Rouge Bournemouth