Birthday Party in Riga
Riga is one of our most popular destinations. Book with just £50 group deposit. Also enjoy HUGE winter savings by travelling between November and February!
So you are considering choosing Riga for the big birthday party. Well for a hassle-free, stress-free, memorable Riga party event weekend choose FREEDOM. At FREEDOM it's all about choice, but we know you want it simple, easy but perfect. Let FREEDOM organise your Riga party weekend.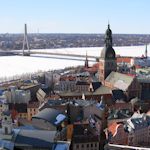 THE LOCATION
Welcome to Riga, capital of the small Baltic country Latvia. Hey you've made a great choice, unusual, adventurous, leave the norm behind.
With over 800 years to shape it, this city is difficult to resist, rich in appearance and rich in traditions.
Amazingly Riga has survived two world wars and yet the old part of the city "Old Riga" has preserved much of its glorious old buildings.
Now we fully appreciated that you Riga party animals have lots of partying to do, however the following should be on your not to miss list:
Dome Cathedral – for the fans of architecture
Art Nouveau – to rival anywhere, for the design buffs
Old City – with its ancient buildings and museums
We promise that whatever your company taste, there's a café, bar, club to suit. For trendy wine bars check out Idalgo Spanish Bar, Bar Michel and Vina Seta.
During the summer Old Riga bursts with open-air cafes and beer gardens. In winter, the central Liv Square boasts an ice-skating rink.
Riga's lovely cafes and restaurants turn the city into a gastronomic paradise. The large numbers of said establishments can certainly satisfy any hungry birthday party abroad.
A businessman called Gunars Kirsons owns a series of restaurants under the 'Lido' brand. You'll find these eateries in the city centre and out along the river. You'll be served interpretations of traditional Latvian cuisine by staff donning their stylised folk costumes.
We provide your own guide with activities to overcome the language barrier, but why not try out a few words for yourself:
Ya – yes
Ne – no
Sveiki – hello
Visu labu – bye
Ludzu – please
Paldies – thanks
IDEAS:
IDEAS: Stuck for ideas on what you could be doing on your party nights Riga? Let us tickle your fancy with our most popular options.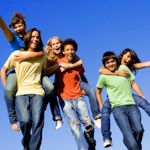 For daylight hours on your birthday party Riga:
BOBSLEIGH – This Olympic standard bobsleigh should keep any adrenaline junky quiet for a little while at least. During the summer months you'll be racing down in the wheeled variety.
BUNGEE – There are not many places that offer you bungee jumping from a cable car.
GO KARTING – The Riga Karting track is 310 metres long. With tournaments organised for you, let the competition be fierce.
FREEFALL SIMULATOR – This is skydiving without the need for parachute or plane. Exhilarating, yes. Completely safe, yes.
After dark on your birthday celebration weekend Riga:
PUB CRAWL – A highly recommended way to learn the geography of Riga. Let our guides ensure you don't miss the best pubs and bars in town to get the most out of your birthday party night Riga. Bars have been vetted and you can dictate what kind of drinking establishments you'd like to visit.
NIGHTCLUB – We can arrange tickets to the best that Riga has to offer.
LIMO HIRE – Whether you think it's classy or cheesy, it's a great way to travel, all in together.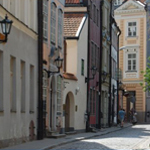 A bed for the night - Riga accommodation:
Again you choose. We'll organise the hotel for your birthday weekend abroad to suit all budgets. We've done our research and found some great hotels in Riga happy to have you stay.
We have a range of accommodation to suit all, choose from good value hotels, to those offering a little more, to indulging yourselves in downright luxury. You're worth it.
The hotels and apartments we choose have been selected for their high quality customer service, party groups suitability, central location and value for money.
FREEDOM: home of the overseas birthday parties in Riga.