Birthday Party in Reading
Situated only an hour from London, Reading continues to be one of our best selling locations. With so many activities currently on offer and great nightlife atmosphere, Reading is thriving as a party location!
Designing your Reading party weekend, you're on the right page.
FREEDOM will do all the hard work to ensure your group party Reading is strictly a top-drawer event. If it's a 21st or 50th birthday party we haveideas for you.
Read on and we'll tempt you with some fabulous Reading activity day ideas.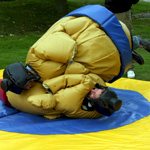 THE LOCATION
Reading is just an hour's drive from our capital and can offer a slightly unusual, novel venue for all partygoers. Let us reassure you, all the main ingredients for a memorable birthday party or group party are in place.
Once known for beer and biscuits, Reading is now associated with hi-tech and finance. Many international companies have chosen Reading as their home.
Top comedians Lenny Henry and Dawn French have also chosen this busy, thriving town as their home. Hey, you could be drinking cocktails with the UK's funniest couple.
As with most forward thinking towns, renovation is the key, so now bars along the waterfront are popular and buzzing. Reading claims to have the best of both worlds: a hip nightlife and with stunning countryside on the doorstep – perfect for those outdoor activities.
FREEDOM can capitalise on all these plus points to organise you the most wonderful group activity weekend Reading.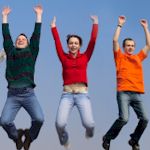 IDEAS: Stuck for ideas on what you could do for your group party weekend in Reading? Why not take a look at our pre-made ideas
Allow us to tickle your fancy with our most popular Reading activity weekend ideas.
FOR THE DAYLIGHT HOURS
you could try:
The Crazy Gang: Well the clue is in the name, o.k. you've worked it out, this really is one crazy adventure.
Drive Motorised Beer Kegs – you could be racing beer kegs (surreal isn't it) around a race circuit.
Sumo Wrestling – yes, don the suit and become 5 bellies. Grab, grapple, push, swear if you must …. Just get your opponent out of the ring.
Human Table Football – you're stuck on the pole and can only move side-ways – not easy, but very entertaining!
Pamper Princess: All you ladies need to be indulged every so often and what better opportunity than on your Reading birthday celebration. You'll choose a beauty treatment and then utilize the pool, sauna, Jacuzzi and steam room.
Paintball for the guys in your group: Semi-automatic guns at the ready … bring it on… let battle commence …… take no prisoners … Its war! Girls you need to be lethal.
AFTER DARK
, how about one of the following as a Reading group party idea:
Party night: VIP entrance is waiting for you at a top venue in Reading. You'll have a table for the night, 2-course meal, cocktails and dancing until 2.
Comedy birthday party: You gotta laugh. Not only 'side splitting' stuff, you get supper and there's after show music for a dance.
Greyhound Racing: Something a little different for your group party activities in Reading. Enjoy a flutter? Feeling lucky? You'll get admission, 2 free drinks, your first bet and a meal. Hope you win.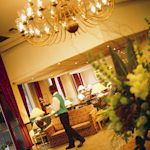 A BED FOR THE NIGHT
Again you choose, we'll organise the Hotel for your group party weekend in Reading to suit all purses. We've done our research and found some great hotels in Reading happy to have you stay.
Value for money: good value party hotels for those just interested in the partying. All rooms with ensuite, the essential late bar and they offer full English breakfast.
Something more Superior: great hotels 2 miles from town centre. Full leisure facilities and all rooms are ensuite and the all-important late bar.
Luxury all the way: stay in style at a luxury hotel offering spa facilities, Jacuzzi anyone? Oh yes, must mention the late bar facilities.
You're busy people, we at Freedom know this. You choose your accommodation and activities and let us do the rest for the perfect party weekends in Reading.
Freedom Birthday Reviews
Reading Birthday Weekends

Reviews :


Becci

's review on

07 August 2015

Great weekend in Reading

Great weekend in Reading. We went for my husbands 30th. The boys played bubble football and had a fantastic time.while us girls enjoyed the great shopping. It was easy to organise because of the easy booking system and staff were really helpful and quick to respond to any questions we had. The hotel was perfect for the nightlife being right on are door step. With some really nice places to eat. Thank you x x
Birthday activities in Reading
Bubble Football
Niki

's review on

17 August 2013

We contacted Freedom about making a booking for a large party of guests for a multi activity day for a shared birthday event. We booked to do 400cc rage buggies, Land Rover Blindfold Driving and Segway driving all in one big multi activity day called 'Big Boys Toys'. It was very easy to book through Freedom and all the team are helpful. We had an absolute blast of a day and each and every member of our group that was invited had the best time and all want to do it again! Also the price of the activity was very competitive for the amount of activities we were getting in the deal. All in all I cannot recommend Freedom more highly and look forward to future years of organising events through them as it is much easier than you think to get a great event through them. They did a great job and as you can tell we are very pleased customers!
Birthday activities in Reading
Mud Mayhem
Vineya

's review on

27 April 2013

From start to finish the whole process from first point of contact to day of event was glitch free, it ended up being a last minute thing for a mates birthday and it was a very small group of 4 people where Freedom managed to speak to the suppliers and accommodate a small group!!
We went to reading and went for a banana boat ride on reading lake, which for all of us was a first time and awesome experience!! this definitely has to be done once!!
We then done some clay pigeon shooting which was also a first for us and honestly could be a hobby we may just take up!!
All necessary information made available for myself and other party members on a secure on line website, with different payment options!! Glad I booked with them as the other companies were hounding me for my business and am sure i will do business with Freedom again!!
Birthday boy was really happy all suppliers of the event were pleasant and welcoming!!
Birthday activities in Reading
Water Activities