Birthday Party in Nottingham
Accommodation saving in Nottingham for a limited time - all city centre hotels on
SALE - 3 star, 4 star, boutique and luxury spa hotels
Choose FREEDOM for your group parties in Nottingham. FREEDOM will do all the hard work to ensure your activity weekend Nottingham is strictly a top-drawer event. Just gather your friends together and get ready for a truly memorable party weekend organised by FREEDOM.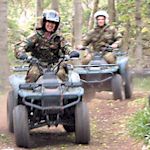 THE LOCATION
Nottingham is certainly a sophisticated and very fashionable venue for your group party
Set in the heart of England, partygoers have revelled in bars along the canal side, the 'lace market' and in Market Square. There's over 200 restaurants to satisfy your taste buds. You get the picture, group parties Nottingham... party on!
Just by way of a brief history lesson, you may be interested to hear that in the times of William the Conqueror the original settlement was named Snotingham – no, that's not a misprint. After William built his castle on the hill a town grew in the valley and the name soon changed to Nottingham – phew!
The DH Lawrence Birthplace Museum, the Lace Making Industry and the Nottingham Goose Fair add some diversity to what this 'Heart of England' city has to offer.
Oh yes, this city has the vital ingredients for a yummy Nottingham party weekend cocktail.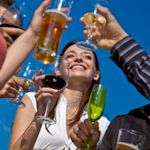 IDEAS: Stuck for ideas on what you could do for your group activity days in Nottingham? Why not take a look at our pre-made ideas
Let us tickle your fancy with our most popular options.
FOR DAYLIGHT HOURS
you could try:
Mud and Mayhem - A selection of great activities all in one day. The perfect activity for any party group weekend.
Assault Course- You've seen the krypton factor. Whether you go over or you go under, just get to the end of this challenging assault course in impressive style.
Crazy Gang - Crazy activities for any event, the perfect group party package. Calling all crazy groups who want a selection of different activities.
AND AFTER DARK
, one of the following always goes down well on Nottingham party nights.
Hey, groovy baby – yes, its flares, wing collars, D.I.S.C.O. 70's night. Dig out your glitter, platform shoes and go party.
Comedy Evening: You gotta laugh. Not only 'side splitting' stuff, you'll have supper and there's after show music for a dance.
The alcoholic way to travel: sounds like a crossword puzzle, it must be the Booze Cruise.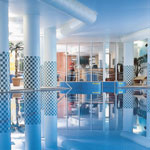 A BED FOR THE NIGHT
Again you choose, we'll organise the Nottingham Hotel for you and to suit all purses. We've done our research and found some great hotels happy to have you stay for your Nottingham group party.
Cheap but Cheerful: good value hotels, within a mile of the city. After all that partying a comfy bed is a must. All rooms with ensuite and there's a full English breakfast on offer, if you can manage it.
Something more Superior: great hotels with a city centre location, again all rooms ensuite and that breakfast if you can manage.
Luxury all the way: stay in style – because you're worth it. Luxury hotel offering full spa facilities, how lovely to enjoy the pool, Jacuzzi, sauna and steam before your big night out – or maybe to cure the hangover.
All the accommodation for your group party in Nottingham have one vital ingredient in common …….. the late night bar for the essential nightcap!
You're busy people, we at Freedom know this. You choose your accommodation and activities and let us do the rest for the perfect Nottingham group activity break.
Freedom Birthday Reviews
Nottingham Birthday Weekends

Reviews : SALE - 3 star, 4 star, boutique and luxury spa hotels Birthday Weekends" />


Melissa

's review on

22 July 2016

"30th birthday Nottingham "

We had a brilliant time would definitely book through freedom again the planned activities was great the hotel was fantastic and central to everything we wanted paying through freedom was great as I didn't have to get the money off the rest of the participants so simple and easy. The Nottingham booze cruise was amazing and staff was so helpful the food was brilliant.
Totally wiped out was fantastic an absolute must do by all!!
Hotel was clean, fresh and perfect for stag and hens too, staff was so polite food was brill.
Birthday activities in Nottingham
Booze Cruise
,
Nightclub
,
Totally Wiped Out
Jane

's review on

06 June 2015

Excellent weekend had by all

Went to Nottingham for my 30th birthday had a brilliant time from start to finish. Cocktail making was perfect and the hotel was lovely. Loved how everything was planned.
Birthday activities in Nottingham
Nightclub
,
Cocktail Training
Michelle

's review on

23 August 2014

Fantastic weekend!!! -Our weekend away was fantastic! Freedom did a perfect job of organizing everything for us. The customer service was brilliant, and the response to what I wanted was quick and precise. The service that Freedom provided was second to none!
The cocktail making was good, not as good as the one I went to in London for my hen do, organised through Freedom, but 'was still thoroughly enjoyable. We all really enjoyed Oceana, as it had something from everyone! I will definitely use Freedom again, we'll for the third time :-)
Birthday activities in Nottingham
Nightclub
,
Meal Deal
,
Cocktail Training
Jay

's review on

27 July 2013

From start to finish very smooth experience! Paint balling very good! Hotel rooms was a bit dated but for ok the price.
Birthday activities in Nottingham
Nightclub
,
Gents Club
,
Delta Force
John

's review on

21 July 2013

Great day had by all my guests, the instructors where brilliant and patient on the day. Just glad I followed up the detail myself with a site visit before the event as the buffet that was booked had not been passed on. This could so easily have spoilt my birthday event.
FREEDOM RESPONSE
Thank you for reviewing your birthday party to Nottingham.
The lunch was added and emailed to the supplier on 25/06/2013 at 13:58:07. Unfortunately when you called the supplier on the same day, they had not yet transferred this to their diary. Please accept the supplier's and our apologies. Of course it was resolved well before the event on Sunday 21 July 2013.
Birthday activities in Nottingham
Clay Pigeon Shooting
Damon

's review on

12 April 2013

We all had an amazing time, the events were very enjoyable and couldn't complain at all. The quad biking is highly recommended as was great fun. The paint balling also very fun and very good for the money, we found ourselves leaving before even playing all the rounds as we felt we had our fill so you definitely get alot of play time. The accommodation wasn't too bad nothing to dampen the weekend away and the night life is unreal. We went to gatecrashers that had a special Hed Kandi event on, pure house music one of the best nights we've had. So emerald very pleased with what freedom gave us.
Birthday activities in Nottingham
Nightclub
,
Woodland Ranger
Julie

's review on

21 May 2011

We came as a group of 10 to Nottingham for a 50th Birthday Bash. We had a fantastic time. It was all SO well organised and we would definitely recommend this and will undoubtedly use Freedom again. From the booking team to the hotel staff, treatment staff, Bistro Live night everything was excellent. Could not be more enthusiastic - Many thanks.
Birthday activities in Nottingham
Pampering