Birthday Party in Leeds
Leeds has more pubs, clubs and restaurants than you can shake a leg at. A renowned retail Mecca known by many as being the "Knightsbridge of the North". Whatever type of weekend you are looking for you!
Thinking about group activities in Leeds? Choose FREEDOM to provide you and the rest of your friends with the most amazing, stress-free, 'party on' Leeds weekend break.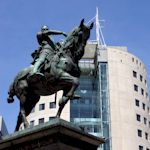 THE LOCATION
Leeds is the up and coming city. Gone are the flat caps, racing whippets and meat pies. They've been replaced with cosmopolitan food, a vibrant nightlife and a prosperous commercial centre. There's plenty of outdoor group activities to choose from as well.
Leeds is the 3rd largest city in U.K. after London and Birmingham. Lonely Planet recently dubbed it the "Knightsbridge of the North" – praise indeed. More praise from Conde Nast Traveler readers, they voted it their favourite City.
This is a tightly packed city centre, so it's all easily accessible on foot. From the trendy Corn Exchange to the once neglected Waterfront. The Waterfront has risen (phoenix like) to present itself as a fashionable place to wine and dine.
Leeds now prides itself on its finely developed 24-hour café society. We believe it's the U.K's answer to the city that doesn't sleep! Perfect for your party nights Leeds.
Ladies and Gentlemen, this city has everything and more than you could possibly hope for, so many different options for special party weekends in Leeds. There is so much potential that FREEDOM can realise. It's so easy, simply follow the step-by-step approach on this site to guide you through.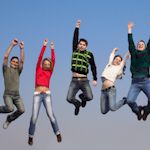 IDEAS: Stuck for ideas on what you could do for your group activity day in Leeds? Why not take a look at our pre-made ideas.
Allow us to tickle your fancy with just some of our Leeds weekend break ideas.
FOR DAYLIGHT HOURS
the following have proved popular for group activity weekends in Leeds.
Quad Bikes: Its fast, it's furious and it's usually very muddy! Drive these Yamaha Breeze 125cc motor cross on the dirt track. Overcome the water splashes and other obstacles, to test your skill or demonstrate your lack of it!
Mud and Mayhem: A selection of great activities all in one day. The perfect activity for any party group.
Clay Pigeon Shooting: Squeeze the trigger, feel the kick-back and see that pigeon get obliterated.
AND AFTER DARK
, one of the following always goes down well on a Leeds party night.
Hey, groovy baby – yes, its flares, wing collars, D.I.S.C.O. 70's night. Dig out your glitter, platform shoes and go party.
American Diner: yes, it's the world famous Hard Rock Café tempting you in with traditional USA fare. Choose the cocktail and shot welcome or the pint and shot option. Hungry? You have a priority table for the evening and enjoy a 3 course party menu.
Greyhound Racing: Enjoy a flutter? Feeling lucky? Yes, well this ones for you. We'll organise some betting tokens, your first drink at the bar and supper for all you race goers.
Comedy Evening: You gotta laugh. Not only 'side splitting' stuff, you get supper and there's after show music for a dance.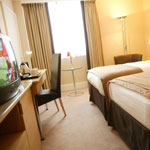 A BED FOR THE NIGHT
Again you choose, we'll organise the Leeds Hotel for you and to suit all purses. We've done our research and found some great hotels to host your activity weekend in Leeds.
Value for money: good value party hotels for those just interested in the partying. All rooms with ensuite, the essential late bar and they offer breakfast.
Something more Superior: Try these great hotels for your group activity break in Leeds, they're in a prime city centre location. All rooms ensuite and the all-important late bar.
Luxury all the way: Go on spoil yourself, you're worth it! Stay in style at a luxury hotel offering spa facilities, Jacuzzi anyone? Oh yes, must mention the late bar facilities.
You're busy people, we at Freedom know this. You choose your accommodation and activities and let us do the rest for the perfect party weekends Leeds.
Freedom Birthday Reviews
Leeds Birthday Weekends

Reviews :


Angie

's review on

09 April 2016

"Fantastic 50th birthday celebration"

What a brilliant, hilarious 50th birthday weekend. This was a surprise weekend for a friend involving 15 of us celebrating and having an enjoyable experience.The group arrived at Jury's inn to find our rooms were ready which was fantastic and we checked in straight away. We started with cocktail making at Revolution which was highly amusing with very tasty cocktails. The bar staff were excellent, we headed to our hotel to prepare for the murder mystery night. Everyone thoroughly enjoyed this activity and had outdone themselves with the fancy dress costumes. It was a hilarious, entertaining evening with plenty of tears of laughter, although it was difficult to concentrate on the information explained whilst eating a delicious meal. It would have been beneficial to know the wine was complimentary as am sure we would have happily paid for some more!! The hotel staff were very friendly and helpful and did a fantastic job of decorating the room where we had our "murder" and serving our party. The following day after a comfortable night and buffet breakfast at Jury's inn we commenced the treasure hunt round Leeds which was harder than anticipated but great fun and although wasn't a race did cause some rivalry !! I would definitely book through freedom again as the option to pay monthly was a great benefit.
Birthday activities in Leeds
Murder Mystery
,
Treasure Hunts
,
Cocktail Training
Nicola

's review on

12 April 2014

Fantastic weekend in Leeds. Hotel lovely. Excellent breakfast. Dream Boys show at Tiger Tiger was AMAZING - would definitely go again. Happy Hour 5-9pm great. We all had a brilliant time.
Birthday activities in Leeds
Dance Divas
,
Dreamboys Show