Birthday Party in Barcelona
Barcelona Hens, Stags and Birthdays get FREE guestlist nightclub entry when you book our accommodation!
Want something extra special for your birthday party? How about an activity party weekend in Barcelona? Choose FREEDOM for your hassle-free, stress-less, fun-filled party break in Barcelona. Read on and weíll show you just how easy it can be to have your party abroad.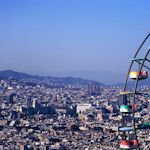 THE LOCATION
Barcelonaís major claim to fame is that it has something for everyone. Well now thatís a seriously huge claim, but do you know what, we have to agree. Itís a superb choice for your group party abroad.
This is a vibrant city, a port, has wonderful beaches, is steeped in history, has an intoxicating nightlife, oh yes and stylish shopping.
Barcelona is easy to get to know. Thatís because itís small enough to tour on foot. If youíre feeling slightly lazier than this thereís the metro, open-top bus tours, boat trips and the cable car will give you magnificent views of this beautiful city on your journey up to the twin hills of Montjuic and Tibidabo
You may be feeling more energetic on your activity weekend in Barcelona, if so opt for the cycle tours, highly entertaining and donít worry lots of drink stops.
It is said that you simply wonít have enough time to discover all that Barcelona has to offer. Wandering down itís streets is compared to walking through a living museum, thanks to itís two thousand years of history.
So ladies for a little culture on your Barcelona group party weekend, will it be La Sagrada Familia (the unfinished cathedral), Museu Picasso (the most acclaimed artist of modern times) or maybe Parc Guell ( Gaudiís eccentric hilltop park)?
Sooner or later you Barcelona party groups will inevitably join the locals swarming down La Rambla Ė the most famous walkway in Spain. Be entertained by the street performers, buy souvenirs for the open-air market, stop for a sangria at one of the many street cafes. Tapas with that?
IDEAS:
IDEAS: Stuck for ideas on what you could do for your activity break in Barcelona? Why not take a look at our pre-made ideas.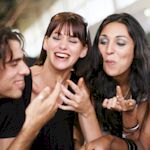 For daylight hours on your group party Barcelona:
Take advantage of the beach and take to the water.
We could hire a private yacht for your group, how cool would that be?
We can organise a little fun in the sea, maybe some water Ėskiing, or what about the banana boat (predictable, but still very, very funny). For the more adventurous how about a spot of tandem diving and discover the secrets of the sea off Barcelona.
Go Karting- at Spainís best indoor circuit. A firm weekend favourite, come and race on an indoor track that will blow you away and test your driving skills and tactics to the max.
After dark on your party weekend Barcelona:
After dark on your party weekend Barcelona:
Weíll arrange a private suit for a suitably Spanish meal, plenty of alcohol guaranteed and some ďadultĒ entertainment, followed by entrance into a buzzing club.
Donít worry if you canít decide where to go, let our party bus take you to all the best bars in town.
Learn to eat the Spanish way and enjoy a meal of Tapas on your Barcelona party night. Even better have a go at making paella, a new skill to impress those at home.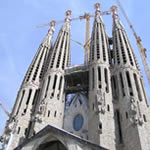 A bed for the night - Barcelona accommodation:
Again you choose, weíll organise the Hotel for your party weekend abroad to suit all purses. Weíve done our research and found some great hotels in Barcelona happy to have you stay.
The diversity of Barcelona means that your personal demands can normally be met, whether you are looking for a top of the range luxury in the heart of the city or more basic (although clean and central) 1 or 2 star lodgings.
As well as specialising in centrally located Barcelona Hotels we can offer you some excellent details on city centre apartments which are available for large groups.
The hotels and apartments we choose have been selected for their high quality customer service, birthday party suitability, central location and value for money.
FREEDOM: home of the overseas birthday party activity weekend.