Stag Party in Ibiza
Ibiza: everything you need to book and plan your perfect holiday: with safe online reservations, the clubbing calendar, restaurant, beach and town guides.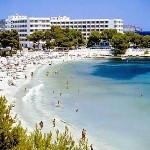 IBIZA STAG LOCATION
It's stag party time and then some… get ready for a legendary Ibiza stag... it's going to be a big one!
For your Ibiza stag do we're here to ensure you get what you want, when you want it. Leave us to do all the hard work, all you need to do is remember to pack the sunscreen. Ibiza stag weekends are massive... sun, beaches, eateries and of course monster clubs.
Ibiza is widely known as the Party Island of Europe, not surprising really as thousands of us Brits head out there to hit the Clubs. Regular Ibiza visitors are looking to cram as much nightlife into their stay as is humanly possible.
Disappointment is not an option. Ibiza is shouting loud and proud about it's crown as Clubbers Paradise.
Noted clubs include Space, Pacha, Privilege (ex Ku), Amnesia, DC10, Eden,and Es Paradis. Probably the most famous bar on the island is Café del Mar. This bar is significantly connected with the music genre of chill-out music. The other notable player in the entertainment world in recent years has been Ibiza Rocks, who are credited with bringing Live Music back to the island.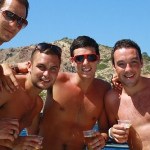 Ibiza has it all
… those wild stag party-goers can't fail to find what they're looking for in Clubland, whilst those just wanting some good food, plenty of sun and a spot of bikini-watching will leave just as satisfied.
Ibiza is the third largest Balaeric island, after Majorca and Minorca, but certainly stands up to its older siblings as a tourist destination.
Beautiful weather, 50 beaches spread along 125 miles of coastline, fast food to fancy restaurants, red hot nightlife, all the lastest DJ's… Ibiza has the lot for your stag weekend abroad!
Whatever you wish for from your trip check out our Ibiza stag ideas.