Stag Party in Dublin
A firm contender for the greatest city in Europe! Dubliners are known to be the greatest hosts of all and always willing to show you a great time! The perfect Irish getaway with over 600 Pubs.
Organising Dublin stag weekends? Yes, well you're on the right page. We at Freedom promise you the most memorable Dublin stag do. You want a good time, that's a stress-free, Dublin stag! Freedom can do it.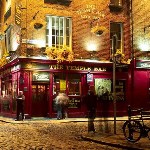 DUBLIN STAG DO LOCATION
Oh boys you have made one great choice for your stag weekend abroad and judging by this city's rise in popularity over the last few years there are other partygoers who agree with you.
Over 1000 years old, Dublin is a city rich in history, offering its visitors a wealth of attractions including churches, historic buildings and museums.
But we don't want to give you that …… You're out for a good time and this city is more than equipped to entertain you on your party weekend abroad.
The capital of Ireland has energy, a buzz about it, a rather lively atmosphere and a very busy party nightlife. There's a mind-blowing collection of
over a 1,000 bars to choose from
on Dublin stag weekends.
You can find anything from a small, quiet smoky bar to a sophisticated, trendy wine bar. Dublin has an abundance of modern, traditional, themed and live music pubs and bars.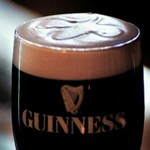 Are you keen to party the Irish way? The locals are friendly, down to earth, welcoming and open hearted people who love a good time.
There is just one thing we must insist on …… you
have a taste of the 'blackstuff'
on your party weekend abroad. The Guinness brewery was founded in 1759.
You should head out to the Temple Bar area, with its high concentration of both clubs and bars; it's the place to be. You're set for a good night!
"In Dublin's fair city where the girls are so pretty" Dublin stag party boys are guaranteed an amazing time.
IDEAS:
Stuck for ideas on what you could do for your Dublin stag weekends? Allow us to whet your appetite with just a few suggestions of what's on offer.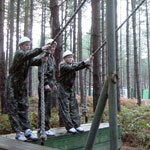 DUBLIN STAG DAY
We've some action packed acitvities for your Dublin stag do, these are just a taster:
Assault Course: Escape the wrath of the Army Instructors and prove you're real men. A real challenge for Dublin stag weekends.
Crazy Gang: The best value multi-activities for a Dublin stag weekend. Karting, Paintball and Archery. Get competitive and maybe add a little wager that losers buy the beers.
Paintball Indoor: Ireland's Largest Indoor Paintball Arena! No matter the weather our paintball venue is ready to go with bunkers and obstacles to create an amazing paintballing experience.
Indoor Karting: Who will be King of the Track. If you want adrenaline pumping kart racing this is the place for you!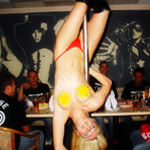 DUBLIN STAG NIGHT
After dark on your Dublin stag we have many options of how you boys can party and get the most of your time here in this amazing location. Here's a few for you to consider:
Comedy Club: Whether you giggle, laugh or guffaw the top comedians lined up are there for your entertainment. Naturally we use the most established comedy clubs and so you're guaranteed to see the city's up and coming comedy talent.
Steak and Strip: What a genius combination! Ideal for Dublin stag weekends and this is just the perfect excuse.
Beerfest: What Dublin stag do is complete without copious amounts of beer? Sit down at our specially designed tables with a choice of your very own Lager or Guinness on tap.
Sports Night: Calling all sporting fanatics and anyone who wants to enjoy a quality Irish bar with a great atmosphere.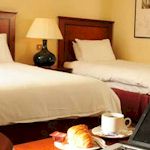 DUBLIN STAG DO HOTELS
Again you choose; we'll organise the hotel for your stag night abroad to suit all budgets. We've done our research and found some great hotels in Dublin happy to have you stay.
We have a range of accommodation to suit all, choose from good value hotels, to those offering a little more, to indulging yourselves in downright luxury. You're worth it.
The hotels and apartments we choose have been selected for their high quality customer service, stag and hen suitability, central location and value for money.
FREEDOM: home of the overseas stag weekend
These Dublin stag pages aim to be useful to those searching under: Dublin stag, Dublin stag weekends, Dublin stag do, Dublin stag parties, Dublin stag nights, Dublin stag weekend, Dublin stag party, Dublin stag night, Dublin stag activities, Dublin stag ideas, stag weekends in Dublin, stag parties in Dublin, Dublin stag pranks, Dublin stag t-shirts.